Appetizer Recipes
Leek and Gruyère Tart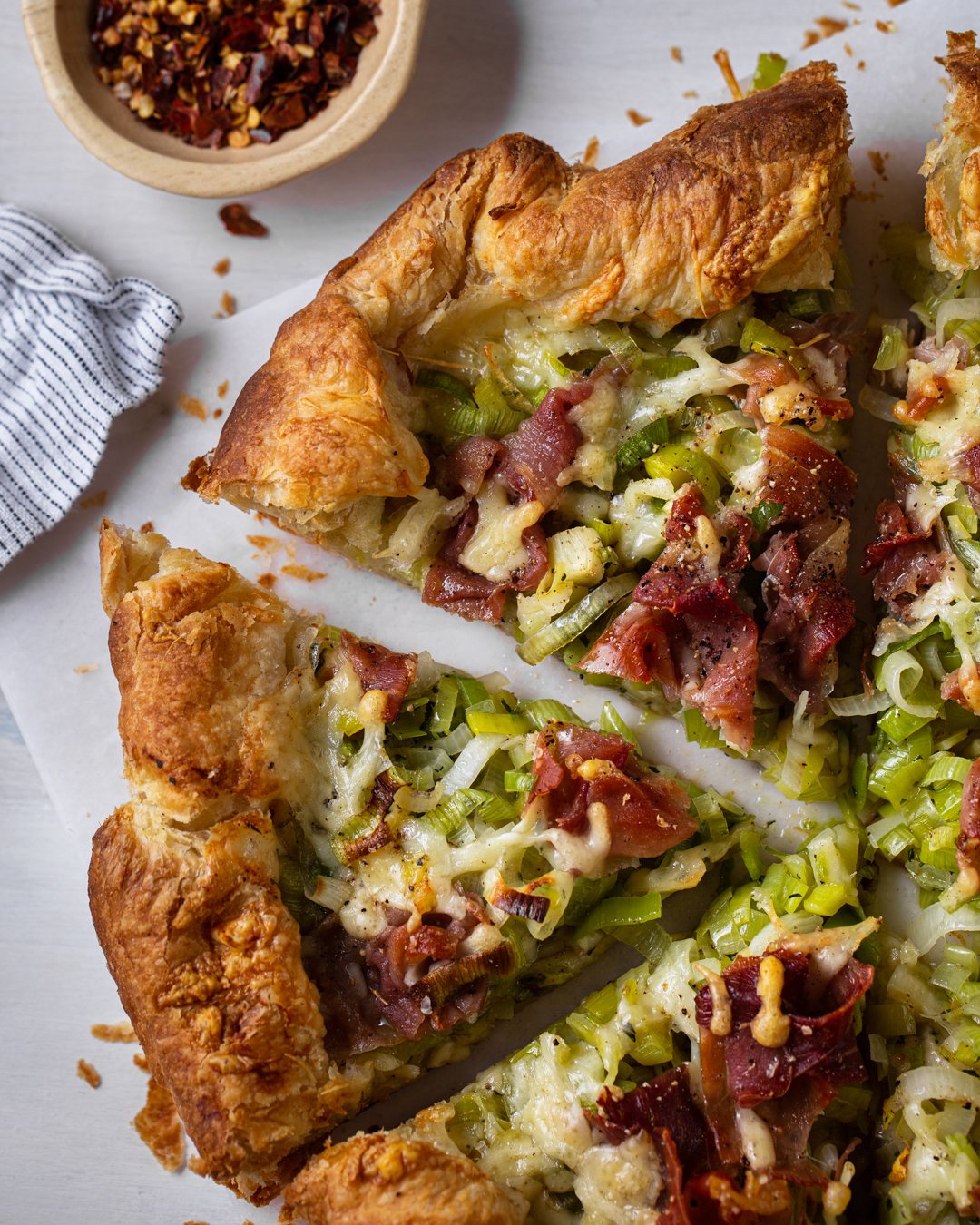 In this elegant little tart, there are but a few ingredients, and each one sings. The leeks bring the rustic, aromatic notes, the prosciutto gets very crisp and salty, and the Gruyère melts into a tangy cream that pulls it all together. We love how the tender puff pastry absorbs the juices (fat, lovely fat) from the cheese and ham, and yet stays so flaky and light. Overall, it's just the perfect bite.

If you've been invited to a brunch, or any spring event really, bring this tart with you. It has the humble yet refined look of a dish requiring a mastery of French pastry and hours in the kitchen, but it comes together in 15 minutes. Is it a side dish, appetizer, or main event? Yes, yes, and yes! Good with Champagne? Naturally.

Our tip: We like this tart best hot and crispy. So, if your host can spare the oven space, finish up step 7 in the directions, and then bake it off at your destination.


Servings: 4 to 8

Ingredients
All-purpose flour, for dusting
½ lb frozen puff pastry, thawed
2 Tbsp extra-virgin olive oil
3 medium leeks, halved lengthwise, thinly sliced crosswise
1 tsp finely chopped thyme
Salt, to taste
Black pepper, to taste
½ lb Gruyère cheese, coarsely shredded (about 2 cups)
3 oz thinly sliced prosciutto

Directions
Preheat the oven to 475°.

On a lightly floured surface, roll out the pastry to a 13-inch square. Fold the corners in and lightly roll the pastry into a rough round. Transfer to a baking sheet and refrigerate for 10 to 12 minutes while you prepare the filling.

In a large skillet, heat the olive oil until shimmering. Add the leeks and thyme, season with salt and pepper, and cook over moderate heat, stirring occasionally, until softened, about 5 minutes.

Sprinkle half of the cheese over the pastry, leaving a 1-inch border.

Spread the leeks over the cheese. Cover with the prosciutto, and then sprinkle on the remaining cheese. Season with salt and pepper.

Fold up the tart edge to form a rim and bake for 17 to 20 minutes, or until golden and bubbling.

Blot any excess fat with a paper towel. Cut the tart into wedges, and serve it immediately.



Recipe source: Food and Wine