Dinner Recipes
Leftover Turkey White Lasagna
If you're looking for a great way to use up some leftover turkey, this is it! You won't even recognize that turkey. In part, that's because the white sauce, or mornay, is wonderfully flavorsome and full of ooey-gooey Gruyére, Parmesan, and ricotta. The secret to the sauce is to heat the milk with half an onion, a handful of crushed garlic, and a bay leaf, and let it cook for a half hour at a low temp, so all those savories have time to steep — and then swirl in some nutmeg and cayenne with the cheeses.
The result is a very creamy, lightly spicy, wine-worthy, and comforting lasagna your family will look forward to every year. Leftovers, what leftovers?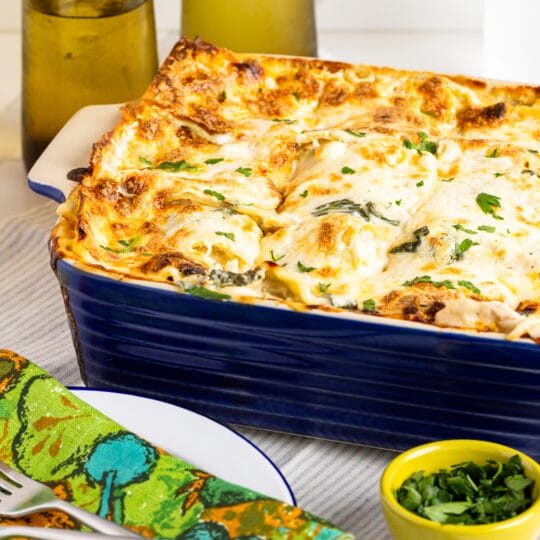 Dinner
Leftover Turkey White Lasagna
Serves: 8
Ingredients
1 tsp kosher salt, plus more to taste
Gelson's 100% California extra virgin olive oil, for coating
¼ cup Gelson's organic all-purpose flour
1 ½ cups grated Parmesan cheese, divided
4 cups loosely packed spinach
1 tsp freshly ground black pepper
2 cups shredded, cooked turkey meat
1 ½ cups shredded mozzarella cheese
Fresh parsley, chopped, for garnish
Directions
Preheat the oven to 400º.

Fill a large pot with water and bring to a boil. Heavily salt the water and cook the lasagna noodles according to package instructions.

Strain the noodles and gently toss them in the olive oil to coat. Layer the noodles on a large sheet pan and set aside.

In a large saucepan over low heat, combine the milk, onion, garlic, and bay leaf. Cook until the milk starts to steam, about 10 minutes. Continue to cook for 30 minutes, stirring occasionally, and adjusting the heat as needed so the milk does not come to a simmer.

Strain the milk into a 1-quart measuring cup and discard the solids. Rinse out the saucepan and return it to the stove.

Add the butter to the saucepan and cook over medium heat until it melts and begins to foam, about 2 minutes. Add the flour and cook, whisking constantly, until golden, about 2 minutes.

Add the milk in 3 parts, whisking constantly to prevent lumps from forming. Bring to a simmer and cook for 3 to 5 minutes or until the milk begins to thicken, stirring occasionally.

Reduce the heat to low. Vigorously whisk in 1 cup of grated Parmesan cheese and the Gruyére, ¼ cup at a time, until smooth and fully melted, about 3 minutes. Stir in the nutmeg and cayenne.

Stir in the spinach and cook until wilted, about 3 minutes. Remove the pot from the heat and set aside.

In a large bowl, mix together the ricotta, egg, remaining ½ cup grated parmesan cheese, salt, and black pepper.

Spread a thin layer of sauce in a 9x13" pan and layer 3 lasagna noodles on top. Evenly spread 1 cup of the sauce over the noodles, then sprinkle ½ cup of the shredded turkey and ½ cup of ricotta mixture on top. Repeat these layers of noodles, sauce, turkey, and ricotta 3 more times, ending with a final layer of noodles and white sauce. Top with the shredded mozzarella.

Tightly cover the pan with aluminum foil and bake for 20 minutes. Remove the foil and bake for another 20 minutes or until the cheese is melted, bubbly, and beginning to brown.

Let rest for 15 minutes before serving. Slice and garnish with the chopped parsley, and serve hot. Leftovers can be stored in an airtight container in the refrigerator for up to 3 days.

Recipe adapted from: Creme De La Crumb