Dinner Recipes
Lemon-Herb Roasted Chicken | Blog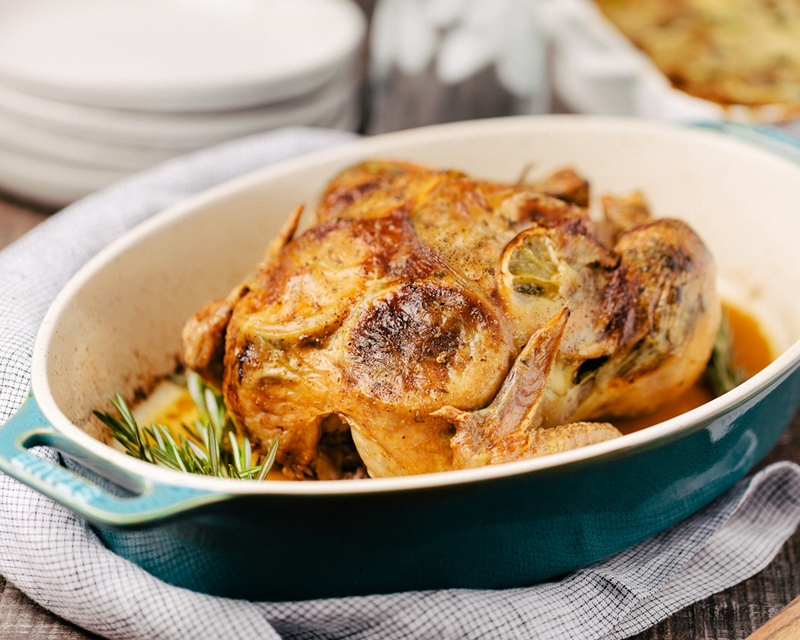 In this recipe, we literally pack the chicken with lemon, rubbing the meat down with an herby lemon butter, tucking slices of the puckery fruit under the skin, and halves of it in the cavity. The result is an unbelievably moist bird, juicy with tart citrus, fragrant with basil and rosemary — and covered in a golden, crisp skin.
For us, it's a Sunday dinner classic: It's easy to make, people love it, and it's scrumptious enough to be all by itself in the center of our plates. That said, because it is so juicy, it's pretty fantastic shredded and piled on top of a salad, like a kale Caesar, or chopped up in a salad sandwich.
Servings: 4
Ingredients
1 4-lb. chicken, giblets and neck discarded, rinsed under cold water and patted dry
4 Tbsp unsalted butter, softened
2 lemons, halved
1 Tbsp thyme
1 Tbsp basil, chopped
4 sprigs rosemary
2 Tbsp extra virgin olive oil
Directions
Preheat oven to 375°.
In a small bowl, combine softened butter, juice of ½ lemon, thyme, and basil.
Gently loosen skin from breasts, thighs, and legs of chicken, and spread the lemon mixture under it.
Cut 4 thin slices from one of the lemon halves, and slide 2 under the skin of each breast. Pat skin back in place.
Put the remaining lemon halves and rosemary sprigs inside the chicken cavity.
Truss the legs, rub olive oil over skin, and sprinkle sea salt and pepper over the bird and inside cavity.