Lunch Recipes
Low Sodium Tortilla Soup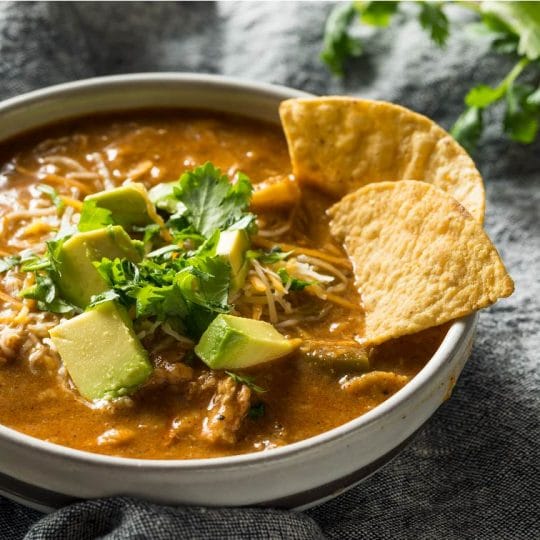 Lunch
Low Sodium Tortilla Soup
Serves: 8
Ingredients
1 cup medium size chopped onion
4 large garlic cloves minced
1 28 oz can no salt added diced tomatoes including juice
1 7 oz can diced green chilies
2 15 oz cans pinto beans including juice
1 16 oz can no added sodium chicken broth such as Health Valley No Added Salt Chicken Broth vegetarian broth may be substituted
1 cup 4 oz shredded 2 reduced fat cheddar cheese
32 baked tortilla chips such as Guiltless Gourmet Baked Blue Corn Chips crushed
Directions
Heat oil in large pot over medium heat
–Add onion and garlic and sauté 3 to 5 minutes until soft. Do not brown.
Stir in tomatoes and chilies, cook for 5 minutes.
While tomatoes are cooking, place cans of beans in a blender or food processor, process until smooth.
Add pureed beans, cumin, hot sauce, and broth to pot.
Bring mixture to a boil. Reduce heat to medium and cook for 30 minutes.
PRESENTATION NOTES:
Serve with cheese and chips on the table for toppings. For added flair, pan fry, or bake until crisp, corn tortillas cut into strips. Top each bowl of soup with crispy tortilla strips.