Appetizer Recipes
Lucky Irish Twice Baked Potatoes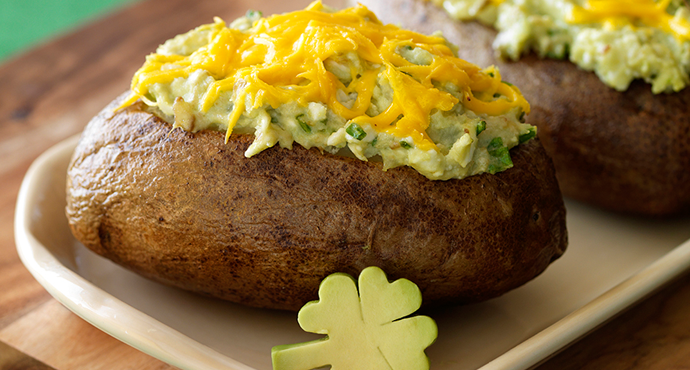 An Irish classic gets an update with California avocado and guacamole. Of course there's cheese involved.

Ingredients
As needed: Baked Potatoes
2 large potatoes, scrubbed
2 Tbsp. butter
1/4 cup sour cream or plain yogurt
1/4 cup milk
1/2 tsp. salt
1/2 tsp. Freshly ground pepper
1 cup grated jack cheese, or grated cheddar-jack cheese
1/2 cup chopped chives
1 ripe, Fresh California Avocado, peeled, seeded, cut into chunks
As needed: Salt and pepper, to taste
As needed: Guacamole (see recipe below)
1 ripe, Fresh California Avocado, peeled, seeded and cut into chunks
1 Tbsp. fresh lime juice
2 Tbsp. chopped cilantro leaves
1/2 tsp. salt, or to taste
Directions:
Guacamole

Mash avocado chunks with lime juice in medium bowl.
Add cilantro and salt; blend until creamy.

Baked Potatoes
Preheat oven to 450 degree F. Bake whole potatoes in oven for 1 hour; remove potatoes and reduce oven temperature to 350 degrees F.
Let potatoes rest for 5 minutes, then cut in half lengthwise and scoop out potato flesh into large bowl. Reserve potato jackets.
Add butter, sour cream, milk, salt, pepper, and cheese to potato in bowl; whip until creamy with electric hand mixer.
Taste and adjust seasoning with additional salt and pepper.
Gently stir in chives and avocado pieces.
Spoon mixture into halved potato jackets and bake in 350 degree F oven for 20 minutes.
Top each with a heaping spoonful of guacamole to serve.
Serving Suggestions:
Serve alongside a juicy steak, or serve as the main dish with a fresh green salad.

Beverage Pairings:
Delicious with a glass of Chardonnay.

*Large avocados are recommended for this recipe. A large avocado averages about 8 ounces. If using smaller or larger size avocados adjust the quantity accordingly.