Dinner Recipes
Lump Crab Cake with Avocado Mousse and Citrus-Fennel Slaw
For the Blood Orange Avocado Mousse recipe, click here.
For the Citrus-Fennel Slaw recipe, click here.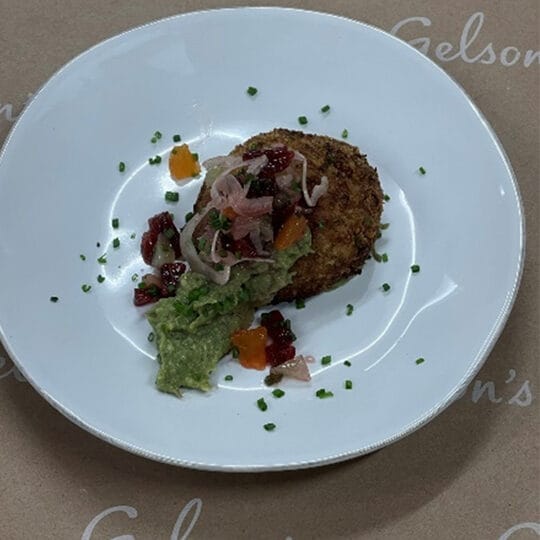 Dinner
Lump Crab Cake with Avocado Mousse and Citrus-Fennel Slaw
Serves: 1
Ingredients
1 TB + 1 tsp Blood Orange Avocado Mousse
1 tsp Chives, Sliced Very Thin
Directions
Preheat Oven to 350F
1. Remove plastic lid from aluminum container, and place crab cakes in oven for 8-10 minutes.
2. Position 1 teaspoon of blood orange avocado mousse on plate, preferably at the center top.
3. When crab cake reaches an internal temperature of 140F, remove from oven and place directly on top of the avocado mousse.
4. Top half of crab cake with 1 tablespoon of avocado mousse, allowing for half to be on top of crab cake and other half to be on plate; as in photo above.
5. Top crab cake and avocado mousse with citrus-fennel slaw.
6. Garnish plate with chives.
7. Repeat for each crab cake.
8. Enjoy immediately.