Dinner Recipes
Malaysian-Inspired Stir-Fried Noodles
You know those days when you're craving vegetables but you could also get down on a great big bowl of noodles? This deeply flavorsome recipe for stir-fried noodles was made for that exact mood. It's loaded with green beans, bok choy, bean sprouts, onions, and lettuce. The even better news? Chopping up all those veggies is the hardest thing about it. You can knock this one out in under a half hour.
The sauce is a simple affair: You'll whisk up light and thick soy sauces with cumin, coriander, and sambal oelek. It's just thick enough to cling to the noodles, but it won't weigh down the delicate bok choy or bean sprouts. You can use any protein in the stir-fry, but we use tofu, and we love the way it soaks up the sauce — the cumin's earthy warmth really shines through, and the sambal has a nice heat that builds as you eat.
Our tip: Texture is a big part of this dish's appeal — the soft noodles, the al dente green beans. To add a little bit more crunch to it, we throw a handful of golden brown fried shallots on at the end. Don't skip this step! They add a little crispy sweet bling to the noodles, and the bonus is that you can use the shallot-infused oil to fry your veggies. Yesss!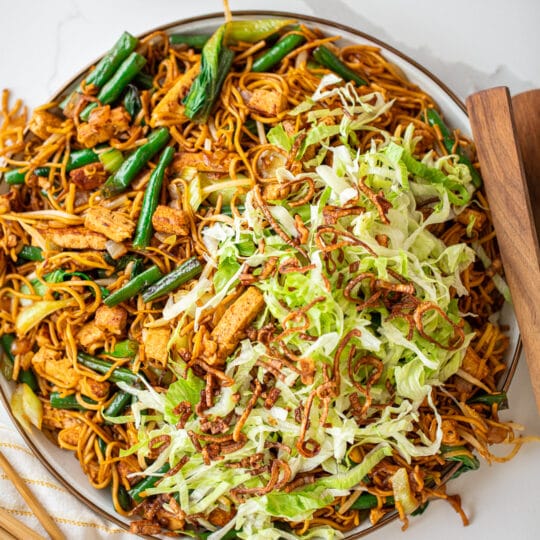 Dinner
Malaysian-Inspired Stir-Fried Noodles
Serves: 6
Ingredients
2 shallots, thinly sliced
10 oz dry stir-fry noodles
2 tsp Gelson's ground coriander
1 ½ tsp Gelson's ground cumin
1 Tbsp plus 1 tsp sambal oelek, plus more for serving
1 Tbsp plus 1 tsp light soy sauce
1 Tbsp plus 1 tsp thick soy sauce
1 yellow onion, medium diced
12 oz firm tofu, cut into ¼"-thick matchsticks
8 oz green beans, trimmed and halved
8 oz baby bok choy, roughly chopped
3 cups shredded iceberg lettuce
Directions
To fry the shallots: Place a large sieve over a heat-proof bowl and set aside. In a small pot, combine the shallots and vegetable oil. Cook over high heat, stirring occasionally, until golden brown, 7 to 10 minutes. Immediately pour the oil and shallots into the sieve, and reserve the shallot oil.

Transfer the shallots to a paper towel-lined plate and season with salt.

To cook the noodles: Bring a large pot of water to boil and cook the noodles according to package instructions. Strain and rinse under cold water to stop the cooking process. Toss with 2 teaspoons of the shallot oil and set aside.

To make the stir-fry: In a small bowl, whisk together the coriander, cumin, sambal oelek, light soy sauce, thick soy sauce, and water. Set aside.

Place a wok over high heat. Once hot, add 2 tablespoons of shallot oil and the onion and cook for 1 minute. Add the tofu and green beans and sauté for 3 to 4 minutes, or until lightly browned.

Add the bok choy and sauté until wilted, 2 minutes.

Add the noodles, carefully spreading and separating them with tongs, and sauté until heated through and starting to fry, 2 minutes.

Add the bean sprouts and sauce, and toss until the noodles are thoroughly coated. Cook for 1 minute.

Scatter the lettuce and fried shallots on top. Serve hot with more sambal oelek. Leftover noodles can be stored in an airtight container in the refrigerator for up to 1 week. Leftover shallot oil can be stored in a sealed container at room temperature for up to 1 month.
Recipe adapted from: "Plenty" by Yotam Ottolenghi
Calculate nutrition information for this recipe.