Recipes
Mango and Goji Berry Smoothie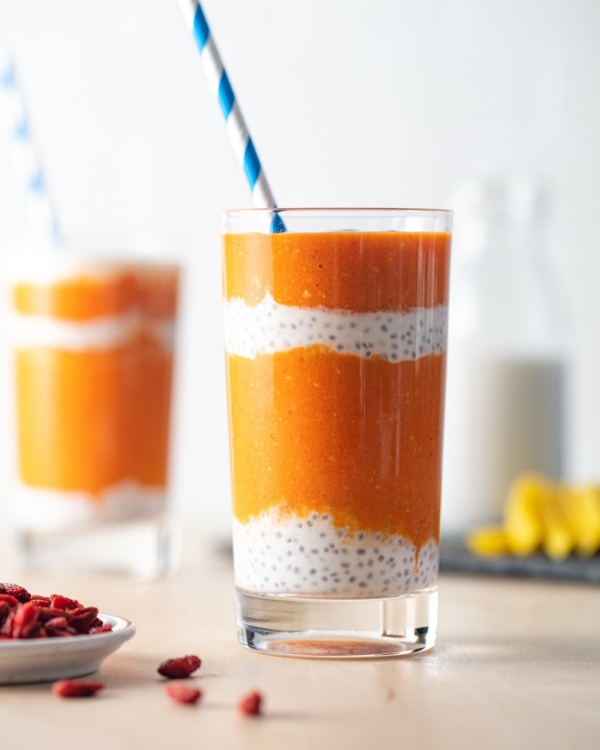 Chia seeds, goji berries, fermented foods — oh my, this is one hip little smoothie. The base layer is a thick, velvety coconut-maple chia pudding. So rich! On top of that is a fruity smoothie made with fermented soy, fresh mango, and dried goji berries. We like how the sweet, juicy mango and floral goji berries blend together to create a bright, new tropical flavor. Goji-go?
If you're curious about the fermented soy drink, we used mango-flavored Bio-K+, which has a slightly sweet-tart flavor and a very creamy texture — and it's positively packed with probiotics. Once it's whirled into the smoothie, you can't taste it, but you know it's there, jumpstarting your day.
Overall, this is an uplifting little ditty, full of texture, nutrient hearty, and just perfect when you're running out the door to work. That said, our kids were delighted with it — mainly because it looks like drinkable sand art. It's even better if you add a few layers of color, like blueberries, strawberries, and chocolate.

Servings: 1 to 2
Ingredients
For the chia pudding:
1 Tbsp chia seeds
⅔ cup coconut milk
1 tsp maple syrup
¼ tsp vanilla extract
For the smoothie:
¼ cup hot water
¼ cup dried goji berries
1 banana
1 cup Gelson's Mango Slices, plus more for garnish
2 Tbsp coconut flakes, plus more for garnish
1 Tbsp lemon juice
¼ tsp vanilla extract
1 bottle of mango Bio-K+ fermented soy
Directions
To make the chia pudding: In a small bowl, mix together all of the chia pudding ingredients. Cover the bowl with plastic wrap and refrigerate for 30 minutes or overnight.

To make the smoothie: In a small glass bowl, pour the hot water over the dried goji berries to rehydrate them. Allow the berries to soak for 30 minutes, or until the water cools to room temperature.

In a blender, combine the goji berries and soaking water with the rest of the smoothie ingredients and blend until smooth.

To serve, divide the chia pudding and smoothie between 2 glasses, creating layers as you go. If desired, garnish with mango pieces and coconut flakes and enjoy immediately.
Recipe source: Bio-K+