Lunch Recipes
Marinated Chickpea & Celery Salad
Here in SoCal, we love fresh, crunchy greens anytime but our blissfully long summer is the true season of salads. What makes this one special is a plucky marinade and an ideal ratio of goodies to lettuce. It's basically the vegetarian's answer to the chef salad — a feat of textural derring-do and an easy one-bowl meal.
The marinade is a classic combo of sherry, Dijon, garlic, and honey. We soak chickpeas, red onions, and celery in it, giving them a light pickle. We like how the toasty vinegar softens the onion's bite. You can marinate the veggies a full day ahead so that the salad comes together quickly and the beans are deeply flavorsome.
Rather than a full head of lettuce, we toss the veggies, their marinade, and some cherry tomatoes with a small amount of Little Gem lettuce, bitter radicchio, and torn basil — enough greenery to add flavor and fluff to the salad, but not to bury the other good stuff. There's also some Parm shavings floating around in there, and we dig the little bit of fat and salt they bring to the bright, fresh veggies. And the final addition is a handful of great big, crunchy handmade croutons that taste ah-mazing when they sop up all that marinade.
How to eat this gorgeous salad? Barefoot in the sweet California sunshine with a big glass of white, that's how.

Servings: 4 to 6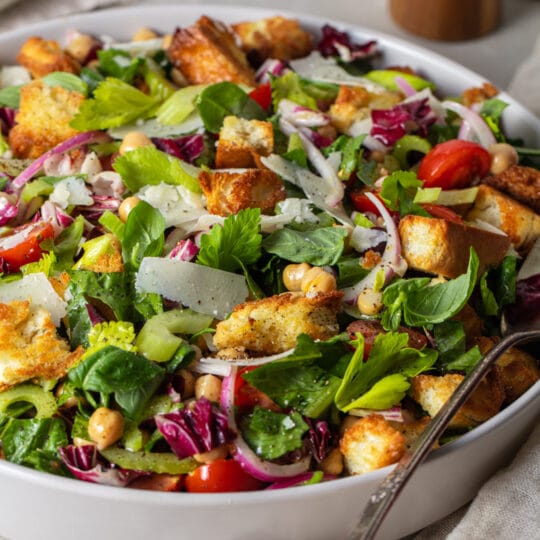 Lunch
Marinated Chickpea & Celery Salad
Ingredients
3 Tbsp sherry vinegar, plus more as needed
Freshly ground black pepper, to taste
⅓ cup extra virgin olive oil, plus more for drizzling
2 15-oz cans chickpeas, drained and rinsed
4 large celery stalks, thinly sliced on the diagonal, leaves reserved
½ large red onion, thinly sliced
½ loaf artisan-style bread
1 pt grape tomatoes, halved
1 head radicchio, medium diced
2 cups medium-diced Little Gem lettuce
Leaves from 1 head celery, coarsely chopped
½ cup loosely packed Gelson's organic fresh basil, torn
2 oz Parmigiano-Reggiano cheese, shaved
Directions
In a large bowl, whisk together the sherry vinegar, Dijon, honey, and a large pinch each of salt and black pepper. Stir in the crushed garlic cloves and rest for 30 minutes at room temperature to allow the flavors to infuse.

Gradually drizzle in the olive oil while whisking to emulsify. Stir in the chickpeas, celery, and red onion. Cover and refrigerate for at least 2 hours or overnight.

Preheat the oven to 400°. Remove garlic cloves from the dressing and season the salad with salt and black pepper. Allow the salad dressing to rise to room temperature, 30 minutes.

To make the croutons: Pull the soft bread out of the center of the loaf, leaving most of the crust behind, and tear the bread into bite-size pieces.

Spread the bread pieces on a rimmed baking sheet, drizzle with olive oil, season with salt and black pepper, and toss to combine. Bake for about 12 minutes, until golden and crisp. Let cool.

Just before serving the salad, mix in the croutons, tomatoes, radicchio, Little Gem lettuce, celery leaves, and basil. Transfer the salad to a serving bowl, top with the Parmesan, and garnish with black pepper.
Recipe adapted from: NYT Cooking