Dinner Recipes
Marinated Heirloom Tomato Salad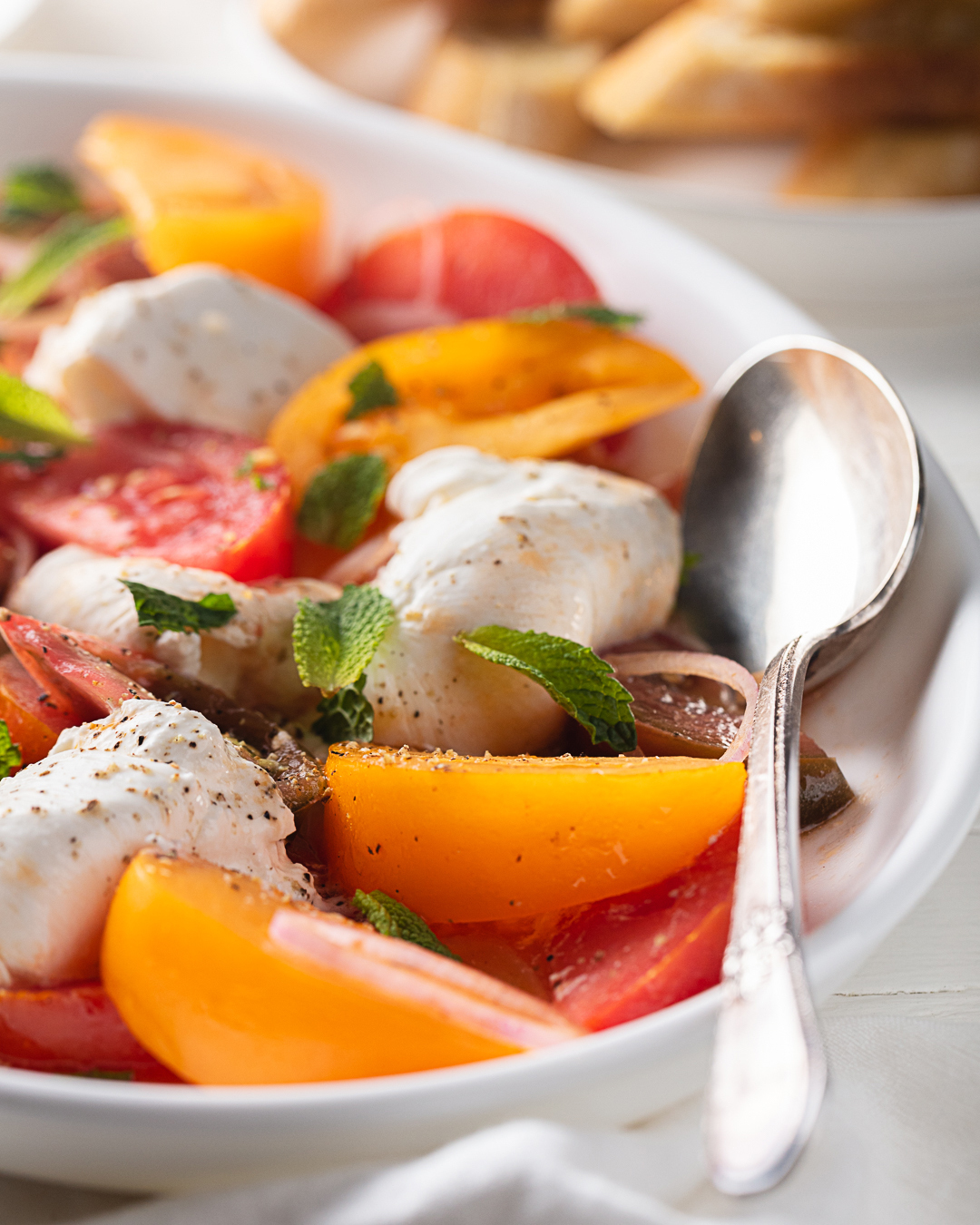 Heirloom tomatoes are so herbaceous and flavorsome that we're generally opposed to putting anything but the simplest dressing on them. Let the tomatoes shine, we say. In our opinion, heirlooms taste best with just a bit of oil, vinegar, salt, and pepper — and a few slabs of milky cheese to balance out their bright flavor.
Aha, you're thinking, it's a caprese! Not so fast, we've shifted the flavor profile — there's no sweet balsamic, no spicy basil — to turn the familiar recipe into something a bit spunkier. We marinate the tomatoes in a simple Champagne vinaigrette made with olive oil, shallots, salt, and pepper. As the tomatoes sit, the salt and vinegar sweat out the tomato juice, which muddles with the olive oil and thickens. (Dip your baguette in that!) Once they're ready to go, we layer on wedges of rich, buttery burrata and torn mint leaves. The mint pairs really well with the fruity tomatoes and stays bright and perky in the salad.
The result is a lovely bite: zippy, savory, and full of the tomato's earthy sweetness. We love it piled on crostini for an appetizer: the combination of the tomato juices and ultra-creamy cheese is heaven on the crunchy toast. It also makes a beautiful side for just about any protein. Serve it with a hunk of crusty bread — you're going to want to mop up the juices.

Servings: 4 to 6
Ingredients
2 Tbsp extra-virgin olive oil
2 Tbsp Champagne vinegar
3 large heirloom tomatoes, stemmed and cut into wedges
1 shallot, thinly sliced
Kosher salt, to taste
Freshly ground black pepper, to taste
8 oz burrata cheese, torn into wedges
2 Tbsp torn mint leaves, for garnish
Crostini, for serving (optional)
Directions
In a large bowl, combine the olive oil and vinegar and whisk to emulsify.

Add the tomatoes and shallots and toss to combine. Generously season with salt and pepper and stir. Cover with plastic wrap and let marinate for 30 minutes.

Using a slotted spoon, transfer the salad to a serving bowl or dish. Top with the burrata and mint leaves.

Serve immediately — either as a side salad or spooned over crostini for an appetizer.