Recipes
Mediterranean Grilled Shrimp Skewers Bowl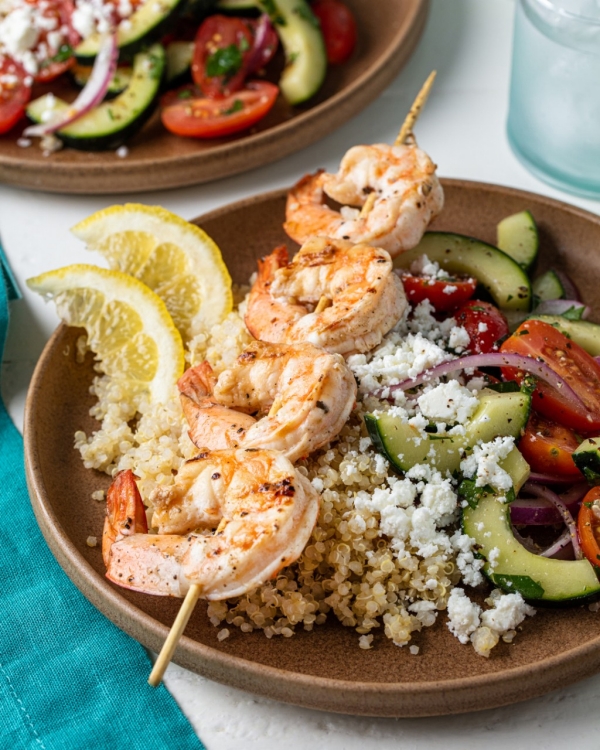 Great, big, smoky shrimp on a bed of lemony quinoa, crunchy cucumber, juicy tomatoes, and salty feta — this bowl is as much a treat as it is healthy and satisfying. The shrimp marinate in Italian vinaigrette, so they cook up tender and full of light, peppery flavor.
This is a quick and easy summer weeknight meal — compose the bowl, add tongs, and you're all set. It's also really pretty, so pull it out when you're celebrating the S.O.'s birthday. It pairs beautifully with white wine and earnest palaver.
Our tip: Speaking of wine, we'd recommend a bottle of Justin Sauvignon Blanc. Its subtle orange peel, herbal, and chamomile notes will be great with both the shrimp and the garlicky marinade.

Servings: 4
Ingredients
16 large shrimp, peeled and deveined
1 cup Briannas Italian vinaigrette, divided
1 pint cherry tomatoes, halved
1 small cucumber seeded, halved and sliced
¼ red onion, sliced
2 Tbsp parsley, chopped
4 cups cooked quinoa
½ cup feta
2 small lemons, one sliced
Salt, to taste
Pepper, to taste
Special tools: skewers
Directions
Divide the shrimp between 4 skewers.

In a shallow pan or a sealable bag, cover the shrimp in ¾ cup of the vinaigrette. Allow the shrimp to marinate in the fridge for an hour or more.

In a large bowl, toss the tomatoes, cucumber, red onion, parsley and the last ¼ cup of the vinaigrette in a bowl. Salt and pepper to taste. Put it in the fridge to marinate.

When you are ready to eat, remove the shrimp from the marinade. Discard the marinade and sprinkle the shrimp with salt and pepper.

Prepare a charcoal grill or heat a gas grill to medium-high.

Grill the shrimp for 2 to 3 minutes per side. When they turn pink and begin to curl, they are done.

While the shrimp are cooking, add the juice of one of the lemons to the quinoa. Season with salt and pepper to taste.

Assemble your bowl as shown in the photos, using the lemon slices as a garnish.

Recipe source: Briannas