Dinner Recipes
Mini Vegetable Pot Pie
What could be better on a winter day than homemade pot pie, hot from the oven? These personal-sized pies are topped with crackly puff pastry and chock-full of comforting veggies: sweet peas and carrots, tender potatoes, and earthy cremini mushrooms in an umami-rich broth. They're so hearty and flavorful, you won't miss the meat! Pair them with a big glass of red wine and your favorite cozy blanket.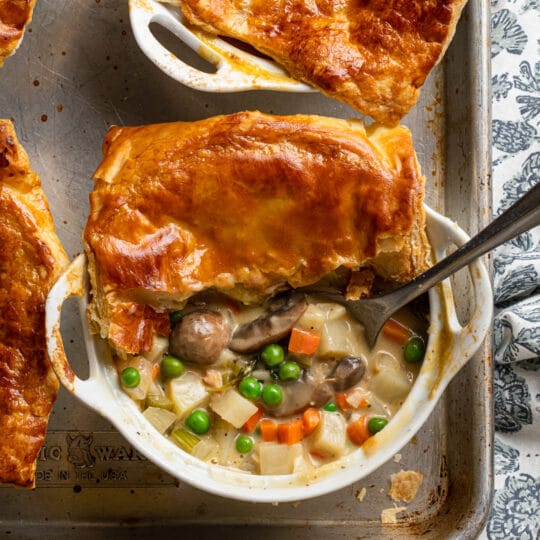 Dinner
Mini Vegetable Pot Pie
Serves: 4
Ingredients
1 cup small-diced yellow onion
1 cup small-diced carrots
1 tsp fresh thyme leaves, minced
8 oz cremini mushrooms, sliced thin
1 ½ lbs russet potatoes, small diced
½ tsp freshly ground Gelson's black pepper
⅓ cup Gelson's organic all-purpose flour
1 cup plus 1 Tbsp whole milk, divided
1 Tbsp chopped Gelson's fresh parsley
17 oz puff pastry sheets, thawed
1 Gelson's large egg, whisked
Special equipment: 4 16 oz oven-safe ramekins
Directions
Melt the butter in a large skillet or Dutch oven over medium heat. Once melted, add the onions, carrots, celery, garlic, and thyme. Sauté until the onions are tender and translucent, about 3 minutes. Stir in the mushrooms and cook for 1 minute.

Add the potatoes, salt, and black pepper. Stir and cook for 5 to 7 minutes until the potatoes are al dente.

Sprinkle the flour over the vegetables, stir, and cook for 2 minutes. Slowly pour in the vegetable stock and 1 cup of the milk, stirring constantly until the gravy is smooth.

Bring to a simmer until the gravy is slightly thickened and the potatoes are tender but not falling apart, about 5 to 6 minutes.

Stir in the peas and parsley. Taste and season with more salt and pepper as desired.

Preheat the oven to 400°. Evenly divide the filling among ramekins, about 2 cups of filling per serving.

Trim ¼" off the edges of the puff pastry sheets to allow the pastry to puff a little better. Cut the pastry sheets down to squares that will cover the ramekins, making 4 squares total. Place one square over each ramekin, allowing the edges to hang over the sides. Make 4 small slits in the top.

In a small bowl, whisk together the egg and remaining 1 tablespoon of milk. Brush the top and sides of the puff pastry with the egg wash. Sprinkle with salt and black pepper.

Place the ramekins on a baking sheet. Bake until the puff pastry is puffed up and golden brown in color, 15 minutes. Let rest for 5 minutes and serve hot.
Recipe source: Simply Recipes