Dinner Recipes
Miso Glazed Black Cod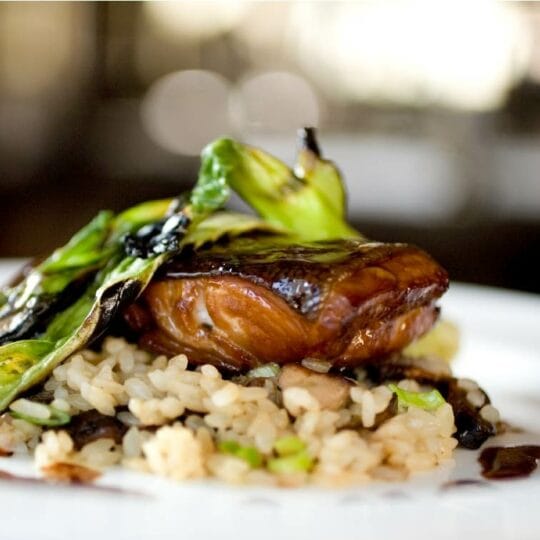 Dinner
Miso Glazed Black Cod
Serves: 4
Ingredients
1/2 cup Galeos miso ginger wasabi dressing
2 teaspoons Yamasa less salt soy sauce
4 6 ounce wild black cod fillets with skin rinsed and patted dry
1 teaspoon Spice Hunter sesame seeds
Directions
Combine dressing and soy sauce in a large zipper bag. Add black cod and shake to coat. Marinate in the refrigerator at least one hour and up to one day, turning at least once.
Arrange oven rack so that it is one rung above the middle position in the oven. Preheat broiler and spray a 7x11 inch glass baking dish with cooking spray. Arrange fish pieces in dish so they fit snugly, but are not overlapping one another and pour marinade over fish. Broil eight to ten minutes, until tops are brown and fish is fork tender, spooning marinade over fish after four minutes.
While fish is broiling, add sesame seeds to a small skillet and toast over medium heat, shaking the pan frequently, until they begin to brown, about three minutes. Remove from heat and allow to cool slightly while black cod finishes cooking. Transfer fish to a serving platter. Run your index finger along the center and cut ends of each piece of fish and remove all bones. Spoon remaining pan juices over fish and garnish with sesame seeds. Do not eat the skin.