Dessert Recipes
Mocha Cookies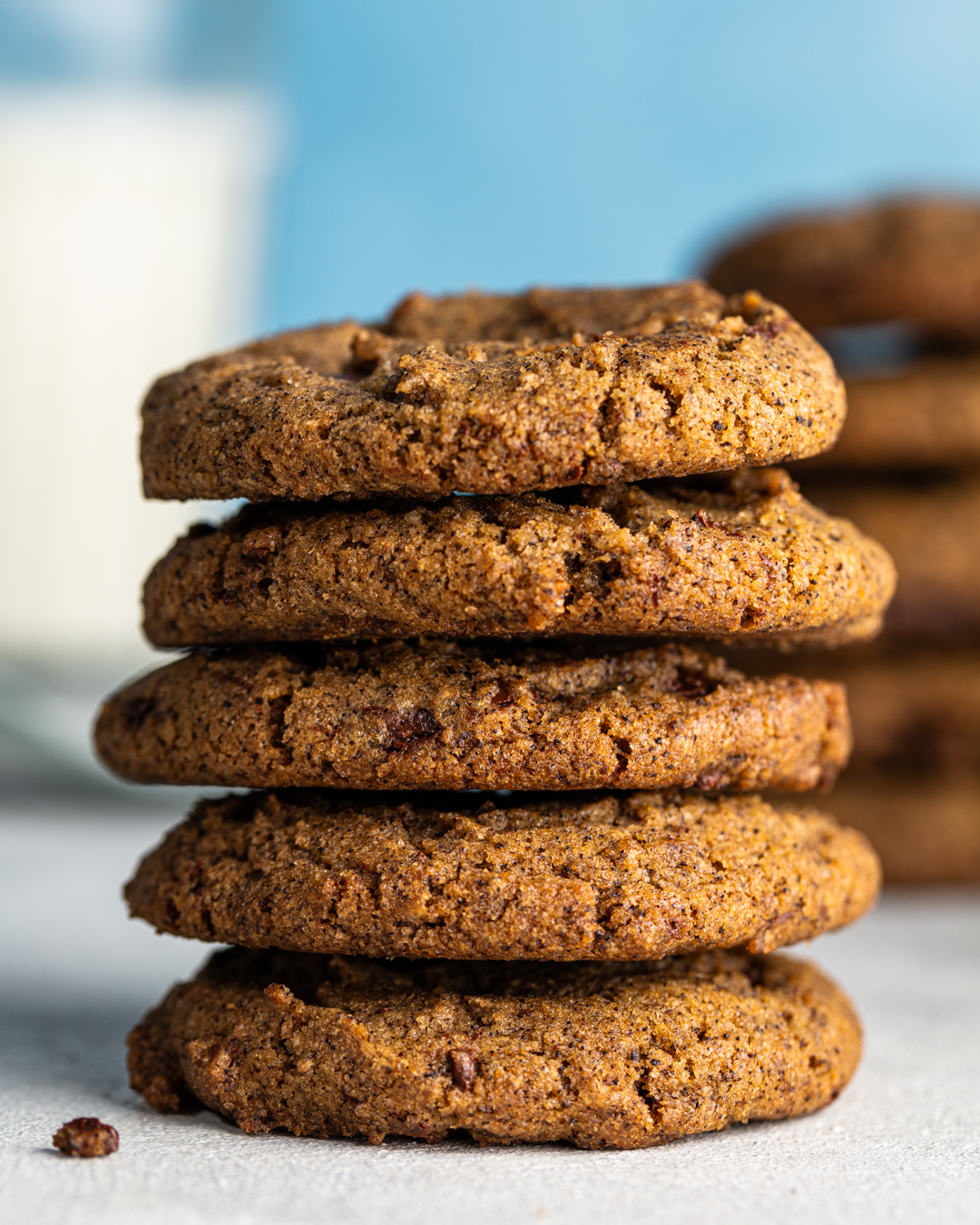 These sophisticated cookies are tailor-made for the worker bee who craves an afternoon sweet but still has stuff to do. (Even if that stuff entails nothing more rigorous than listening to a smart podcast and repotting the patio cacti.) Made with a quarter cup of espresso, they definitely lead with great big coffee notes, but it's the fine balance of brown butter, bittersweet chocolate, and salt that makes them so dangerous — well, that and their irresistible crispy yet chewy texture. It's possible (easy even!) to eat a half dozen of these beauties without blinking an eye. But, oh my, the buzz! Mocha cookies may be our new favorite energy drink.
They have the added benefit of being very easy to make: you won't even have to get out the stand mixer. That said, we did coax a few words of wisdom out of our test kitchen bakers.
First, don't be tempted to use chocolate chips rather than a bittersweet chocolate bar. Rough-chopping the bar creates chocolate shards and dust, as well as chunks. In the oven, the shards and dust melt through the dough to give the whole cookie added cocoa depth and richness.
Second, dough made with brown butter tends to be super soft and melty in the oven. For a nice, chewy texture, chill the dough for at least 30 minutes prior to baking.
And third, these cookies are just made for dunking! Warm out of the oven, they are positively splendid with a great big glass of milk. But if you're looking to amplify the buzz, we also love them with a hot cup of coffee — go Speed Racer, go!
Yield: 32
Ingredients
¾ cup unsalted butter
1 cup packed dark brown sugar
⅓ cup granulated sugar
1 large Gelson's egg, room temperature
1 egg yolk, room temperature
1 Tbsp vanilla extract
1 ¾ cups all-purpose flour
¼ cup espresso powder
½ tsp kosher salt
½ tsp baking soda
4 oz bittersweet chocolate, roughly chopped
Directions
In a medium pan over medium heat, melt the unsalted butter. When the butter begins to foam, scrape the bottom of the pan, stirring constantly, until it turns a golden brown and emits a nutty aroma, 6 to 9 minutes. Take the butter off the heat immediately and pour it into a small bowl, making sure to scrape the browned bits from the bottom of the pan. Cool until room temperature, about 30 minutes.

In a large mixing bowl, combine the cooled brown butter with the dark brown sugar and granulated sugar. Using a wooden spoon, stir vigorously until well combined.

Add the egg, egg yolk, and vanilla extract. Stir vigorously until creamy and light, about 30 seconds.

Add the all-purpose flour, espresso powder, kosher salt, and baking soda, and mix until everything just comes together.

Fold in the bittersweet chocolate. Do not over mix.

Line a cookie sheet with parchment paper. Use 3 tablespoons or 1 ½-oz cookie scoop to measure the dough into balls, placing them 2 inches apart on the prepared sheet. Cover with plastic wrap and refrigerate the cookie dough for at least 30 minutes, or overnight. Note: the dough balls can be refrigerated for up to 5 days or frozen for up to 1 month.

When you are ready to bake the cookies, preheat the oven to 350°. Bake for 10 to 12 minutes, or until the edges are just starting to brown and the centers have puffed up but are still gooey.

Cool for 5 minutes on the baking sheet. Enjoy warm or room temperature.

Store the cookies in an airtight container for up to 5 days.
Recipe adapted from: Broma Bakery
Calculate nutrition information for this recipe.