Dinner Recipes
Nana's Chicken Noodle Soup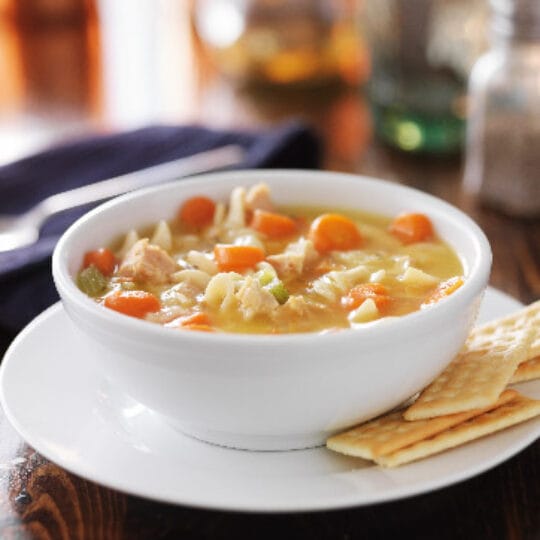 Dinner
Nana's Chicken Noodle Soup
Serves: 8
Ingredients
1 whole organic chicken cut into 10 pieces skin removed excess fat trimmed
1 16 ounce bag organic baby carrots half coarsely chopped half sliced into 1/4 inch rounds and reserved for step 2
8 organic celery stalks 4 coarsely chopped 4 sliced into 1/4 inch pieces and reserved for step 2
1 onion peeled and quartered
1 leek trimmed of green top and washed well
1 bunch dill tied with twine
1 head cauliflower preferably organic cut into bite sized florets
1 package golden or white enoki mushrooms root end discarded
1/2 to 1 teaspoon Le Saunier de Camargue fleur de sel sea salt
1 12 ounce bag Manischewitz fine egg noodles cooked just before soup is done
Directions
Place the chicken in a large stockpot. Cover by 1/2 inch with filtered water, cover and cook over high heat until just boiling. Remove the lid, and using an angled spoon, skim the film that rises to the top over the next 30 minutes of cooking. Once most of the film is removed, add in coarsely chopped carrots and celery, onion, and leek. Simmer uncovered, for 30 minutes and add whole parsnip. Simmer uncovered 30 to 60 minutes longer, until the flavor begins to intensify.
Strain into a clean pot. Discard the cooked vegetables and keep the chicken. Add remaining sliced carrots, celery, dill, and cauliflower pieces. Cover and cook over medium heat until the carrots are tender, about 20 minutes. Taste and season with salt and pepper. Add mushrooms and cook uncovered, about three minutes. If soup is too bland, let it continue to cook uncovered until the flavor is just right. Remove the dill.
Meanwhile, when the chicken is cool enough to handle, shred it and discard the bones while the soup continues to cook.
Spoon cooked noodles and chicken into soup bowls and ladle in soup and vegetables. Serve immediately.