Dinner Recipes
New Potatoes with Caviar and Creme Fraiche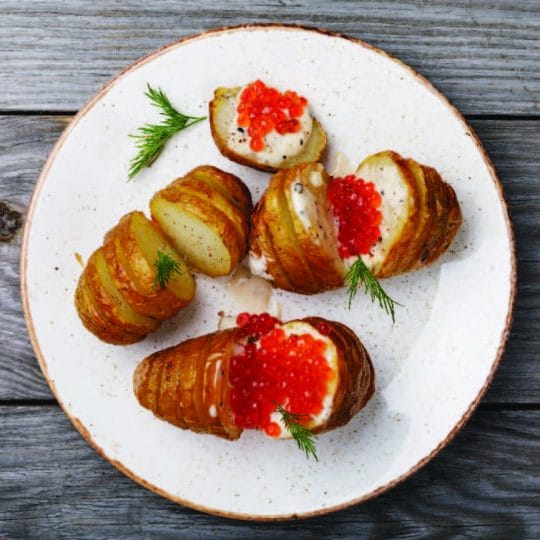 Dinner
New Potatoes with Caviar and Creme Fraiche
Serves: 8
Ingredients
to taste sea salt and cracked black pepper
2 tbsp unsalted butter, melted
3 tbsp organic light sour cream
Directions
Preheat broiler.
Boil new potatoes in a pot of salted water until just tender, about 7 minutes.
Drain potatoes and cool slightly.
Place a layer of rock or sea salt in an ovenproof serving dish.
Cut each potato in half lengthwise and scoop out flesh from potato halves, leaving 1/4 inch thickness, reserve the flesh.
Place potato halves cut side up in the salt filled dish, and brush potatoes with olive oil, sprinkle with salt.
Place dish under broiler until golden and crisp, remove from oven.
Mash the reserved flesh with unsalted butter and cr?me fra?che and fill each potato half.
Top with caviar and serve immediately.