Dinner Recipes
New Year's Black-Eyed Peas With Berbere Seasoning
Black-eyed peas are rich with history and tradition. According to food historians, these little spotted beans were domesticated in medieval Africa — and, like many ingredients in American cooking, found their way to the southern United States via the slave trade. Originally, they were considered suitable only for enslaved people and livestock. And yet, over time, black-eyed peas became a symbol of good luck and prosperity and therefore a must-eat on New Year's Day.
How did the little legumes become synonymous with such fortune? There are a number of Southern legends that provide explanation. For example, one states that the swelling of the beans as they cook represents an expansion of wealth. Another story holds that on January 1, 1863, the day the Emancipation Proclamation went into effect, now-freed Black Americans in the South ate black-eyed peas to celebrate, and henceforth the beans were always served on New Year's Day.
Southern tradition says the beans (that's right, we said beans again; the whole pea thing is a misnomer) must be eaten with greens, like collards, and pork in order for all that luck and fortune to stick — but we decided to take our chances and cook black-eyed peas into a stew with coconut milk and berbere seasoning.
Fiery and aromatic, berbere seasoning is at the core of Ethiopian cuisine, and it's one of those things where everyone and their grandmother has a slightly different recipe. Here, we make it by toasting whole spices, including coriander, cumin, mustard seeds, black peppercorns, allspice berries, cardamom seeds, whole cloves, and chiles de árbol until they're deeply fragrant. Then, we whirl them up with a few different spice-rack staples. Think: ground cinnamon, paprika, ginger, and turmeric. The result is a perfectly balanced blend full of warm, savory flavor.
We add the berbere seasoning to a sauté of spicy red onion, zingy ginger, punchy garlic, and fruity habañero — along with a bit more turmeric, that delightfully vibrant spice. Some chopped tomatoes, chicken stock, the coconut milk, and boom: you have a beautifully layered sauce that thickly coats the perfectly chewy black-eyed peas. (That's right, no mushy beans here!)
The finishing touch is a handful of grassy cilantro and bright green onions — they make this bean stew feel light and fresh, despite its rich, earthy depth. It's a lovely New Year's dish: warm and comforting enough for the wintry weather, but also bright and revitalizing enough for the start of what will surely be an auspicious year.
Our tip: leftover berbere seasoning can be used in a multitude of ways, from lentils and dal to meat rubs and marinades to traditional Ethiopian fare, like doro wat.

Servings: 8 to 10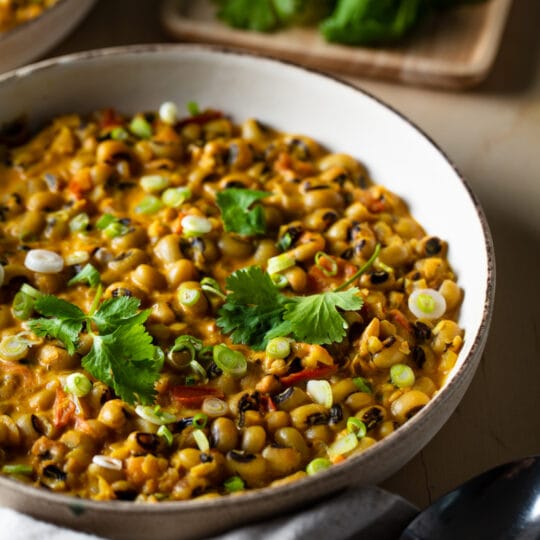 Dinner
New Year's Black-Eyed Peas With Berbere Seasoning
Ingredients
2 cups dried black-eyed peas, rinsed and picked through
1 large red onion, minced
1 ½ Tbsp peeled and minced fresh ginger
1 habañero chile, seeded and minced
2 tsp berbere seasoning (see below)
3 medium tomatoes, chopped
2 green onions, thinly sliced
For the berbere seasoning:
Seeds of 4 green cardamom pods
5 dried chiles de árbol, seeds and membranes removed, broken into small pieces
Directions
Place the black-eyed peas in a bowl. Cover with water to 1" above the peas and soak overnight. Drain.

Transfer the black-eyed peas to a large saucepan, cover with water to 2" above the peas, and bring to a

boil. Reduce to a simmer and cook for 30 to 35 minutes, or until tender. Add a generous pinch of salt and let stand for 5 minutes, then drain well.

Meanwhile, to make the berbere seasoning: In a heavy skillet over high heat, toast the coriander seeds, cumin seeds, mustard seeds, black peppercorns, allspice berries, cardamom seeds, cloves, and chiles de árbol, shaking the pan regularly to prevent scorching, until very fragrant, about 3 minutes. Transfer to a bowl and let cool completely.

Transfer the berbere to a spice or coffee grinder and finely grind, about 15 seconds. Add the paprika, salt, nutmeg, ginger, cinnamon, and turmeric, and grind to combine.

Transfer the berbere to an airtight container and set aside. Note: You can store any leftover berbere seasoning in your pantry for up to 6 months. (See tips for cooking suggestions.)

In a large saucepan, melt the butter over medium heat. Add the onion, ginger, garlic, and habañero chile and cook, stirring occasionally, until softened and just starting to brown, about 10 minutes.

Add 2 tsp of the berbere and the additional turmeric and cook, stirring, until fragrant, about 2 minutes.

Add the tomatoes and cook, stirring, until softened, about 5 minutes.

Stir in the coconut milk and stock and bring the sauce to a boil. Simmer over moderately low heat, stirring occasionally, until the tomatoes break down and the sauce is thickened, about 20 minutes.

Add the cooked black-eyed peas to the sauce and cook, stirring, until the peas are lightly coated, about 10 minutes. Fold in the cilantro and scallions and serve.
Recipe adapted from: Food & Wine
Berbere seasoning source: Daring Gourmet