Dinner Recipes
One-Pot Chicken & Caramelized Shallots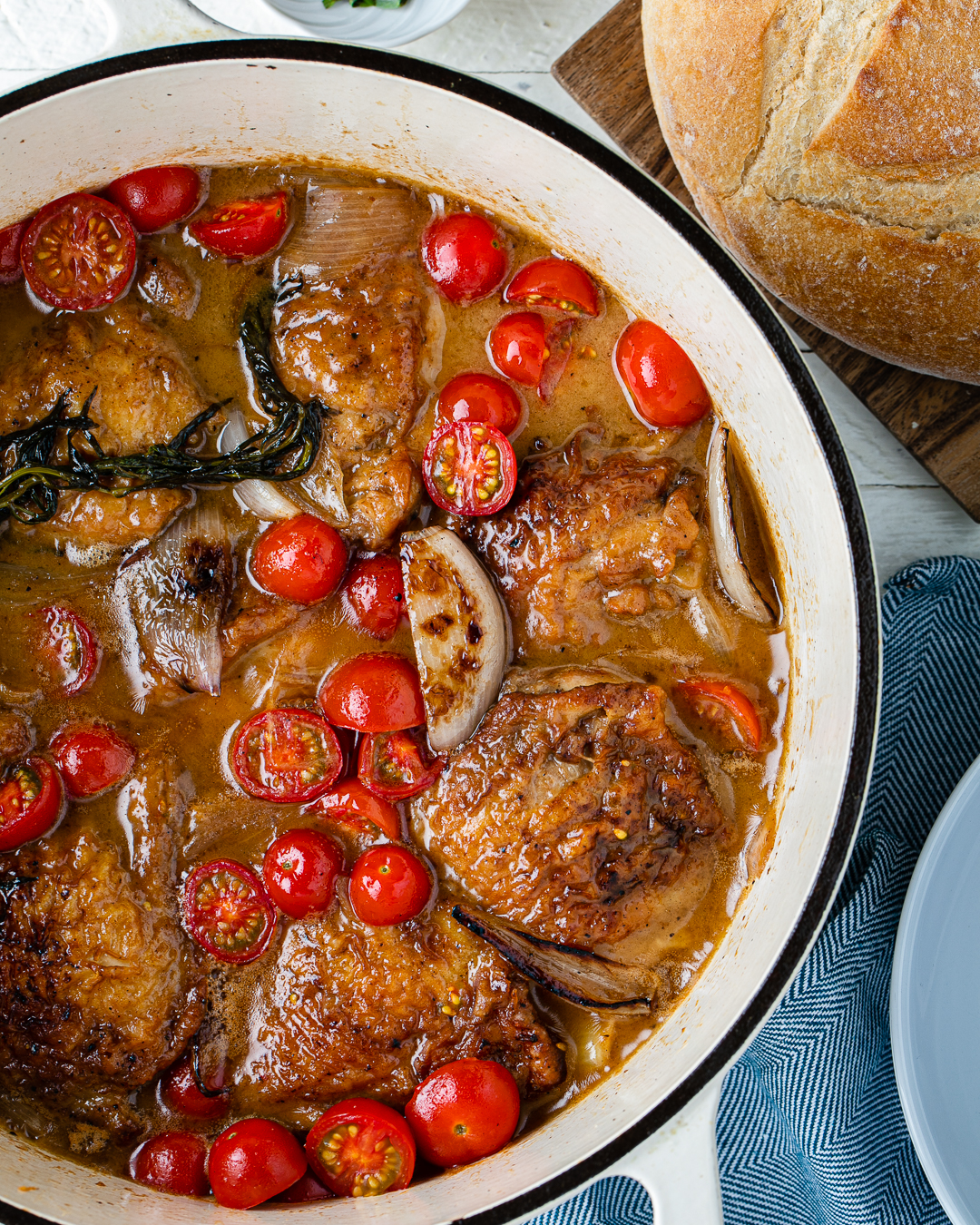 Sometimes, it's the little touches that catapult a dish into your culinary highlight reel. In the case of this super simple, one-pot dinner, it's the caramelization of shallots that does the trick.
While onions and shallots are both members of the allium family, the mild shallots' delicate, sweet flavor is more like a friendly hug than a strong slap on the back. That natural sweetness makes them the perfect candidate for caramelization, the low-and-slow process of steaming out water and breaking down a vegetable's natural sugars. It results in a more intense color and a fabulously concentrated flavor. Even better, those caramelized veggies blend beautifully with the dark chicken meat and umami-rich cherry tomatoes, creating a skillet of meaty, savory goodness.
This dish is a natural for a quick dinner after a busy day. And as you're pouring two cups of white wine into the pan to deglaze all those crispy bits at the bottom, you might as well pour one for yourself, too. Stirring and sipping, you'll have plenty of time to pull together a leafy green salad and a loaf of crusty bread to set on the table. Light a candle, too — just because this dish was easy to prepare doesn't mean it shouldn't be treated like a guest star tonight.
Our tip: Like so many skillets and stews, this dish will not only taste great the next day — it might even taste better. Treat yourself to an upscale leftover lunch tomorrow.
Servings: 4 to 6
Ingredients
8 Gelson's organic bone-in, skin-on chicken thighs
2 Tbsp all-purpose flour
1 Tbsp kosher salt
1 Tbsp freshly ground Gelson's black pepper
2 Tbsp unsalted butter
12 medium Gelson's peeled shallots, quartered
2 cups white wine
2 Tbsp Dijon mustard
2 Gelson's organic fresh tarragon sprigs, plus more chopped tarragon for garnish
2 cups cherry tomatoes, halved
Crusty bread, for serving
Directions
Pat the chicken thighs very dry with paper towels. Sprinkle the flour, salt, and pepper over the chicken.

Melt the butter in a large Dutch oven or heavy-bottomed pot set over medium-high heat. When the butter foams, add half the chicken in one layer, turning occasionally, so that all the sides are well-browned and crispy, about 10 minutes. Transfer to a large plate and set aside. Repeat with the remaining chicken.

Add the shallots to the same pot and sauté them in the butter and chicken fat until they begin to soften and caramelize, stirring occasionally, 6 to 8 minutes.

Stir in the wine to deglaze the pot. Add the mustard and tarragon sprigs, stir to combine, and then add the chicken thighs back to the pot. Cover the pot, turn the heat to low, and simmer for 30 minutes.

Remove the lid and continue to simmer, allowing the sauce to reduce and thicken, 15 to 20 minutes.

Add the cherry tomatoes and stir lightly to combine.

Garnish with chopped tarragon, and serve immediately with crusty bread.
Recipe adapted from: The New York Times
Calculate nutrition information for this recipe.