Dinner Recipes
One-Pot Chicken with Creamed Kale
Sunday supper holds a special place in our hearts. It's the cozy family meal that prolongs the weekend — even if family means friends and cozy means outside in the sunshine of our patios. This dish is perfect in all cases. The chicken is coated in a buttery panko crust, a crispy foil for all that creamy kale. But it's the warm and rather unexpected Castelvetrano olives that steal show: they taste amazing with the chicken and add loads of briny depth to the dish.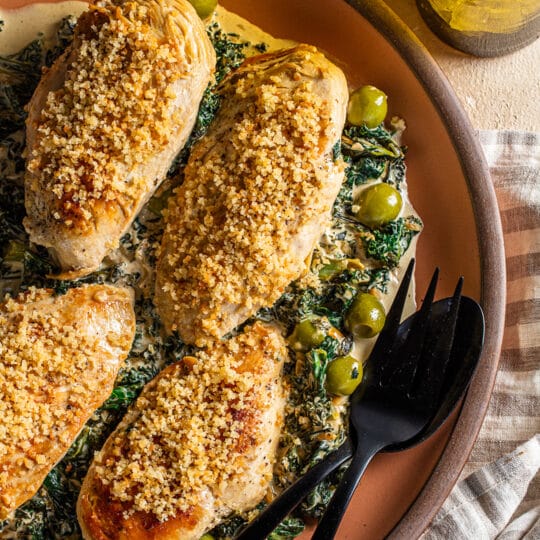 Dinner
One-Pot Chicken with Creamed Kale
Serves: 4
Ingredients
4 boneless, skinless chicken breasts
1 ½ tsp kosher salt, divided
½ tsp freshly ground Gelson's black pepper
2 Tbsp Gelson's 100% California extra virgin olive oil
2 large shallots, thinly sliced
8 cups chopped Tuscan kale leaves, ribs removed (about 2 bunches)
½ cup freshly grated Parmesan cheese, plus more for serving
1 Tbsp whole grain mustard
2 tsp Gelson's fresh thyme leaves
¼ tsp Gelson's ground nutmeg
1 cup pitted Castelvetrano olives, halved
Directions
Season the chicken breasts on all sides with 1 teaspoon of the salt and the black pepper.

Warm the olive oil in a large Dutch oven over medium high heat until it glistens. Add the chicken breasts and cook, undisturbed, until browned, about 5 minutes on each side. Transfer the chicken to a plate.

Reduce the heat to medium, add the shallots to the Dutch oven, and cook for 1 to 2 minutes until they begin to soften. If the shallots are browning too quickly, add a small splash of chicken stock or water.

Add the garlic and cook for 1 minute. Add half the kale and cook until wilted, about 4 minutes. Stir in the remaining kale and cook until wilted, 4 minutes.

Stir in the heavy cream, Parmesan, mustard, thyme, nutmeg, and the remaining ½ teaspoon salt. Increase the heat to medium-high and bring the creamed kale to a simmer, stirring often.

Reduce the heat to medium-low and nestle the browned chicken breasts into the creamed kale. Add the olives and cook, uncovered, at a low simmer for about 15 minutes or until the thickest part of the chicken breasts read 165º on an instant-read thermometer.

While the chicken is cooking, melt the butter in a small saucepan over medium heat. Once melted, add the panko and stir to combine. Continue to cook and stir until the panko is golden brown, about 3 minutes. Set aside.

When the chicken is done, sprinkle the buttery toasted panko over the top of the dish and serve. Leftovers can be stored in an airtight container in the refrigerator for up to 3 days.
Recipe source: themodernproper.com