Dinner Recipes
Pasta e Ceci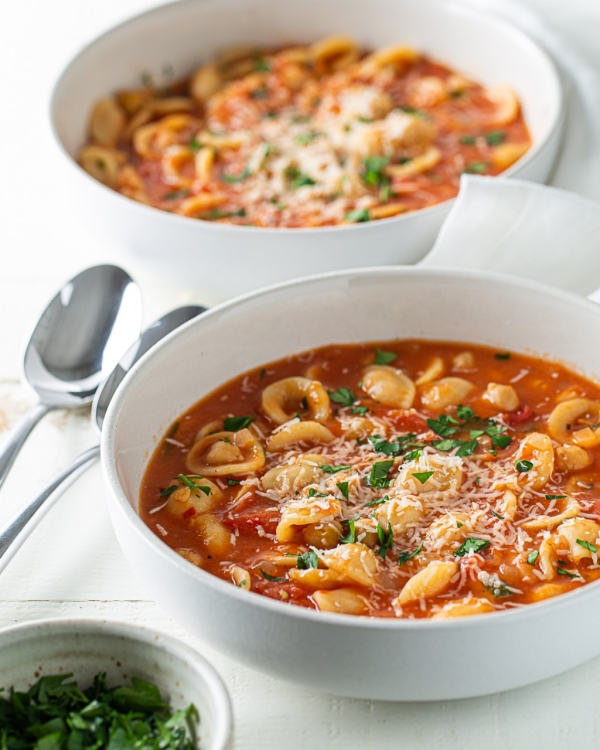 It's no secret that orecchiette has mad sauce-scooping skills. This dish might be its perfect application — it's like a million tiny bowls of red sauce. Add the ceci, and it's positively charming: the little beans seem to nestle right into the pasta. Take a great big spoonful of pasta e ceci, and you'll find it's satisfying in a saucy, starchy, melty-Parm kinda way. Balm for our frazzled pandemic nerves? And how.

It's also one of those weeknight one-pot wonders. Basically, all you have to do is chop an onion, slice a few cloves of garlic, crush some tomatoes (with your bare hands, which is incredibly cathartic), and then dump them in a pot with the rest of the ingredients. It sounds ridiculously simple, and it is, but it's also full of rosemary, crushed red pepper flakes, and parsley, so in the 20 or so minutes that it's on the stove, it simmers into a savory, satisfying dish of surprising depth.
Pasta e ceci is a big favorite at our houses. Even the kids like it. (It's practically Spaghetti-Os, after all.) A little garlic bread is nice dipped in that tomato sauce.


Servings: 2


Ingredients


3 Tbsp extra-virgin olive oil, plus more for drizzling
1 small onion, finely chopped
Kosher salt, to taste
3 garlic cloves, thinly sliced
1 sprig Gelson's organic rosemary
¼ tsp crushed red pepper flakes
1 15-oz can chickpeas, drained and rinsed
1 cup canned whole peeled tomatoes, crushed by hand
6 oz orecchiette or other short pasta
4 cups water
2 Tbsp tomato paste
¾ cup tomato sauce
2 Tbsp finely chopped parsley
3 Tbsp finely grated Parmesan, plus more for serving
Freshly ground black pepper, to taste


Directions


In a large saucepan, heat 3 tablespoons of the olive oil over medium heat. Add the onion and season with salt. Cook, stirring occasionally, until the onion is beginning to soften, about 5 minutes.

Add the garlic and continue to cook, stirring occasionally, until the onion and garlic are both very soft and just beginning to brown around the edges, about 5 to 6 minutes longer.

Add the rosemary and red pepper and cook, stirring, until fragrant, about 30 seconds.

Add the chickpeas and tomatoes and cook, stirring occasionally, until the tomatoes thicken slightly, about 6 to 8 minutes.

Add the pasta, water, tomato paste, and tomato sauce. Increase the heat to medium-high, bring the water to a simmer, and cook, stirring occasionally, until the pasta is al dente, about 13 to 16 minutes, depending on the shape.

Stir in the parsley and Parmesan. Season with salt.

Divide the brothy pasta between two bowls. Drizzle with more oil and top with Parmesan and black pepper.
Recipe adapted from: Bon Appétit