Dessert Recipes
Peach Cobbler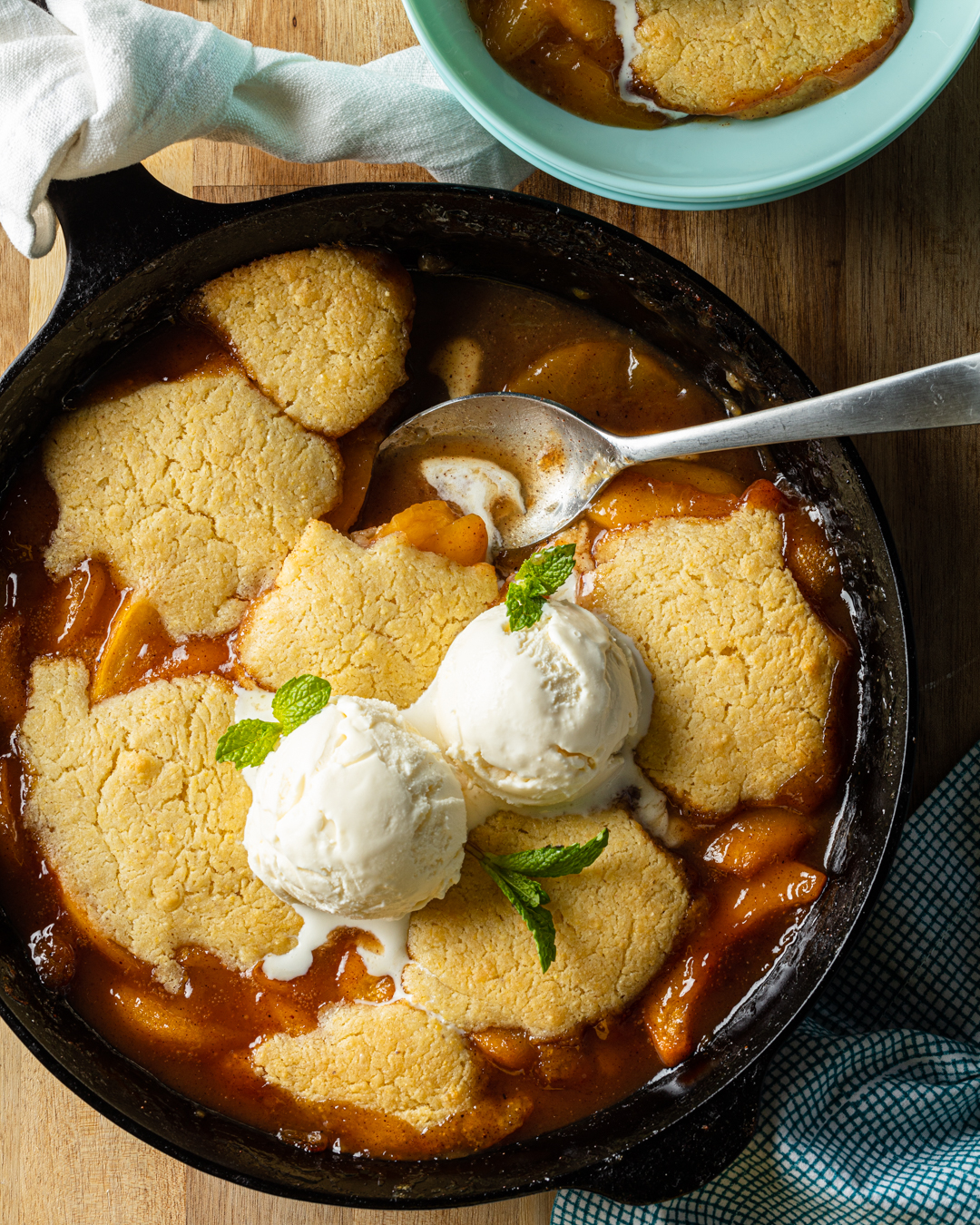 In the test kitchen, we all love a summer cobbler, so when we started planning a sweet for Juneteenth, peach cobbler seemed like a natural — it's a Southern classic and peaches are in season. Of course, cobblers are a free-form sort of dessert, as variable as the home kitchens that create them, and you'll find them topped with everything from lattice pie crusts to sweet, crunchy crumble to buttery biscuit islands.
We went in search of the latter, and found a recipe with a fun twist: it's topped with buttermilk cornmeal biscuits. They're mixed up in a bowl, and then dropped into a cast-iron pan with the peaches. So simple: two dishes, no kneading or folding. And the biscuits bake up super fluffy and flavorful, from the buttermilk's tang to the nutty butter and, of course, the corn. Those savory layers are wonderful with the spicy-sweet filling — think warm summer peaches, sweet cream butter, brown sugar, cinnamon, nutmeg, and cardamom.
This is a homey dish, meant to be made for best friends and family and served warm from the cast iron — with great big scoops of vanilla ice cream. It'll be the perfect end to your Juneteenth celebration, or any evening where the mood is cozy and contented.
Servings: 6 to 8
Ingredients
2 lb fresh or frozen peaches, sliced
¾ cup unsalted butter, divided
½ cup packed light brown sugar
2 tsp vanilla extract
½ tsp Gelson's ground cinnamon
¼ tsp Gelson's ground nutmeg
⅛ tsp ground cardamom
¾ tsp kosher salt, divided
1 Tbsp water
1 Tbsp cornstarch
1 cup all-purpose flour
½ cup fine cornmeal
1 ½ tsp baking powder
2 Tbsp granulated sugar
1 cup buttermilk
Mint sprigs, for garnish
Vanilla ice cream, for serving
Directions
Preheat the oven to 400°.

In a large cast-iron skillet over medium-low heat, add the peaches, tossing gently until they begin to release their juices, 5 to 6 minutes.

Dice ¼ cup unsalted butter and scatter over the peaches. Cook, stirring continuously, until the butter has melted, 2 to 3 minutes. Stir in the light brown sugar, vanilla extract, cinnamon, nutmeg, cardamom, and ¼ tsp kosher salt, and continue cooking until the sugar has dissolved, 2 to 3 minutes more.

In a small bowl, whisk together the water and cornstarch to create a slurry, then stir it into the peach mixture. Remove the skillet from the heat.

To make the biscuit batter: Melt the remaining ½ cup unsalted butter. In a medium mixing bowl, whisk together the all-purpose flour, cornmeal, baking powder, granulated sugar, and remaining ½ tsp kosher salt. Whisk in the buttermilk and melted butter until combined.

Using a large spoon, dollop the batter over the top of the peach filling.

Place the skillet on a rimmed baking sheet and transfer to the oven. Bake for 30 to 40 minutes, or until the biscuit tops are golden brown in color and the filling is bubbling.

Transfer the cobbler to a wire rack and let cool for 10 minutes. Garnish with mint sprigs and serve with vanilla ice cream.
Recipe adapted from: Butter Be Ready (Quin)
Calculate nutrition information for this recipe.