Dinner Recipes
Peach, Pea & Burrata Salad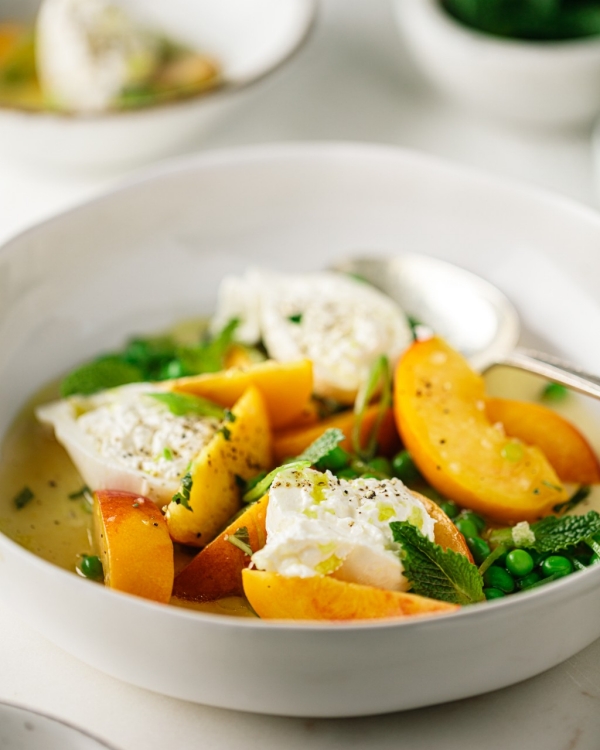 This salad is the very best of SoCal summer. It has a certain lush decadence to it between the juicy, sweet marinated peach slices and dollops of creamy burrata. But we've sprinkled it with sugar snap peas, mint, and a drizzle of the peach's puckery marinade to keep things light and colorful. Those pops of green are delightful!
The marinade might be our favorite part of the salad. It's full of bright citrus, honey, and salt — everything you need to cut through all that creaminess and bring the peach to life. You won't want to waste a drop of it, so serve the salad with slices of rustic ciabatta for dipping. If you love toast, you could also grill the ciabatta with salt and a little olive oil and serve the salad on top of it.
Although we say it ourselves, this is a stunning salad. Even the kids gasp when we bring it to the table (and then, they pick around the peas). It's also a super easy one, so you could make it for a weeknight birthday dinner — or a date night on the patio with your partner.
Tip: We'd pair this salad with our light, crisp Gelson's Rosé. They'll look so pretty together, and the rosé's fruits will be fantastic with the peaches.
Servings: 4
Ingredients
¼ cup orange juice
¼ cup lemon juice
½ tsp honey
2 Tbsp extra virgin olive oil, divided
1 tsp flake salt, divided
½ tsp black pepper, divided
1 peach, cut into wedges
2 Tbsp mint, rough chopped and divided
18 whole sugar snap peas
4 oz burrata, divided into 4 slices
Directions
In a large bowl, whisk together the orange juice, lemon juice, honey, 1 tablespoon of the olive oil, a ½ teaspoon of the flake salt, and a ¼ tsp of the black pepper to create a marinade.

Add the peach wedges and 1 tablespoon of the mint to the marinade, stirring to ensure all of the peach wedges are covered. Marinate the peach wedges in the fridge for 2 hours.

In the meantime, prepare an ice bath of half ice and half water, and bring a small pot of water to boil over medium-high heat.

Julienne 3 of the sugar snap peas. Set aside.

Shuck the remaining sugar snap peas. Add the shucked peas to the boiling water, and blanch until they are bright green, about 2 minutes.

Strain the peas, and plunge them into the ice bath to stop the cooking process. Drain and set the peas aside.

Spoon the peaches out of the marinade — reserving the marinade — and transfer them to a large salad bowl.

Add the fresh and blanched peas, 1 tablespoon of marinade, and the remaining flake salt and pepper, and toss to combine.

Garnish the salad with the burrata slices, drizzle it with marinade and olive oil, add fresh mint, and enjoy!