Lunch Recipes
Pear, Prosciutto & Arugula Flatbread
Pear, Prosciutto & Arugula Flatbread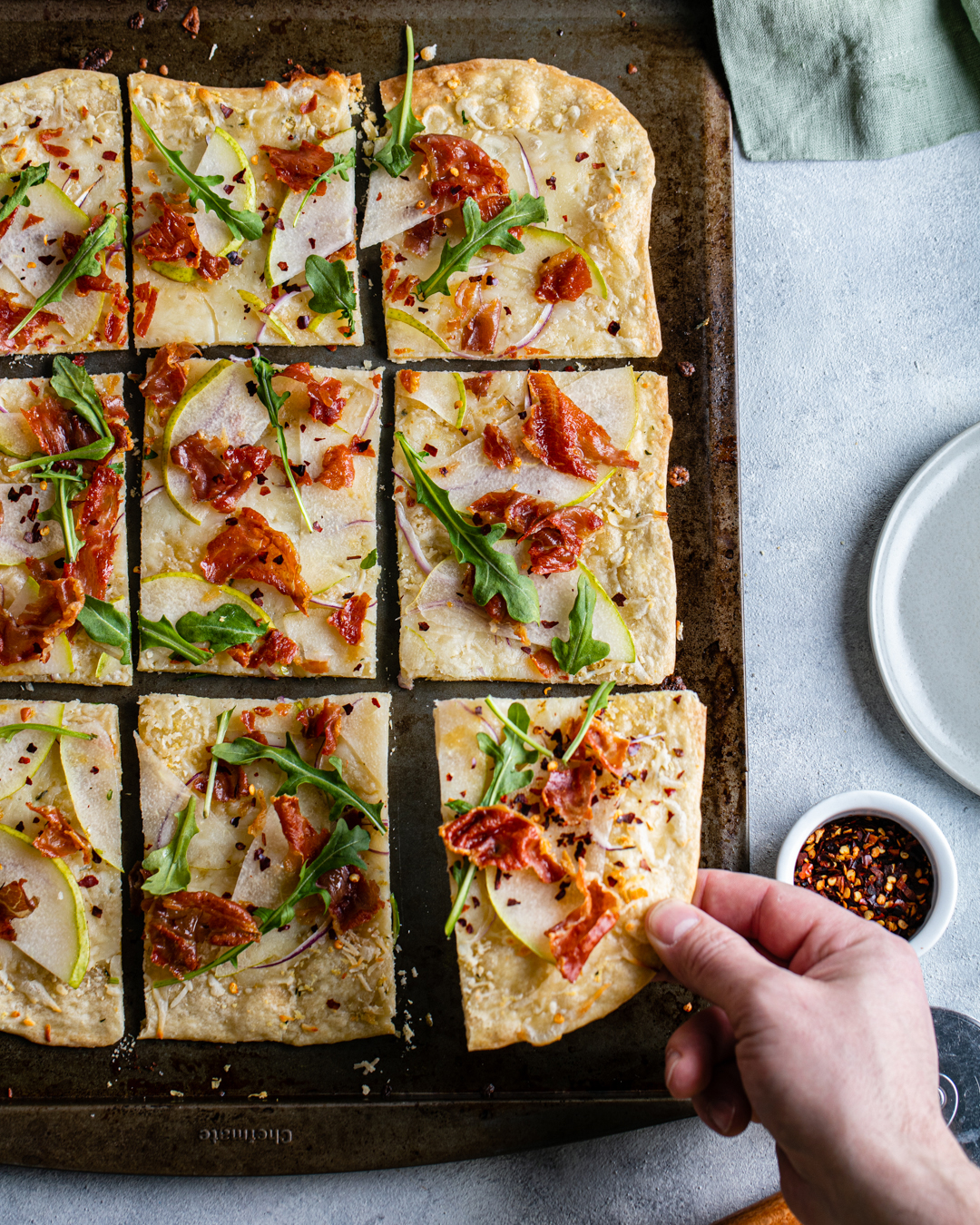 This flatbread is an absolute delight — a light, pizza-like number with lovely flavor and texture. There's creamy mozzarella, nutty Parmesan, crispy prosciutto, juicy Anjou pear slices, peppery arugula, and slivers of red onion, all of which sit on a thin, chewy homemade crust.
The crust comes together with just a bit of whisking and kneading of pantry staples: flour, salt, water, and an egg. But after rolling out the dough, we also brush it with a garlic- and thyme-infused olive oil to give a punchy, earthy, aromatic exterior. Before sliding it into the oven, we top it with the cheeses and red onion. It bakes up into a light, flaky, and crunchy flatbread, and the Parm gets all crispy on top, like a cheesy cracker.
Everything else — the prosciutto, the pears, the arugula — get scattered on top immediately after baking, while the cheeses are still bubbling. We love how the pears and arugula warm in the piping hot cheese, but still retain their crisp freshness. For the finishing touch, we garnish the flatbread with crushed red pepper to give it a bit of heat.
Each bite is perfectly balanced: a little brightness here, a little richness there, a tingle of spice everywhere. (It takes a great deal of self-control to not gobble up the entire pan!) We'd make this flatbread as a Friday night appetizer, a breezy Saturday lunch, or a springy alternative for family pizza night — it's a veritable jack-of-all-trades. And if you're in the mood for some greenery, it's fantastic alongside our butter lettuce salad with Parmesan-lemon vinaigrette, if we do say so ourselves.
Servings: 8 to 10 (2 flatbreads)
Ingredients
For the flatbread:
2 ¾ cups all-purpose flour
1 tsp kosher salt
⅔ cup plus 1 Tbsp water
1 large Gelson's egg, room temperature
4 Tbsp extra-virgin olive oil, divided
2 garlic cloves, grated
¼ tsp Gelson's organic fresh thyme leaves
For the toppings:
1 tsp extra-virgin olive oil
3 oz prosciutto
2 ½ cups shredded whole milk mozzarella cheese, divided
½ cup finely grated Parmesan cheese, divided
¼ medium red onion, very thinly sliced, divided
1 Anjou pear, very thinly sliced in half rounds, divided
1 cup loosely packed Gelson's organic baby arugula, divided
Gelson's crushed red pepper, for garnish
Directions
To make the dough: In a large bowl, whisk together the all-purpose flour and kosher salt. In a small bowl, whisk together the water, egg, and 2 tablespoons olive oil until well mixed.

Add the wet ingredients from the small bowl to the flour mixture. Using your hands, knead the dough just until it comes together. Note: Resist the urge to over-knead the dough. It will produce tough flat bread.

Split the dough into 2 balls, wrap each in plastic wrap, and refrigerate for at least 30 minutes, or up to 24 hours.

When you're ready to make the flatbread, preheat the oven to 400°.

In a small bowl, stir together the remaining 2 tablespoons olive oil, garlic, and thyme until well mixed. Set aside.

Lightly grease 2 rimless baking sheets. Place a towel underneath the sheets to prevent slipping. Place 1 ball on each baking sheet, lightly flour both dough balls and a rolling pin, and roll out each dough ball to ⅛" to ¼" thick.

Brush each flatbread with the olive oil mixture. Bake for 12 minutes, or until the edges of the flatbread are just starting to brown. Set the parbaked flatbread aside to cool.

Meanwhile, to make the toppings: In a medium skillet, heat the olive oil over medium heat. Working in batches, place the prosciutto in the pan, creating an even layer. Crisp the prosciutto for 3 to 4 minutes on one side, flip, and continue cooking until crispy, 1 to 2 minutes more. Transfer to a paper towel-lined plate, and let cool.

Evenly sprinkle 1 ¼ cups mozzarella cheese, ¼ cup Parmesan cheese, and half of the red onions onto each flatbread.

Bake for 5 to 7 minutes, or until the cheese is melted and bubbling.

Top each flatbread with half of the pears, half of the crispy prosciutto, and about ½ cup loosely packed arugula. Garnish with crushed red pepper and serve warm.
Flatbread dough recipe source: The Spruce Eats
Calculate nutrition information for this recipe.