Recipes
Penne Arrabbiata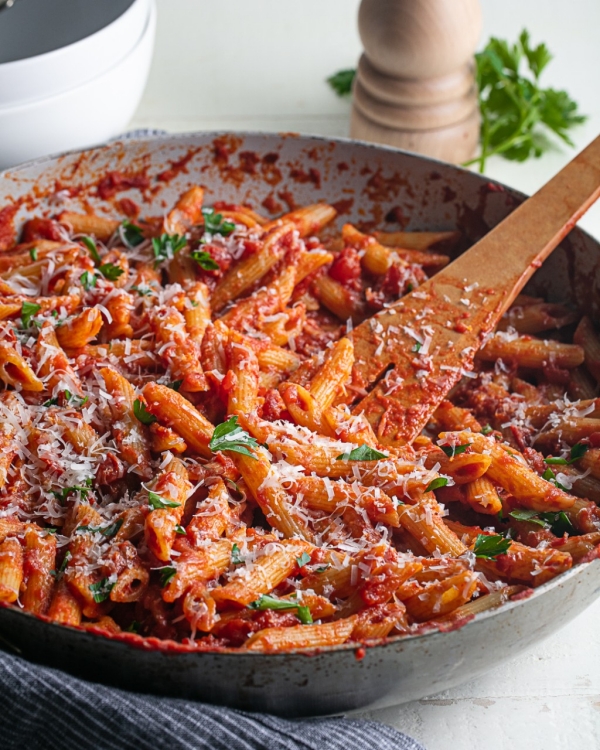 We love penne arrabiata for its rich, savory-sweet depth and wonderful heat — and the fact that it achieves all that flavor without meat or hours and hours of simmering on the back of the stove. It's one of those classic, Italian restaurant faves that translates beautifully in the home kitchen: it's easy to make, and it comes together in under 30 minutes.
The base of the sauce is tomato paste, crushed red pepper flakes, and salt sautéed in olive oil. It's such a simple combination, but the heat and oil brings it to life, lightly caramelizing the tomato paste and setting the chiles abloom. A note from the test kitchen, though: Be careful not to let the pan get too hot. If it scorches, your sauce will be bitter. You'll know it's time to pull the sauce from the heat when the tomato paste is a deep, brick red, sweet, and fragrant.
In the test kitchen, arrabbiata was a huge hit, and everyone who took a sample of it went back for seconds and thirds. It has an intense kick, but it's very pleasant — just hot enough to bring you back for more. We also appreciate that it has a sticktoitiveness generally only found in cream sauces: even after you've added fresh tomatoes, it stays very thick, clinging to the pasta so that every bite is rich and satisfying.
Make arrabbiata on the most ordinary of weeknights: In these pandemical times of limited travel and dining out, it's a great way to jazz up the old pasta routine. Add a nice glass of red wine, and it's a veritable trip to Italy in a bowl.

Servings: 4
Ingredients
3 Tbsp kosher salt
½ cup extra-virgin olive oil, divided
½ cup tomato paste
1 Tbsp crushed red pepper flakes
1 ½ cups chopped tomatoes, with their juices
1 lb penne pasta
¼ cup grated Parmigiano-Reggiano, for garnish
2 Tbsp freshly chopped parsley, for garnish
Directions
Bring 6 quarts of water to a boil in a large pot, and add the salt.

Meanwhile, heat 4 tablespoons of the olive oil in a large sauté pan over medium heat, and then add the tomato paste and pepper flakes. Reduce the heat to low and stir until just fragrant, about 4 minutes. Stir in the tomatoes and remove from the heat.

Drop the pasta into the boiling water and cook until al dente. Drain the pasta, reserving ¼ cup of the pasta water.

Return the tomato sauce to medium heat, and add the pasta and the reserved pasta water. Stir and toss until the pasta is well coated. Season with salt if necessary, then add the remaining oil, tossing well.

Garnish with grated Parmigiano-Reggiano and chopped parsley. Serve immediately.
Recipe adapted from: New York Times