Lunch Recipes
Penne with 5 Cheeses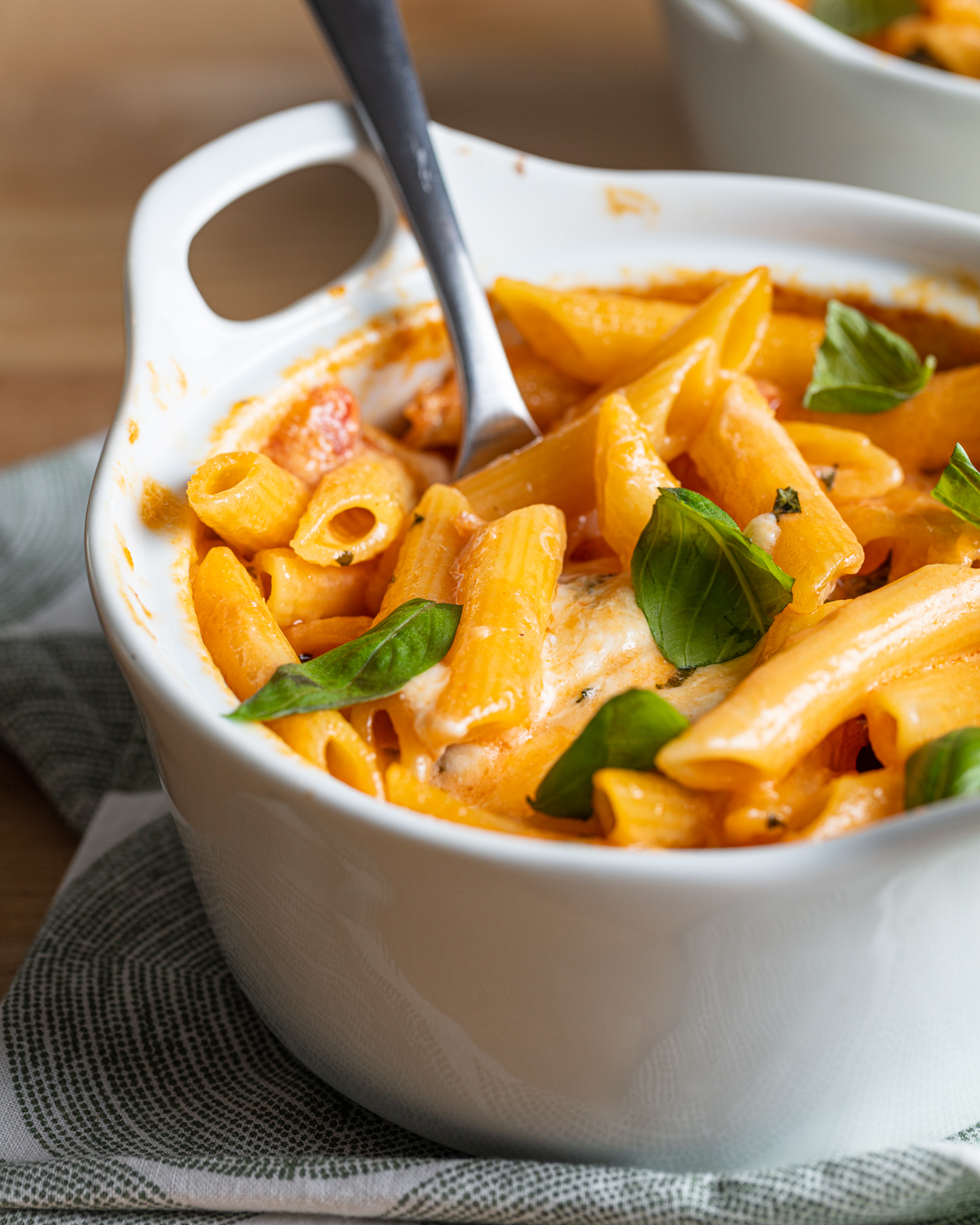 In this easy dish, five Italian cheeses are tossed with heavy cream, crushed tomatoes, basil, and penne noodles and baked to create a very rich, very lush and comforting update on macaroni and cheese. We like it because it looks and tastes grown-up enough for the dining room, but it's mild enough in its flavors that our kids are super excited to eat it.

Our tip: If the kids are in the kitchen eating pizza, you could give the dish a little more blue cheese funk by increasing the gorgonzola and going lighter on the mozzarella. You can also turn up the texture and spice by frying up a couple Italian sausages and stirring them into the pasta before you divide it into the gratin dishes. And, in all cases, serve this with a bright green salad dressed in a zippy vinaigrette — you'll want it to balance out all that cheese!
Servings: 6
Ingredients
Kosher salt, to taste
2 cups heavy cream
1 cup crushed tomatoes in thick tomato purée
½ cup freshly grated Pecorino Romano (1 ½ ounces)
½ cup shredded imported Italian fontina (1 ½ ounces)
¼ cup crumbled Italian Gorgonzola (1 ½ ounces)
2 Tbsp ricotta cheese
¼ lb fresh mozzarella, cut into 1" cubes
6 fresh basil leaves, chopped, plus more leaves for garnish
12 oz penne rigate pasta
Black pepper, to taste
½ stick unsalted butter
Directions
Preheat the oven to 375º.

Bring 5 quarts of salted water to a boil in a stockpot.

In a large mixing bowl, combine the cream, tomatoes, five cheeses, and basil and mix well.

Drop the penne into the boiling water and parboil for 4 minutes. Drain well in a colander and add to the ingredients in the mixing bowl. Toss to combine and season with salt and pepper.

Divide the pasta mixture among 6 shallow ceramic gratin dishes (1 ½- to 2-cup capacity), dot with the butter, and bake for 20 minutes. Stir the pasta in each dish and continue baking for 15 to 18 more minutes or until the sauce is bubbly and the cheese is melted.

Let rest for 10 minutes, garnish with basil leaves, and serve warm.
Recipe source: Barefoot Contessa .