Dinner Recipes
Pesto Pasta Salad with Crispy Prosciutto
We'll be bringing this one to all our summer dinner parties. It's just what the warm weather ordered — a colorful pasta salad that's full of bright green veggies and meaty texture.
The heart of any salad is usually the vinaigrette, but this one doesn't come with one. Instead, we toss the noodles in a bright, herbaceous homemade pesto sauce that pulls the dish together without weighing down the veggies. For an easy weeknight meal, we'll make the pesto the night before so it's ready to go.
The rest of the salad is easy-peasy: While the pasta is cooking, we fry up some prosciutto 'til the fat renders and it's super crispy. Then we parboil peas and asparagus in the pasta water right before we pull the noodles. Once everything cools, it's just a matter of tossing it together with some rich sun-dried tomatoes, a handful of peppery microgreens, and big dollops of burrata.
It sounds gushy, but we could eat this salad every day. We love how the pesto coats the fusilli, and there are plenty of goodies, so there's never a dull salad moment. The burrata is milky and soft, the veggies are snappy and fresh — and every bite is punctuated by salty prosciutto and toasty pine nuts. It's the quintessential light yet hearty one-bowl meal, a keeper that will take us right through the dog days of summer.

Servings: 6 to 8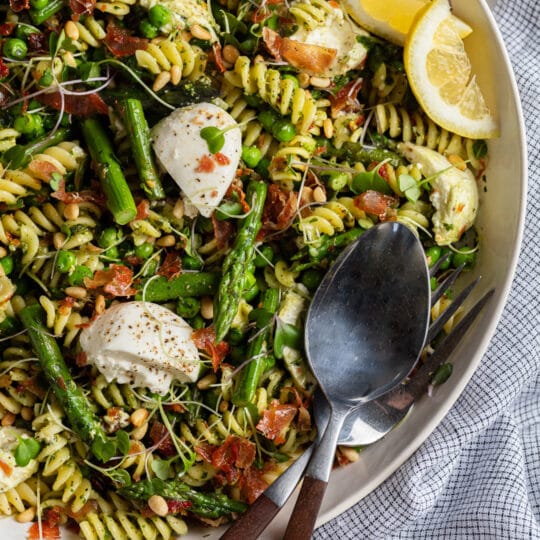 Dinner
Pesto Pasta Salad with Crispy Prosciutto
Ingredients
2 cups loosely packed Gelson's organic fresh basil
½ cup Gelson's 100% California extra virgin olive oil
Freshly ground Gelson's black pepper, to taste
1 bunch asparagus, woody ends trimmed, cut into 1" pieces
2 tsp Gelson's 100% California extra virgin olive oil
½ cup drained sun-dried tomatoes in olive oil, small diced
Freshly ground black pepper, to taste
8 oz burrata, torn into 1" pieces
2 oz microgreens, divided
¼ cup toasted pine nuts, divided
Lemon wedges, for squeezing
Directions
To make the pesto: In a food processor, combine the basil, Parmesan, pine nuts, and garlic. Turn on the food processor and slowly stream in the olive oil, whirling until a chunky sauce has formed. Season with salt and black pepper.
Transfer the pesto to an airtight container and store in the refrigerator until ready to use.
To make the pasta salad: Bring a large pot of water to a boil. Season it generously with salt.
While the water is heating, lay the prosciutto slices in a single layer in a large non-stick skillet. Cook the prosciutto over medium heat, flipping halfway through, until crispy, 3 to 4 minutes per side.
Transfer the prosciutto to a plate lined with paper towels, let cool for a few minutes, then chop it into bite-size pieces.
Add the pasta to the boiling water and cook until just under al dente, about 7 minutes.
Add the asparagus and peas and cook until bright green and just fork tender, 2 minutes.
Strain the pasta and vegetables, toss them with the olive oil, and let cool for 5 minutes.
In a large serving bowl, combine the pasta and vegetables, sun-dried tomatoes, and pesto, and season with salt and black pepper to taste. Cover with plastic wrap and chill in the refrigerator for 30 minutes.
Right before serving, stir in the burrata, and ⅔ of the microgreens, pine nuts, and crispy prosciutto. Garnish the salad with the remaining microgreens, prosciutto, and pine nuts. Serve immediately with lemon wedges on the side.