Dinner Recipes
Picadillo
Popular in many Latin American countries and the Philippines, this dish has such a satisfying mix of flavor and textures. With hearty ground beef, juicy chunks of tomatoes, briny olives, and sweet, plump raisins, there's a little bit of everything in each bite. Chewy bits of chorizo add a low, mild heat, and a warm blend of spices — cinnamon, cloves, cumin, and nutmeg — gives the whole thing a deep, well-rounded flavor. Garnish with a handful of cilantro and serve with corn tortillas or your favorite rice.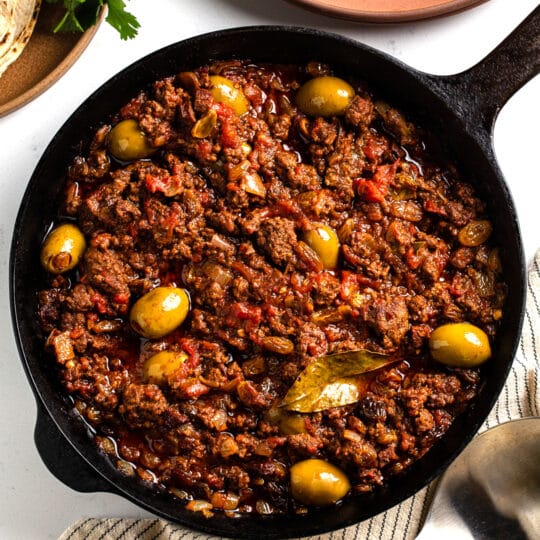 Dinner
Picadillo
Serves: 6
Ingredients
2 Tbsp Gelson's 100% California extra virgin olive oil
2 medium yellow onions, medium diced
2 oz Spanish chorizo, diced
1 ½ lbs Gelson's 80/20 ground beef
Freshly ground Gelson's black pepper, to taste
1 28-oz can whole peeled tomatoes, drained and crushed
1 Tbsp Gelson's ground cinnamon
2 tsp Gelson's ground cumin
⅛ tsp Gelson's ground nutmeg
⅔ cup red pepper stuffed olives
Gelson's cilantro, for garnish
Corn tortillas, warmed, for serving
Directions
In a large cast-iron skillet, heat the olive oil over medium high heat until it begins to shimmer. Add the onions, Spanish chorizo, and garlic. Cook until the onions are softened, stirring constantly to prevent burning, about 10 minutes.

Add the ground beef. Season with salt and black pepper and cook, breaking the beef up with a wooden spoon, until browned, about 8 minutes.

Add the crushed tomatoes, red wine vinegar, cinnamon, cumin, bay leaves, cloves, and nutmeg, and stir to combine. Reduce the heat to medium low, cover, and simmer for 30 minutes or until thickened.

Remove the lid and stir in the raisins and olives. Cook for 15 minutes.

Garnish with cilantro and serve hot with warm corn tortillas. Leftovers can be stored in an airtight container in the refrigerator for up to 3 days.
Recipe source: New York Times