Appetizer Recipes
Pickled Radishes
Pickled radishes are very pretty. When we made them in the test kitchen, everyone was smitten with their pink glow. It was tempting to take them home and set them on the bookshelf — the one everyone can see in Zooms — and collect the props for culinary prowess and spring decor.
They're just as lovely to eat: the brine is equal parts sugar and vinegar, a bay leaf, and a couple teaspoonfuls of black peppercorns and mustard seed. The paper-thin radish slivers come out of it bright and puckery up front, with a tangy-sweet finish. And we were surprised at their pleasantly crisp yet tender texture — that radish-y crunch is only just preserved.
What do you do with pickled radishes? Scatter them over a bowl of crispy rice with fresh hothouse cucumber and chunks of spicy chicken. Layer them onto a sandwich: think banh-mi or a simple grilled cheese. They add a lot to a salad, of course, and we positively love how they taste with a fried egg — so maybe a fancy toast is in order? Yasss. With a glass of crisp white wine and your BFF&E!
Yield: 1 pint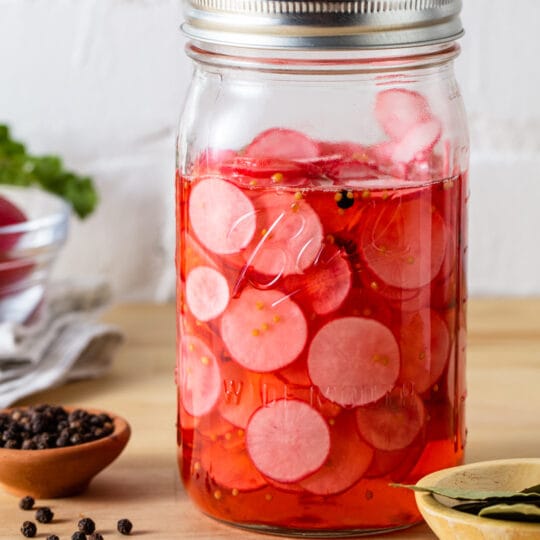 Appetizer
Pickled Radishes
Ingredients
1 bunch radishes, stem and root ends removed, cut into ⅛" slices
1 tsp yellow mustard seeds
¼ teaspoon Gelson's black peppercorns
Special equipment: 1-pint jar with canning lid
Directions
Place the radishes in a hot, sterilized 1-pint jar.

Bring the vinegar, sugar, water, salt, mustard seeds, black peppercorns, and bay leaf to a boil in a nonreactive saucepan.

Ladle the hot pickling liquid over the radishes and wipe the rim of the jar clean. Center the lid on the jar and then screw the rim on loosely. Allow the brine to cool on a wire rack for about an hour and then tighten the rim.

Chill the radishes in the refrigerator for 6 hours before serving. The radishes can be stored in the sealed glass jar in the refrigerator for up to 1 month.
Recipe source: Simply Delicious