Recipes
Picnic Potato Salad with California Avocados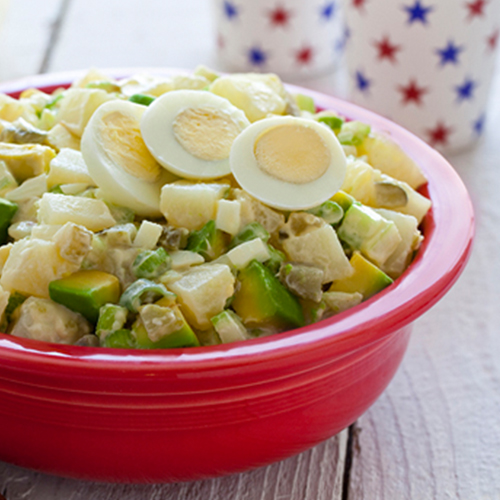 Give this classic picnic dish some extra pizzazz with California Avocados!
Ingredients:
6 medium russet potatoes
6 large eggs, hard boiled and sliced
1/4 cup chopped green onions
3 stalks celery, chopped
1 cup sweet pickles, diced
1/3 cup sweet pickle relish
1 cup low-fat mayonnaise
1/4 cup honey mustard
As needed Salt and pepper, to taste
2 ripe, Fresh California Avocados, plus optional extra for garnish
1 Tbsp. lemon juice
Instructions:
Boil the potatoes in their skins until they are tender when pierced by a fork. Remove from heat and rinse with cold water to stop the cooking. Allow to cool completely. When cool, peel the potatoes and cut into large dice.
Place in a large salad bowl. Reserve some of the sliced eggs for decoration. Chop the remaining egg slices. Add the eggs, green onion, celery and pickle to the bowl; stir to combine with the potatoes. Combine the pickle relish, mayonnaise and honey mustard.
Stir into the potato salad mixture until well coated. Taste and add salt and pepper as desired.
The salad may be made up to 24 hours in advance of serving up to this step. If you do so, taste and adjust the mayonnaise and seasonings, if needed, before proceeding to the next step.
Peel, seed and dice the avocado. Toss gently with the lemon juice; fold into the potato salad. Garnish with reserved egg slices and additional avocado slices if desired; serve.
Serving suggestion: For individual servings, place in hollowed-out tomato halves or lettuce cups for a pretty presentation. Large avocados are recommended for this recipe. A large avocado averages about 8 ounces. If using smaller or larger size avocados adjust the quantity accordingly.