Dinner Recipes
Pineapple Chile Chicken
Hello sweet, spicy, and deliciously sticky. The heart of this chicken is a rich marinade made with brown sugar and a handful of aromatics, including sambal oelek, rice vinegar, and fish sauce. The chicken roasts with chunks of fresh pineapple. We love how their juice steams its way into the meat, combining with the brown sugar to caramelize and char the skin. We could eat a hundred pieces of Pineapple Chile Chicken! Take it to a backyard barbecue, and it will be the star of the show.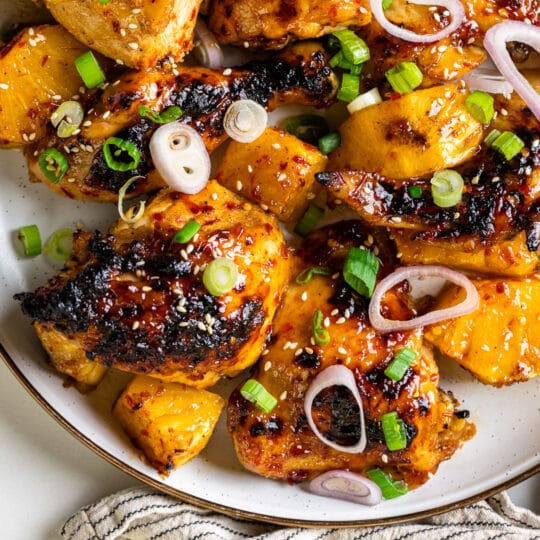 Dinner
Pineapple Chile Chicken
Serves: 4
Ingredients
½ cup packed light brown sugar
¼ cup freshly squeezed lime juice
2 tsp Gelson's crushed red pepper flakes
2 lb bone-in, skin-on chicken breasts
2 lb bone-in, skin-on chicken legs
2 tsp freshly ground Gelson's black pepper
½ pineapple, peeled, cored, and cut into 1"-thick wedges
1 small shallot, thinly sliced, for garnish
2 green onions, thinly sliced, for garnish
1 Tbsp toasted sesame seeds, for garnish
Directions
In a large bowl, whisk together the light brown sugar, rice vinegar, sambal oelek, fish sauce, lime juice, red pepper flakes, and garlic until smooth and the sugar has dissolved.

Place the chicken on a large cutting board and season both sides with the salt and pepper.

Place the chicken in the marinade, making sure to fully coat each piece. Cover with plastic wrap and marinate in the refrigerator for at least 30 minutes and up to overnight.

When ready to roast the chicken, preheat the oven to 425°.

Line a large baking sheet with parchment paper and place the chicken and pineapple wedges on the baking sheet. Pour the remaining marinade on top.

Roast for 50 minutes, basting the chicken with the rendered juices about every 10 minutes. The chicken should be deeply browned, caramelized, and register 165° on an instant-read thermometer when done.

Transfer the chicken and pineapple to a serving platter. Garnish with the shallots, green onions, and toasted sesame seeds and enjoy.

Leftovers can be stored in an airtight container in the refrigerator for up to 3 days.
Recipe source: FOOD52