Dessert Recipes
Plant-Based Cookies 'N' Cream Ice Cream
Talk to someone who makes artisanal ice cream, and they'll tell you that ice cream, at its best, is a simple product made with just milk, cream, eggs, salt, and sugar. When the chefs in our test kitchen developed this recipe for plant-based ice cream, they wanted it to have that same beautiful simplicity, so it's made with just cashews, oatmilk, white chocolate, pure vanilla bean paste, salt, and agave syrup — plus the scrumptious add-ins, of course!
If you've ever made cashew milk or cream, you know that the nuts generally have to soak for eight hours. Here, we've shortened the time to one hour by pouring boiling water over them. (Because who wants to wait a day and a half for ice cream?) On its own, the nut milk is not as rich as we'd like, so we whirl it up with oatmilk for creaminess and white chocolate for fat. The result is positively luxe!
Once the base has churned to a soft-serve consistency, we stir the Newman-O's through it. (Hey-oh, they're also vegan!) At that point, the ice cream just needs an hour in the freezer, and it's ready. And that's a big reason to love this recipe — homemade plant-based ice cream in about four hours, during which you've done nothing more taxing than turning on the blender.

In the test kitchen, we like to scoop our plant-based cookies and cream ice cream into a classic glass sundae bowl, and it looks just like the real dairy deal. But more importantly, it tastes simply wonderful — so rich and creamy and positively chunky with chocolate cookies. The vanilla bean and white chocolate in the base give it a lush mouthfeel, but they also bring out the Newman O's cream flavor in a way that is deeply, quart-crushingly satisfying for the cookies and cream fans in the house.
Yield: 1 quart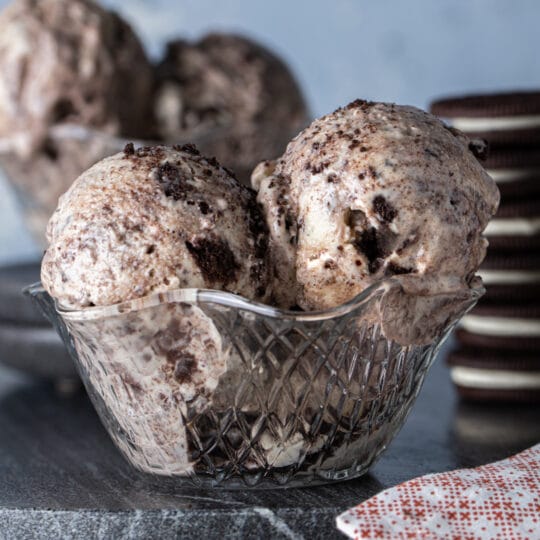 Dessert
Plant-Based Cookies 'N' Cream Ice Cream
Ingredients
2 cups Gelson's raw jumbo cashews
1 ½ cups oatmilk, divided
4 oz white chocolate, melted and cooled
Special equipment: ice cream maker.
Directions
Make sure the bowl of your ice cream maker is in the freezer — it needs to chill overnight.

Place the cashews in a medium bowl and cover them in 2" of boiling water. Soak for at least an hour or overnight.

Strain the cashews, discarding the excess water. In a high speed blender, combine the cashews, 1 cup oatmilk, and a pinch of salt. Blend on high until smooth, about 30 seconds.

Add the remaining ½ cup oatmilk, agave syrup, vanilla bean paste, and white chocolate to the blender. Blend again on medium-high until the ice cream base is frothy and smooth, about 15 seconds.

Strain the mixture through a fine mesh sieve into a medium bowl, cover with plastic wrap and refrigerate for at least 2 hours or until chilled through.

Place the cookies in a plastic bag, and using a rolling pin, crush them into crumbles. Set aside.

Pour the cold ice cream base into the bowl of an ice cream machine and churn until the ice cream thickens to a soft serve-like consistency, about 10 minutes. Turn the machine off and stir the cookie crumbles into the ice cream.

Transfer the ice cream to an airtight container and freeze for an hour, or until completely firm. Enjoy!