Dessert Recipes
Pumpkin Bars with Cream Cheese Frosting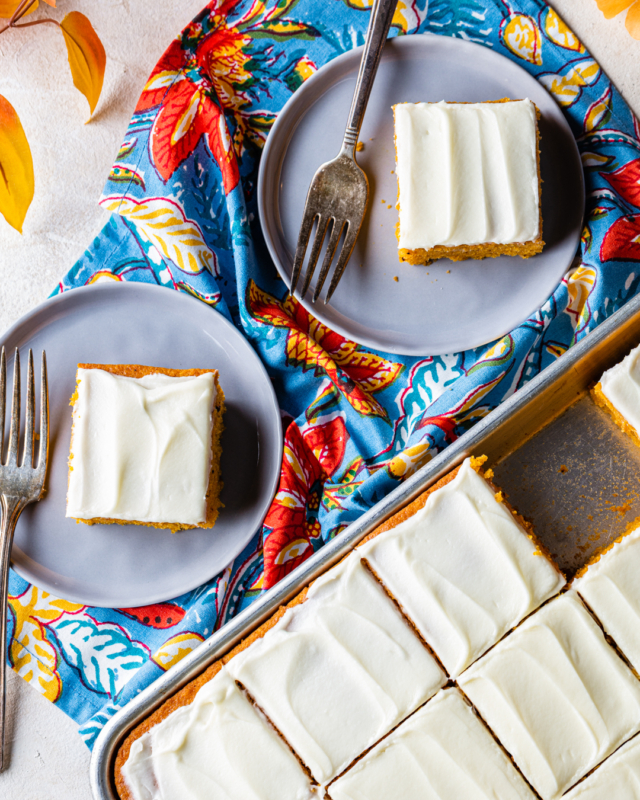 Who wants to face the fall without the great pumpkin? We can't get enough of the bright orange squash, so we've come up with a delightful addition to the bread, pudding, and pie line up — the bar. It's a moist, wonderfully dense cake, redolent with ginger, cloves, and nutmeg, and topped with our all-time favorite cream cheese frosting.

What's makes the frosting so special? Orange extract. It's so unexpected and irresistibly scrumptious in the frosting, you'll want to lick the beaters. And it's the perfect complement to the those deep fall spices.

Our tip: Sift the powdered sugar into the frosting; it'll give you lump-free frosting that spreads like a dream. Don't own an old fashioned sifter? Use a fine mesh sieve: a tap on the edge of the sieve will send down a gentle shower of powdered sugar.
Servings: 12
Bars
Ingredients

4 large eggs
1 ⅔ cups sugar
1 cup canola oil
2 cups canned pumpkin
2 cups all purpose flour
2 tsp baking powder
1 tsp baking soda
1 tsp ground ginger
½ tsp ground cloves
½ tsp nutmeg

Directions
Preheat oven to 350°.
In a mixer, beat the eggs, sugar, and oil. Add the pumpkin and beat until smooth, and then add the baking powder, baking soda, flour, and spices.
Pour batter into a greased pan 10 by 15 inches. Bake until springy to the touch or a toothpick inserted in the center comes out clean, about 25 – 30 minutes.
Let the cake cool completely, and then frost. Cut into bars and serve.
Cream Cheese Frosting
Ingredients

3 oz cream cheese, softened
½ cup unsalted butter, room temperature
2 tsp orange extract
2 cups powdered sugar

Directions
In a mixer fitted with a paddle, beat together cream cheese and unsalted butter on medium high.
Add the orange extract, and beat until combined.
With the mixer off, sift the powdered sugar into the frosting, and then turn the mixer on to medium-high and beat until smooth.