Dinner Recipes
Red Chicken Enchiladas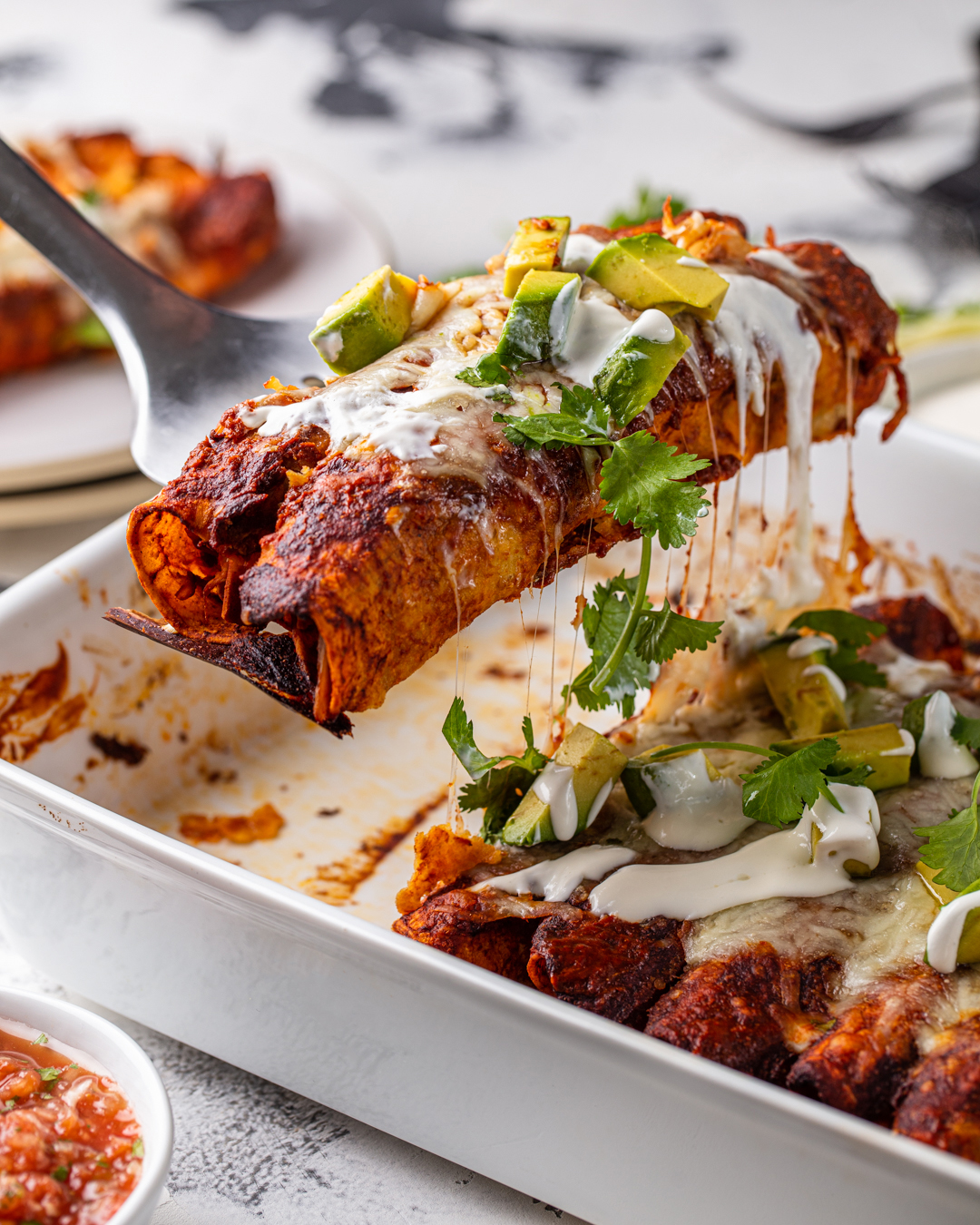 There's something so comforting about enchiladas — when a dish is a bunch of meat-filled tortillas all snuggled up in a deep baking tray, can it really be anything but? We love this particular enchilada recipe because its simplicity makes it all the more homey: it's just corn tortillas, shredded rotisserie chicken, mozzarella cheese, and an A+ homemade red sauce. After all, the key to standout enchiladas is the sauce, and with about 15 dried ancho and guajillo chiles, this one is particularly special.
Don't let all those chiles scare you away! We toast the chiles before rehydrating them in hot water — and then we whirl them up in a blender with some of their soaking liquid, cumin, coriander, oregano, cocoa powder, sugar, apple cider vinegar, and sautéed white onion and garlic. The result? A rich, balanced sauce with nice, smoky depth and a gentle, lingering heat (by which we mean, your tongue will most certainly not be on fire).
Before dredging the tortillas in the sauce, we spray them with oil and bake them for a few minutes to prevent them from becoming soggy. Bonus: the tortillas get some fun crunchy bits around their edges. Then we fill them up with the chicken and cheese, do a little tucking and rolling, and slide the assembled enchiladas into the oven. We love how the sauce bakes into the tortillas and caramelizes slightly, so you get plenty of roasty goodness in each bite, but don't have to swim through a bunch of sauce to find the chicken enchiladas.
For garnishes, we like tangy crema, chunky diced avocado, grassy cilantro, and fresh pico de gallo to add some brightness and creamy textures to the enchiladas — but feel free to use whatever garnishes tickle your fancy. (Though we strongly recommend a squeeze of lime juice and an exorbitant amount of hot sauce!)
Red chicken enchiladas make for a simple but satisfying weeknight meal, especially if you pair them with a Modelo. You might even make the sauce ahead of time, so all you have to do after the busy work day is the assembly. And like any enchiladas, these are great for sharing: Take some to work for a hearty, homemade meal to fuel your team's brainstorming session. Bake a batch for the new mom in your friend group who has neither the time nor the energy to cook. Or maybe bring a tray over to the folks who moved in down the street — you'll win tons of neighbor points.
Red Chicken Enchiladas
Yield: 12 enchiladas
Ingredients
2 cups enchilada sauce, divided (see recipe below)
4 cups shredded Gelson's rotisserie chicken
2 cups Gelson's shredded mozzarella cheese, divided
12 6" corn tortillas
Cooking spray
Diced avocado, for garnish
Gelson's organic fresh cilantro leaves, for garnish
Crema, for garnish
Pico de gallo, for serving
Hot sauce, for serving
Directions
Preheat the oven to 375°. Line a baking sheet with parchment paper and set aside.

Spread ¾ cup enchilada sauce down the center of a 13x9" baking dish and set aside.

In a large bowl, combine ½ cup enchilada sauce, the shredded rotisserie chicken, and 1 ¼ cups mozzarella cheese, and toss until the chicken and cheese are well coated in enchilada sauce. Set aside.

Place 6 tortillas on the baking sheet in one even layer with little overlap. Lightly spray both sides of the tortillas with cooking spray. Bake the tortillas until they just start to crisp up, 2 to 3 minutes. Transfer the baked tortillas to a plate lined with a paper towel. Repeat with the remaining tortillas.

In a wide bowl, add the remaining ¾ cup enchilada sauce. Briefly dip 1 tortilla into the sauce, just to coat. Add about ⅓ cup of the chicken filling, roll up the tortilla, and place it seam-side down on top of the sauce in the baking dish. Repeat with the remaining tortillas, nestling the enchiladas close to each other in a line down the middle of the baking dish.

Spoon the remaining sauce over the top of the enchiladas and sprinkle the remaining ¾ cup mozzarella cheese down the middle. Cover the dish with aluminum foil.

Bake, covered, for 15 minutes. Uncover, and bake 10 minutes more, or until the cheese is melted and bubbling on top.

Garnish with diced avocado, cilantro leaves, and crema. Serve with pico de gallo and hot sauce. Enjoy immediately.
Recipe adapted from: Inspired Taste
Red Enchilada Sauce
Yield: about 4 cups
Ingredients
2 oz dried guajillo chiles (8 to 10 peppers)
1 ½ oz dried ancho chiles (4 to 5 peppers)
4 cups hot water
½ Tbsp grapeseed oil
½ medium white onion, sliced
3 medium garlic cloves, peeled
½ tsp Gelson's ground cumin
½ tsp ground coriander
½ tsp Gelson's dried oregano
1 tsp kosher salt
1 Tbsp unsweetened cocoa powder
1 Tbsp granulated sugar
2 Tbsp apple cider vinegar
Directions
Using a pair of kitchen scissors, cut the stems off the guajillo and ancho chiles and shake or scrape the seeds from the inside of each pepper. Discard the stems and seeds.

In a dry medium-size skillet over medium-low heat, toast the chiles until fragrant, stirring occasionally, 3 to 5 minutes. Be careful not to scorch the chiles.

Transfer the chiles to a large bowl and cover with hot water. Cover the bowl with plastic wrap and set aside for 20 minutes.

Meanwhile, in the same skillet over medium heat, add the grapeseed oil, white onions, and garlic. Cook, stirring often, until the onions have softened and are starting to brown, about 5 minutes.

Transfer the onions and garlic to a high-speed blender. Add the cumin, coriander, oregano, kosher salt, unsweetened cocoa powder, granulated sugar, apple cider vinegar, soaked chiles, and 1 ½ cups of the chile soaking liquid. Blend until smooth, 2 to 3 minutes. If the mixture is too thick, add more liquid, ¼ cup at a time, until smooth and completely puréed. The enchilada sauce can be stored in the refrigerator for up to 1 week or in the freezer for up to 1 month.
Recipe adapted from: Inspired Taste
Calculate nutrition information for this recipe.