Appetizer Recipes
Roasted Butternut Squash, Pomegranate Seeds and Pistachios
November 14, 2018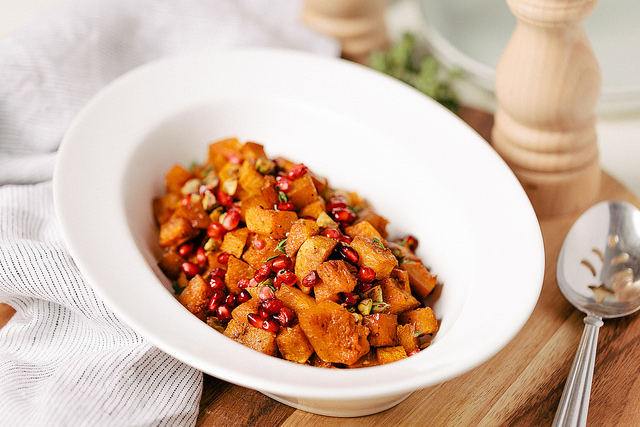 Everyone's a star in this simple dish! Soft, sweet squash, juicy tart pomegranate seeds, crunchy toasted pistachios, and a pleasantly surprising cinnamon and pepper finish — all of these flavors and textures work so well together, and yet because there are just a few ingredients, each one stands out.

That simplicity also makes it an easy dish to throw together on a busy weeknight, especially if you use our precut butternut squash. Our tip: If you're not sure how to get the seeds out of your pomegranate, watch our super quick tutorial. It's a snap!
Ingredients
1 Tbsp Napa Valley Naturals Organic Olive Oil
1 15-oz package Gelson's precut butternut squash
¼ tsp Le Saunier de Camargue Fleur de Sel (sea salt)
¼ tsp black pepper
⅛ tsp cayenne pepper
⅛ tsp ground cinnamon
1 Tbsp POM Wonderful 100% Pomegranate Juice
¼ cup Flanigan Farms natural pistachios
¼ cup pomegranate seeds

Directions
Preheat oven to 450º.
Toss precut squash with olive oil, salt, pepper, cayenne, and cinnamon, spread it on a baking sheet, and roast it for 30 minutes, turning once about halfway through.
Remove the squash from the oven and toss it with the pomegranate juice. Add the pistachios to one corner of the pan, and return it to the oven. Cook for 7 more minutes, or until the pomegranate juice has evaporated.
Toss the squash with pistachios and pomegranate seeds, and serve it immediately.
Each ½-cup serving contains:
Calories 130
Fat 7 g
Saturated Fat 1 g
Trans Fat 0 g
Cholesterol 0 mg
Sodium 125 g
Total Carbohydrate 18 g
Dietary Fiber 3 g
Sugars 3 g
Protein 3 g
Vitamin A 177% DV
Vitamin C 41% DV
Calcium 6% DV
Iron 6% DV