Dinner Recipes
Roasted Chicken & Baby Root Vegetables in Sage Cream Sauce
Confession: we have a culinary crush on baby root vegetables (as you may have guessed from our love-filled post about the ones from Babé Farms). Carrots, turnips, parsley root, and radishes — in their itty bitty state, they have delicate, earthy-sweet flavor and are perfectly bite-size. No chopping necessary! Plus, they're just plain adorable; we get heart eyes every time we pass them in the produce section.
Here, we roast those little roots in the oven with olive oil, salt, and black pepper. Each veggie cooks to a slightly different degree, so you get textures ranging from super soft to a little snappy. They make every bite unexpected and delightful.
For all that gushing over baby roots, you'd think they'd be our favorite part of this dinner. But the truth is, we couldn't pick a favorite part if we tried. The bone-in chicken breast gets a beautifully crispy, golden brown skin — and the meat itself is so tender, juicy, and flavorful. The cream sauce is full of savory depth and scented with autumnal sage and piney thyme. And gosh, the potatoes are unbelievably smooth and creamy!
Another wonderful thing about this recipe: You don't need to make a side for it. Everything you want in a meal — meat, veggies, and carbs — is right in the pan. We love making it in the fall and winter; it's exactly the sort of rustic, comforting meal we want when the air is nippy and the sun's behind the clouds.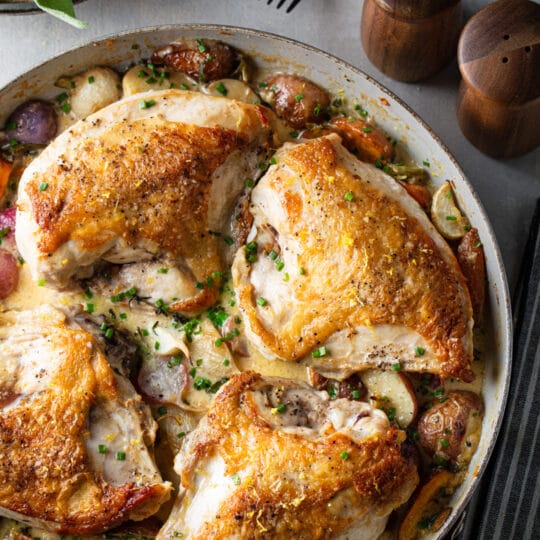 Dinner
Roasted Chicken & Baby Root Vegetables in Sage Cream Sauce
Serves: 4
Ingredients
1 ½ lb assorted baby root vegetables (about 6 cups), washed, halved, and trimmed, leaving some green stems intact
6 baby red potatoes, cleaned and quartered
3 Tbsp extra virgin olive oil, divided
½ tsp kosher salt, plus more to taste
¼ tsp freshly ground Gelson's black pepper, plus more to taste
4 Gelson's all-natural bone-in chicken breasts
½ tsp Gelson's organic fresh thyme leaves
1 Tbsp chopped Gelson's organic fresh sage
2 Tbsp chopped Gelson's organic fresh chives, for garnish
Directions
Preheat the oven to 400°. Place a medium sheet pan in the oven for about 5 minutes to get it hot.

Meanwhile, in a large bowl, toss together the baby root vegetables and baby red potatoes, 1 tablespoon extra virgin olive oil, kosher salt, and black pepper. Transfer the seasoned vegetables to the preheated pan, return the pan to the oven, and roast the vegetables for about 20 minutes, stirring once halfway through.

While the vegetables are roasting, in a large nonstick skillet, heat the remaining 2 tablespoons extra virgin olive oil over medium heat. Pat the chicken breasts dry with a paper towel and season both sides of each breast with a pinch each of kosher salt and black pepper.

Once the olive oil is hot, gently add the chicken breasts, skin-side down, and cook for 7 to 10 minutes, or until the skin is golden brown and crispy. Gently turn each breast over and cook for 7 to 10 minutes more. Transfer the chicken breasts to a clean plate.

Lower the heat to medium and quickly sauté the shallots and garlic, about 1 minute. Stir in the thyme and sage. Pour in the chicken stock and heavy cream, stirring to combine. Add the roasted vegetables, stir to combine, and allow the sauce to simmer and reduce for 5 minutes.

Place the chicken, skin-side up, into the skillet with the sauce and vegetables. Transfer the skillet to the oven and cook for 12 to 15 minutes, or until the chicken has reached an internal temperature of 165°.

Season with kosher salt and black pepper, and garnish with chives and lemon zest. Serve hot.