Recipes
Roasted Paprika Chicken and Cherry Tomatoes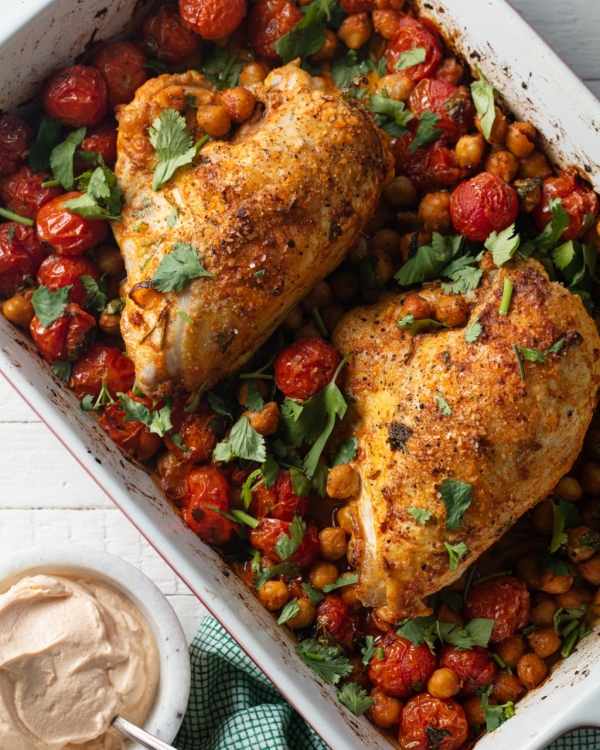 The heart of this dish is a very simple spiced oil. Basically, we pack a bunch of garlic, smoky paprika, and crushed red pepper flakes into a wee quarter cup of olive oil. It's fragrant, zesty, full of heat — and a jack-of-all-trades in this dish. We used it as a rub for the roasted chicken and a kind of dressing for the chickpeas and fresh tomatoes. And we also swirled it through the Greek yogurt to make a creamy sauce.
The result is wonderful. In the oven, the chicken breasts crisp up beautifully. They make a perfect bite with the creamy chickpeas, sweet tomatoes, and a dollop of the yogurt sauce. It's like a savory wave of heat rolling over your taste buds. Never fear: the yogurt sauce and tomatoes — so plump and juicy they burst in your mouth — keep everything from getting too intense.
That said, if you've got kids at home or you just like things a little less spicy, you can tone everything down by cutting the crushed red pepper in half or so.
This is a deeply satisfying dish, full of warmth and comfort, and yet it won't weigh you down. It'll be a great low-carb dinner just as it is, or you can serve it with a salad and some couscous — something to soak up all those spicy juices.
Our tips: Make a double batch of the spiced oil and creamy Greek yogurt sauce. It'll be great dolloped on sandwiches, omelets, roasted sweet potatoes — anywhere you want a little easy heat. Also, you can cut up any leftover chicken, stir it into the tomatoes and chickpeas, and use the whole shebang in a salad, wrap, or sandwich.
Servings: 2
Ingredients
For the spiced oil and the yogurt sauce:
¼ cup extra-virgin olive oil
4 garlic cloves, pressed or grated
1 Tbsp smoked paprika
1 tsp ground cumin
½ tsp crushed red pepper
½ cup Greek yogurt
For the paprika chicken and tomatoes:
2 chicken breasts with skin and bones
1 15-oz can chickpeas, rinsed and drained
12 oz whole cherry tomatoes
1 cup rough-chopped cilantro, divided
Kosher salt, to taste
Black pepper, to taste
Directions
Preheat the oven to 450°.

To make the spiced oil: in a medium bowl, combine the olive oil, garlic, paprika, cumin, and crushed red pepper.

To make the yogurt sauce: pour 1 teaspoon of the spiced oil into a small bowl, whisk in the Greek yogurt, and set the mixture aside.

To make the paprika chicken and tomatoes: Place the chicken in a baking dish measuring 9 x 13 inches. Drizzle 2 tablespoons of the spiced oil over the chicken, and rub it into the meat and skin.

Add the chickpeas, tomatoes, and ½ of the chopped cilantro to the remaining spiced oil. Toss to coat.

Make sure the chicken is skin side up, and then pour the chickpea and tomato mixture around it, without covering the skin.

Season with salt and pepper.

Roast the chicken, chickpeas, and tomatoes for about 30 minutes, or until the chicken skin is crispy and golden and the internal temperature has reached 165° on an instant-read thermometer.

Garnish the chicken, chickpeas, and tomatoes with the remaining cilantro and serve it hot with a bowl of the yogurt sauce.
Recipe source: Adapted from Bon Appetit