Dinner Recipes
Roasted Ratatouille and Pasta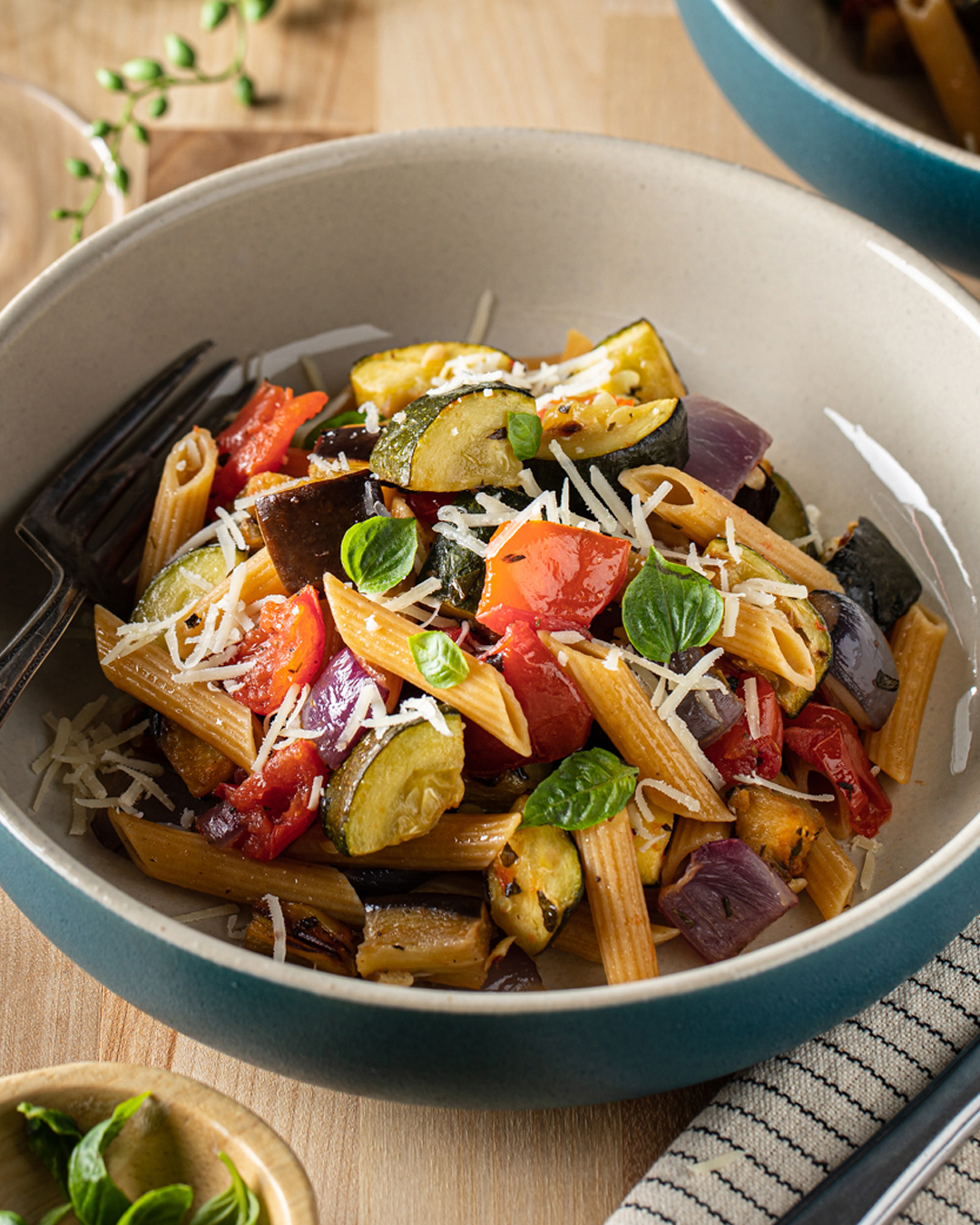 In our SoCal weeknight take on the classic French Provençal stew, we coat the onion, tomatoes, eggplant, and zucchini in olive oil, garlic, and herbs, roast them in the oven — and then toss them with warm cannellini beans and pasta. The result is a beautiful dish, full of color, lush textures, and the wonderful, earthy sweetness of the vegetables.

For the cook, the best part might be that we've taken what is traditionally a long-winded, hands-on cooking project and condensed it down to an effortless hour. And this nutritional bonus: our Registered Dietitian, Jessica, has made sure that the veggies and beans (read: fiber and protein) outnumber the penne 2 to 1.

Our tip: Make sure you give the veggies a nice, uniform dice — it will help them cook evenly.
Servings: 6


Ingredients


Olive oil spray, for greasing
1 ½ lb Roma tomatoes, seeded and diced large
1 lb eggplant, trimmed and diced large
2 zucchini, diced large
1 small onion, diced large
3 garlic cloves, roughly chopped
1 tsp Gelson's fresh organic thyme, leaves only, minced
2 tsp minced Gelson's fresh oregano leaves
3 Tbsp chopped Gelson's fresh basil
⅛ tsp kosher salt
¼ tsp freshly ground Gelson's black pepper
3 Tbsp Lucini organic extra virgin olive oil
2 ½ cups Barilla Protein+ penne pasta
1 13.4-oz box Jack's Quality organic cannellini beans, rinsed and drained
6 Tbsp Gelson's shredded Parmigiano-Reggiano cheese


Directions


Preheat the oven to 400º. Coat a baking sheet with the olive oil spray.

Arrange the tomatoes, eggplant, zucchini, and onions on the baking sheet. Season with the garlic, thyme, oregano, basil, salt, and pepper. Drizzle generously with the olive oil and toss to coat.

Roast the veggies, stirring occasionally, for 45 minutes or until tender.

In a large pot, combine a generous pinch of salt and 2 quarts of water, and bring it to a boil over high heat. Add the pasta and cook for 7 minutes.

Add the cannellini beans to the pasta and cook for 1 additional minute. Drain the pasta and beans, reserving 1 cup of the pasta cooking liquid.

In a large bowl, toss together the beans and pasta with the ratatouille, adding cooking water a few tablespoons at a time as needed to keep the pasta silky.

Divide the ratatouille between bowls, garnish with the Parmesan cheese, and serve warm.
Each 1 ½-cup serving contains:
Calories 300
Fat 10g
Saturated Fat 1g
Cholesterol 0mg
Sodium 225mg
Total Carbohydrate 38g
Dietary Fiber 12g
Sugars 8g
Protein 14g
Vitamin A 22% DV
Vitamin C 53% DV
Calcium 12% DV
Iron 16% DV