Dinner Recipes
Roasted Ratatouille and Pasta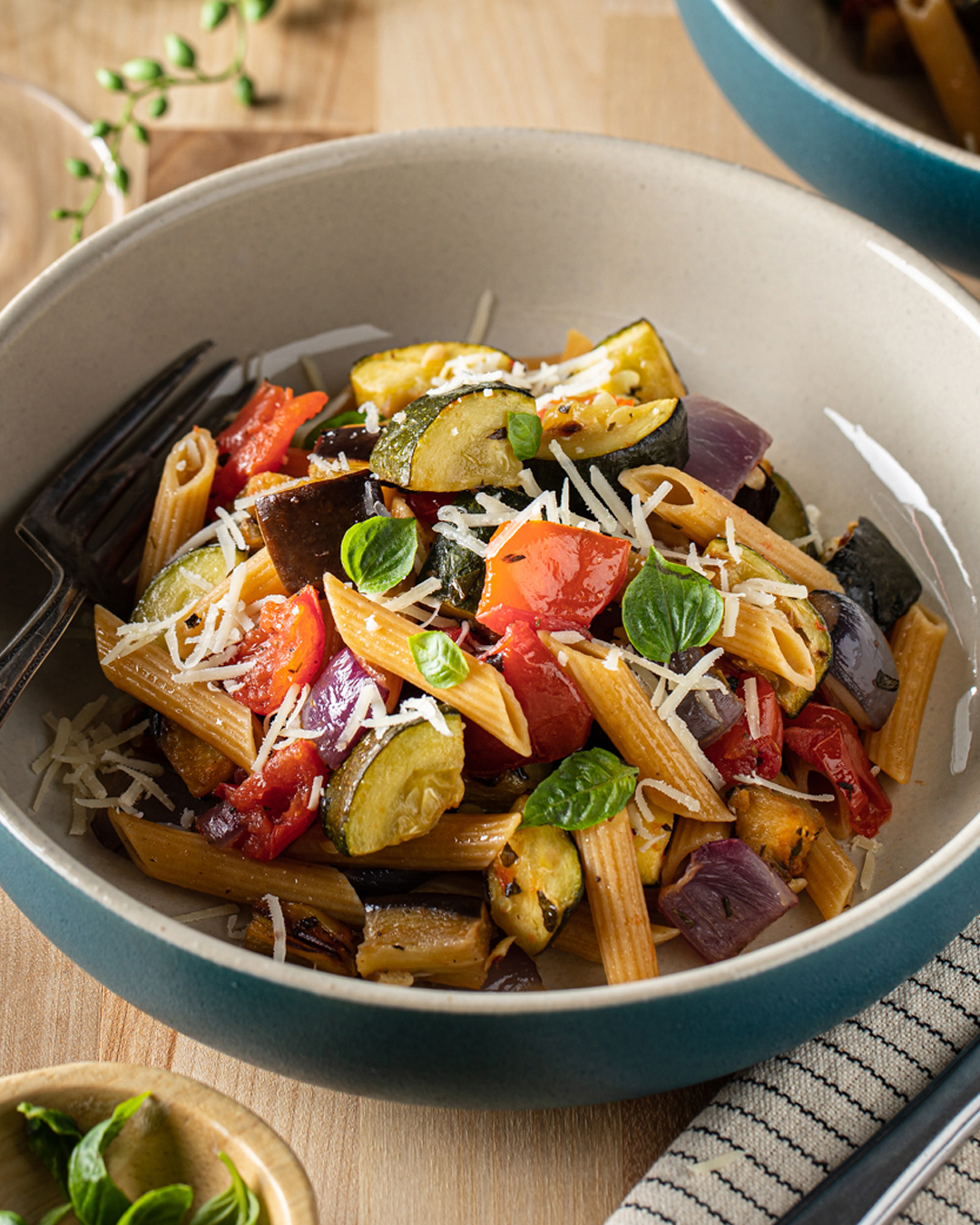 In our SoCal weeknight take on the classic French Provençal stew, we coat the onion, tomatoes, eggplant, and zucchini in olive oil, garlic, and herbs, roast them in the oven — and then toss them with warm cannellini beans and pasta. The result is a beautiful dish, full of color, lush textures, and the wonderful, earthy sweetness of the vegetables.

For the cook, the best part might be that we've taken what is traditionally a long-winded, hands-on cooking project and condensed it down to an effortless hour. And this nutritional bonus: our Registered Dietitian, Jessica, has made sure that the veggies and beans (read: fiber and protein) outnumber the penne 2 to 1.

Our tip: Make sure you give the veggies a nice, uniform dice — it will help them cook evenly.
Ingredients
Olive oil spray
1 ½ lbs plum tomatoes, seeded and diced
1 lb eggplant, trimmed and diced
2 zucchini, diced
1 small red onion, diced
3 garlic cloves, chopped
3 sprigs fresh thyme, leaves removed and minced
2 tsp fresh oregano leaves, minced
3 Tbsp fresh basil, chopped
¼ tsp pepper
⅛ tsp salt
2 ½ cups De Cecco whole-wheat penne rigate pasta
1 15-oz can Progresso cannellini beans, rinsed and drained
6 Tbsp Gelson's shredded Parmigiano-Reggiano

Directions
Preheat oven to 400º.
Spray a baking sheet with olive oil spray. Arrange tomatoes, eggplant, zucchini, and onion on the sheet.
Spray the veggies generously with olive oil spray, and then sprinkle them with garlic, thyme, oregano, basil, salt, and pepper.
Roast for 45 minutes, stirring occasionally, until tender.
Meanwhile, cook the penne according to the packaging directions. During the last minute of cooking, add the cannellini beans and cook them together with pasta.
Reserve a ½ cup of the cooking water, and then drain pasta and beans.
Toss the pasta and beans with the ratatouille, adding the pasta water if it feels dry. Serve with 1 tablespoon cheese per person.
Each 1 ½-cup serving contains:
Calories 210
Fat 3 g
Saturated Fat 1 g
Cholesterol 4 mg
Sodium 225 mg
Total Carbohydrate 38 g
Dietary Fiber 10 g
Sugars 8 g
Protein 11 g
Vitamin A 22% DV
Vitamin C 53% DV
Calcium 12% DV
Iron 16% DV