Appetizer Recipes
Rosemary Bacon & Gruyère Scones
In the kitchen, we pour coffee and wait for our friends to arrive for brunch, imagining ourselves in a Raymond Carver story. The morning sun is low in the sky. Heat billows from the oven and the smell of rosemary fills the air. A potted fern rests against the window.
We pull the savory scones from the oven. They're light and pillowy, like a cloud, yet somehow they have the familiar, weighty crumble so beloved in American-style scones.
We pour more coffee and set the table. Our friends are bringing fresh fruit and outsized appetites for life. This recipe was made for them — the salty bacon, earthy Gruyère, and woodsy rosemary are bold and bracing. We scramble some eggs to serve alongside.
Just then, our friends round the corner and thank goodness. The scones are best served warm with big dollops of butter and honey. They've made it just in time. With each bite, we marvel at the texture — their scone-y dedication to baking powder and their golden, lightly crispy edges. The rosemary smells like redemption, and every bite is a reminder that it's fall.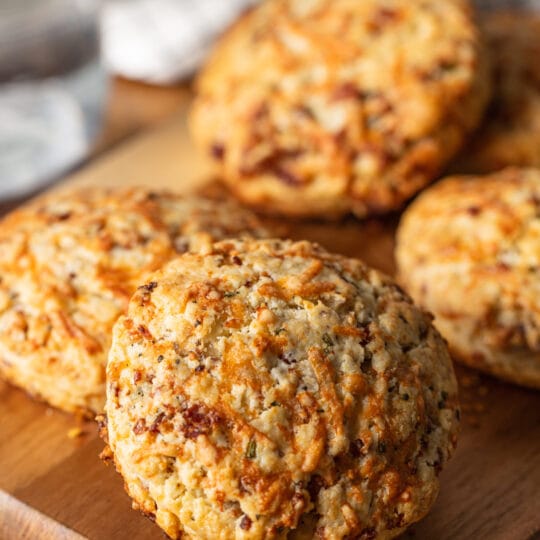 Appetizer
Rosemary Bacon & Gruyère Scones
Serves: 6
Ingredients
½ lb hickory-smoked bacon
2 cups cake flour, plus more for dusting
5 Tbsp unsalted butter, diced, cold
½ cup cold heavy cream, plus more for brushing
1 Tbsp Gelson's fresh rosemary, chopped
1 cup grated Gruyère, divided
Salted butter, for serving
Directions
Cook the bacon to crispy according to package instructions. Let cool completely, then chop into pea-size pieces. Set aside.

Preheat the oven to 450º. Line a baking sheet with parchment paper.

In a food processor, combine the flour, salt, baking powder, and sugar. Pulse to combine. Add the butter and pulse about 7 times until the butter is pea size.

Add the egg and cream, and pulse 7 times to form hydrated crumbs.

Turn the dough out onto a surface lightly dusted with flour and gently fold in the bacon, rosemary, and ¾ cup of the Gruyère.

Press the dough into a cohesive round and knead it a few times just until it holds together.

Press the dough into a ¾"-thick circle and cut it into rounds with a 2" cookie cutter or drinking glass. Gently reshape the remaining dough and cut it again to form 6 scones total.

Place the scones on the prepared baking sheet. Brush the top and sides of each scone with heavy cream and sprinkle the remaining Gruyère on top.

Bake for 10 to 12 minutes or until the scones are golden brown. Serve hot with salted butter. Leftover scones can be stored in an airtight container in the refrigerator for up to 3 days.
Recipe adapted from: New York Times Cooking