Dinner Recipes
Salmon Rice Bowl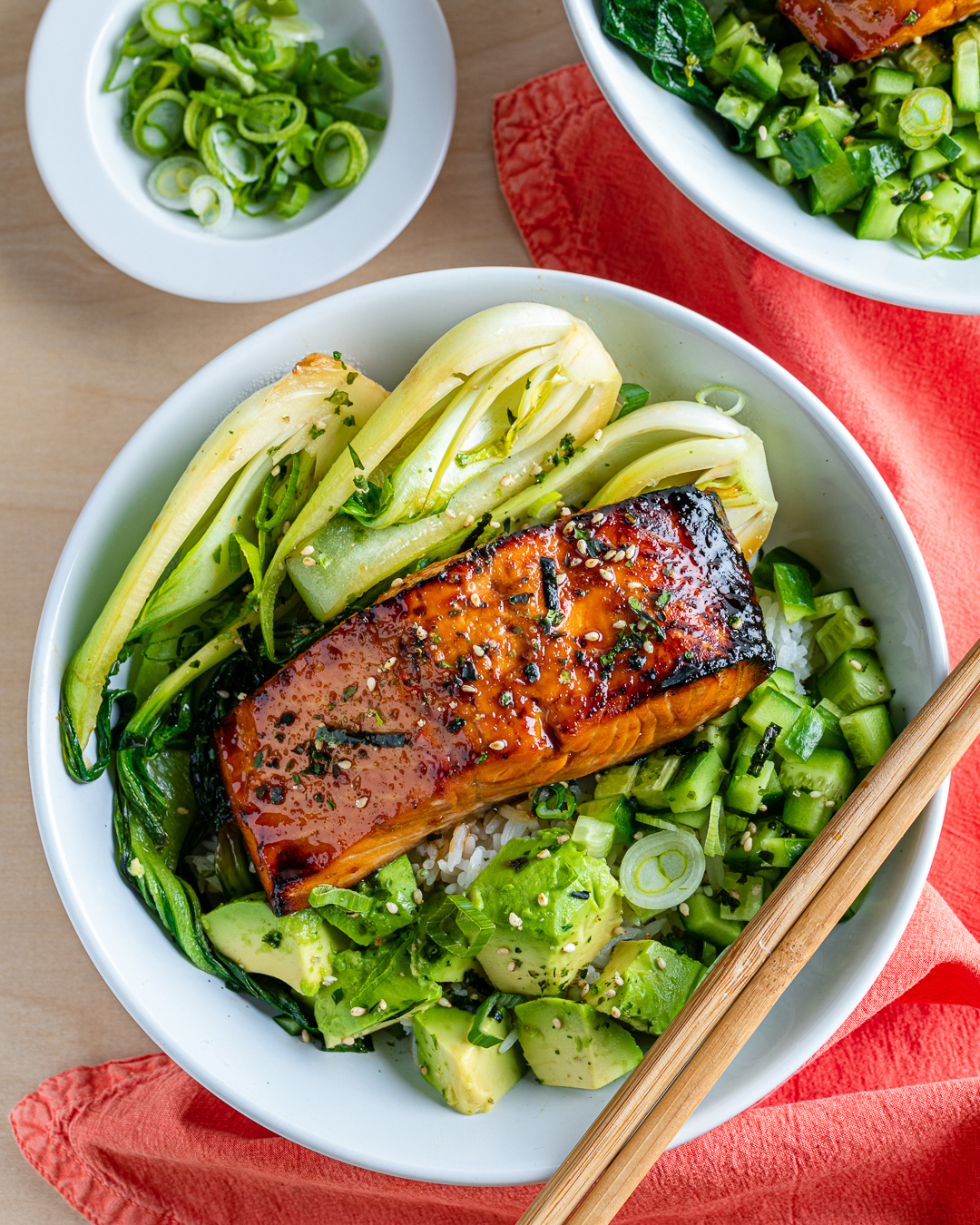 Bright, fresh meals in the weekly dinner routine? We are here for it! With all its glowing greenery — bok choy, avocado, cucumber — this salmon rice bowl looks like a gorgeous, super lush jungle. But the real star of this dish, the thing that ties all the veggies together, is a piquant marinade of soy and ginger.
We make the marinade with honey, lemon juice, soy sauce, fresh ginger, and grated garlic, and then bathe the salmon fillets in it for half an hour. It infuses the fish with a deep, umami flavor, and ensures it comes out from under the hot, hot broiler sweetly charred and caramelized with a moist, tender texture.
The leftover marinade gets reduced and becomes a gooey, slightly kicky sauce; it's reminiscent of a bottled teriyaki sauce, but less sweet. We drizzle it over everything: the chewy rice, the flaky fish, the creamy avocado, and the cool cucumber. It's particularly lovely with the crisp baby bok choy, which we sauté in spicy chile oil and punchy garlic — the sauce brings extra "oomph" to all that flavor.
We finish the bowl with a scattering of green onions and furikake — a Japanese seasoning blend that typically consists of toasted nori, sesame seeds, ground dried fish, and salt. We love it as the final touch on this light yet incredibly flavorful and satisfying rice bowl.
Our tips: You can make this bowl with whatever vegetables you have on hand — no need to stick to the green theme! This recipe is also great for meal prepping; chop and cook the various components ahead of time, and tuck them in the fridge until you're ready to eat.
Servings: 4
Ingredients
1 cup plus 1 tsp low-sodium soy sauce, divided
¼ cup honey
2 Tbsp freshly squeezed lemon juice
1" piece fresh ginger, peeled and grated
4 garlic cloves, grated, divided
4 6-oz salmon fillets, skin removed
1 tsp chile oil
4 heads baby bok choy, trimmed and halved lengthwise
1 Tbsp water
Kosher salt, to taste
Freshly ground Gelson's black pepper, to taste
4 cups cooked white rice
1 avocado, diced
2 Persian cucumbers, diced
6 to 8 green onions, thinly sliced, for garnish
Furikake seasoning, for garnish
Directions
In a 2-cup measuring cup, combine 1 cup soy sauce, honey, lemon juice, ginger, and ¾ of the grated garlic, and whisk until the honey dissolves.

Place the salmon fillets in a small casserole pan and pour all but ½ cup of the marinade over them. Flip the salmon to coat both sides and marinate for 30 minutes in the refrigerator.

Preheat the broiler to high heat.

In a small pan, bring the remaining marinade to a simmer over medium heat. Gently simmer for 3 to 5 minutes, or until the marinade reduces by half and coats the back of a spoon. Set aside and let cool.

Place the salmon on a rimmed baking sheet and broil until the fish is well-caramelized and just cooked through (internal temperature of 145°), 4 to 6 minutes, depending on the thickness of the fish and the distance from the broiler.

In a medium skillet, heat the chile oil over medium-high heat until shimmering. Add the bok choy and remaining grated garlic. Stir, and cook for 2 minutes. Add the water and remaining 1 teaspoon soy sauce, cover, and cook for 2 minutes more, or until the water is absorbed. Uncover and cook for 1 minute more, or until the bok choy is bright green and tender. Season with salt and pepper, to taste.

To assemble, scoop 1 cup cooked rice into each of 4 bowls. Divide the avocado, cucumber, and bok choy among the bowls. Place a salmon fillet atop each bowl, drizzle with the reduced marinade, and garnish with green onions and furikake. Enjoy warm!
Recipe source: Serious Eats
Calculate nutrition information for this recipe.