Dinner Recipes
Salt-Cured Egg Yolk in a Greens & Farro Salad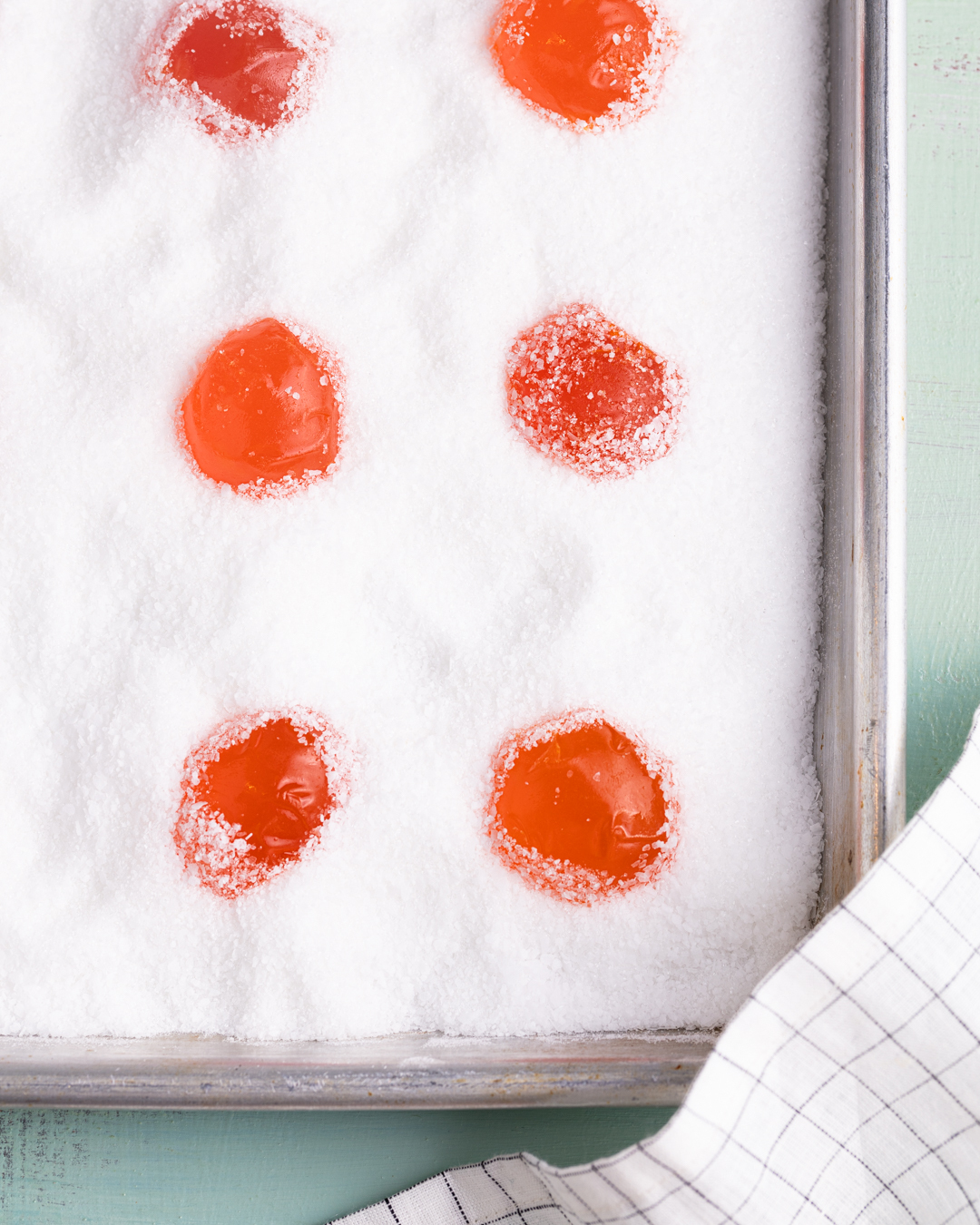 In our minds, the egg is nature's perfect ingredient. In cooking and baking, eggs give our food structure, flavor, moisture, and color. They even bring texture to our cocktails. And all by themselves, they're an amazing (and tasty) source of protein. So flexible!
Cured egg yolks are yet another egg superpower. Like most preserved foods, they're incredibly easy to make: if you can separate eggs, you can preserve their yolks. Basically, you let the yolks hang out in a tray of sugar and salt for a week, rinse them off, and dry them in the oven. Done! Now you've got a bunch of bright golden-orange, rather firm yolks — with just a hint of salty-sweet and an abundantly rich, creamy egg flavor. What do you do with them?
Cured egg yolks have been a part of Chinese cooking traditions for thousands of years. They're delicious in savory dim sum buns or sweet mooncakes, shaved over stir-fries, or as a creamy addition to the batter that coats fried dishes, like crispy tofu. In recent years, cured egg yolks have also been turning up pretty much anywhere you'd use a little shaved Parm: they add a cheese-like dimension to salads, risottos, roasted veggies, soups, and the like.
Case in point, the greens and farro salad we created here. It's a hearty affair, heavy on the goodies that make a salad feel like a meal: mushrooms, sunflower seeds, dried cherries, cucumbers, and avocado. We've also loaded it up with aromatic garlic and herbs and tossed it in a honey-mustard vinaigrette, so it's super flavorful. We love how all those chewy textures play out and the way the mustard and sweet-tart cherries foil the rich, meaty mushrooms. The cured egg yolk is shaved over the top of the salad, pulling those disparate flavors together, much like Parm — but it's so light the little flakes melt, rich, subtly sweet, and salty in your mouth.
It's a beautifully balanced salad, the kind you'll find yourself not only craving at lunchtime but also pulling out for those special dinners when you want to impress the new S.O. It manages to say "Oh, I just threw this together" and "fancy bistro fare" at the same time.
Our tip: Here we make a dozen cured eggs, but it's also fine to take a cure-as-you-go approach. Making a cake that calls for more whites than yolks? Cure the leftover yolks for some future endeavor.
Salt-Cured Egg Yolks

Yield: 12

Ingredients

2 cups kosher salt
2 cups granulated sugar
12 large eggs

Directions

In a food processor, combine the salt and sugar and pulse until evenly mixed and slightly ground, about 14 times.

Pour half the salt and sugar into a small, rimmed baking sheet or a 8x8" baking pan. Shake the pan to create an even layer and then gently use a whole egg to make 12 evenly spaced indentations in the salt bed.

Working with 1 egg at a time, separate the egg yolks from whites, and transfer the yolks to the indentations in the salt bed. Discard or save the egg whites for another use.

Carefully sprinkle the remaining salt mixture over the yolks.

Wrap the pan with plastic wrap and refrigerate until the yolks are firm and dry throughout, about 6 to 7 days.

Preheat the oven to 200º. Set a wire rack on a rimmed baking sheet.

Fill a medium bowl with cool water. Working one yolk at a time, remove the yolks from the sheet pan, brush off the excess salt and sugar, and gently rinse them in the water. Using a paper towel, pat the yolks dry and transfer them to the wire rack.

Bake until the exteriors of the yolks are dry to the touch, 30 to 40 minutes.

The egg yolks are now preserved and ready to use. Preserved egg yolks can be stored in an airtight container in the refrigerator for up to 2 weeks.
Recipe adapted from: Splendid Table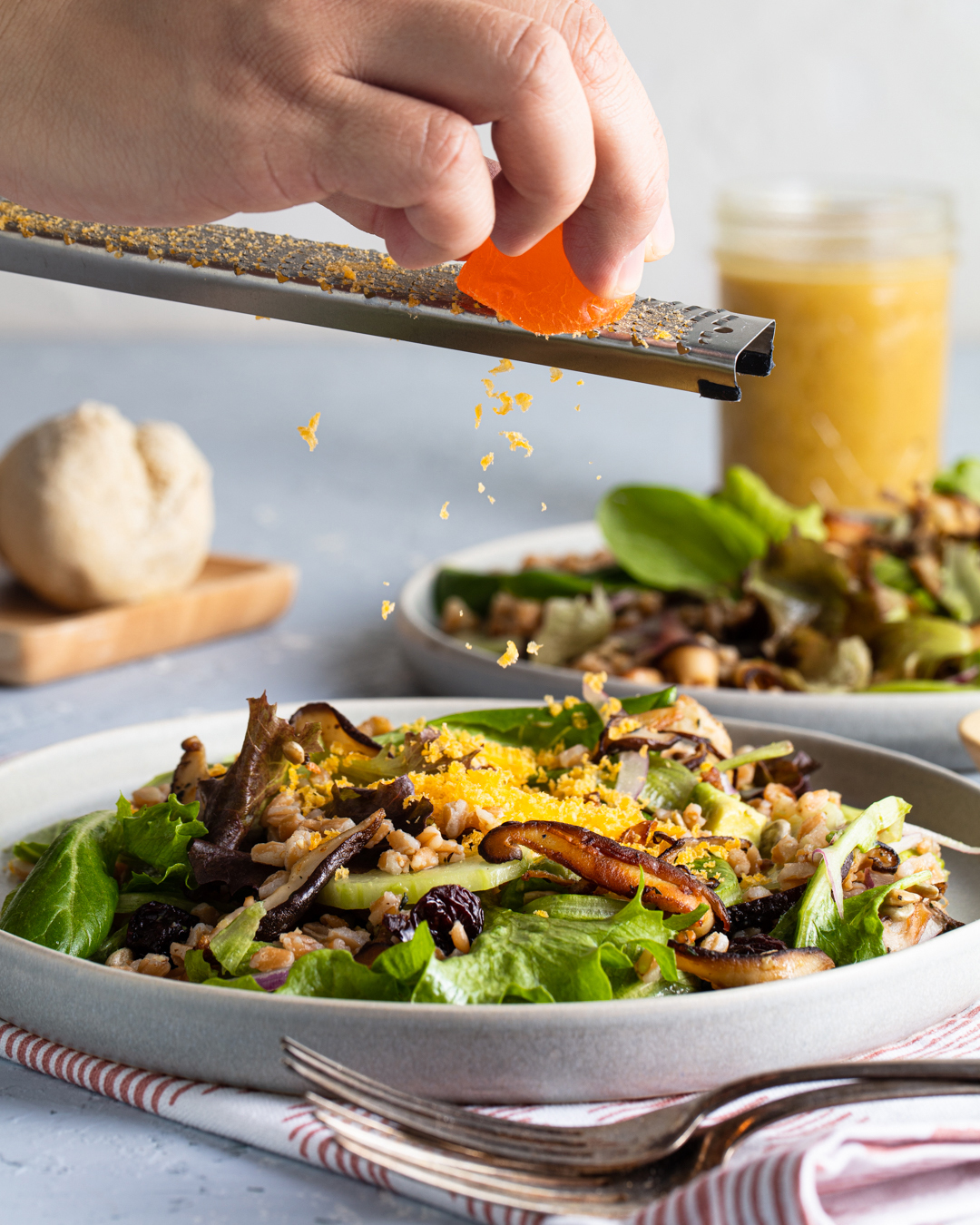 Greens & Farro Salad

Servings: 4

Ingredients

For the honey-mustard vinaigrette:
¼ cup Dijon mustard
¼ cup honey
¼ cup apple cider vinegar
¼ cup extra virgin olive oil
1 tsp kosher salt
¼ tsp freshly ground Gelson's black pepper

For the salad:
3 Tbsp extra virgin olive oil
10 oz shiitake mushrooms
2 garlic cloves, grated
1 tsp chopped fresh Gelson's organic thyme
Kosher salt, to taste
Freshly ground Gelson's black pepper, to taste
2 cups cooked farro
¼ medium red onion, thinly sliced
¼ cup roasted and salted sunflower seeds
2 Tbsp dried tart cherries
½ English cucumber, peeled and thinly sliced
1 avocado, peeled and diced
6 cups loosely packed spring mix greens
2 preserved egg yolks (recipe above)
Flake salt, for garnish

Directions



To make the honey-mustard vinaigrette: In a 1-quart mason jar or container with a lid, combine the mustard, honey, apple cider vinegar, olive oil, kosher salt, and black pepper. Shake until thoroughly combined. Set aside.

To make the salad: In a medium skillet, heat the olive oil over medium-high heat until shimmering. Add the mushrooms, garlic, and thyme. Cook until the edges of the mushrooms are crispy and browned, stirring occasionally, about 8 to 10 minutes. Season with salt and pepper and set aside.

In a large bowl, gently toss together the cooked farro, red onion, mushrooms, sunflower seeds, cherries, cucumber, avocado, and ¼ cup of the vinaigrette.

Add the greens and gently toss to coat.

Divide the salad among 4 plates. Grate the preserved egg yolks over the top of each salad and season with flake salt.