Dinner Recipes
Sausage & Kale Tortellini Soup
When we tasted this soup in the test kitchen, everyone talked about how deceptively impressive it was for a recipe that comes together in a stress-free 30 minutes. It's the perfect weeknight date meal, especially if you're newly in love and looking to show off some kitchen skills. It will make your place smell amazing: It starts with sautéing up the fennel-y Italian sausage and then cooking the garlic and onions in its juices. From there, it's basically a dump recipe that yields a wonderfully creamy soup full of hearty greens and tender tortellini — and loads of savory warmth. Cheers to love!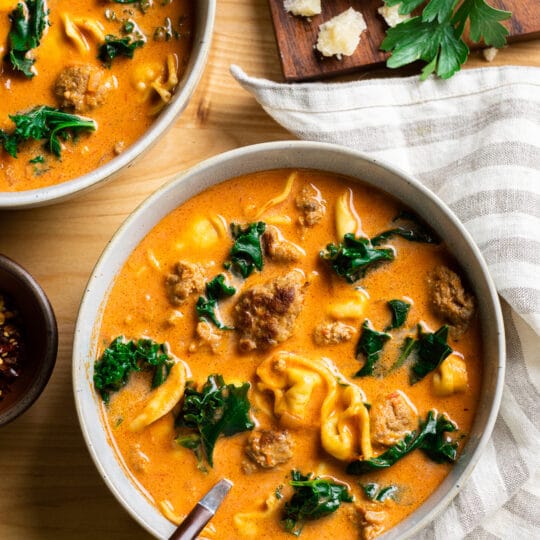 Dinner
Sausage & Kale Tortellini Soup
Serves: 6
Ingredients
1 medium yellow onion, diced small
1 15-oz can crushed tomatoes
1 bunch kale, stemmed and rough chopped
9 oz fresh cheese tortellini
Grated Gelson's Parmesan cheese, for garnish
Gelson's crushed red pepper flakes, for garnish
Directions
Heat a large Dutch oven over medium-high heat and add the Italian sausage. Use a wooden spoon to break up the sausage and cook until lightly browned, stirring occasionally, 3 to 5 minutes.

Add the onion and garlic and cook, stirring occasionally, until the onions are translucent and softened, about 5 minutes.

Stir in the tomato paste and cook for 2 minutes, or until it turns brick red.

Add the chicken stock and crushed tomatoes and stir until fully incorporated. Bring to a boil, reduce the heat to medium low, and simmer for 15 minutes until the liquid is slightly reduced.

Stir in the salt, kale, tortellini, and heavy cream. Simmer for 5 minutes until the kale is wilted and the pasta is tender.

Ladle the soup into bowls and garnish with Parmesan cheese and crushed red pepper flakes. Leftovers can be stored in an airtight container in the refrigerator for up to 3 days.
Recipe source: The Modern Proper