Dinner Recipes
Scallop, Chorizo, and Avocado Skillet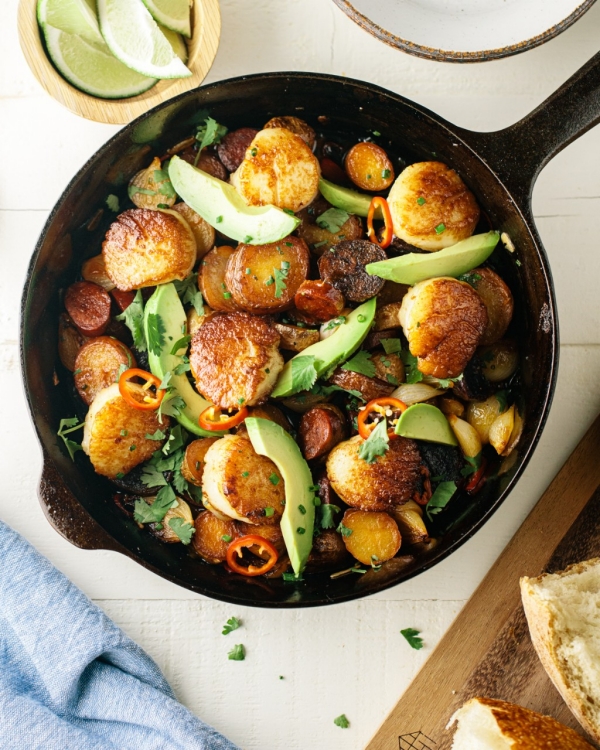 We adore this skillet for its great, big flavor and textural range. It's got the firm bite of spicy, hot chorizo. It's got the contrast of buttery, briny-sweet scallops and earthy-sweet pearl onions. It's got the creamy fat of the avocado and the crispy-soft density of potatoes. And then there's the seasoning: a lively combo of heat, acid, and herbs that pulls the dish together — wine, lime, chives, cilantro, and jalapeño peppers.
This dish has a wonderful coziness to it — all those plump, golden scallops and potatoes — but it's also an over-the-top showstopper. It feels special. We usually put a loaf of crusty bread and some sweet cream butter on the table, so family members have something to mop up the butter-wine-scallop-brine goodness at the bottom of the skillet.
Our tips: Pair the skillet with Freixenet Sparkling Cordon Negro Brut Cava. Its bright lemon notes will stand up to the dish's rich flavors and spice. And, speaking of those peppers, you can pull them out of the dish just before serving if you want to tone down the heat.

Ingredients
2 cups fingerling potatoes, sliced ½-inch thick
4 Tbsp grapeseed oil, divided
10 pearl onions, peeled and halved
½ cup chorizo sausage, sliced ¼-inch thick
¼ cup white wine
3 Tbsp butter, divided
½ red jalapeño pepper, sliced thin
2 Tbsp chives, diced small
½ lb sea scallops
Salt, to taste
2 Tbsp cilantro leaves, roughly chopped
1 avocado, sliced
1 lime, cut into wedges
Directions
In a medium pot, bring 4 cups of water to a boil over high heat. Add the fingerling potatoes, and cook until al dente, about 12 minutes.

Drain the potatoes, allow them to dry, and put them in the fridge to chill for 1 hour.

In a medium cast-iron pan, heat 2 tablespoons of the grapeseed oil over medium-high heat. Add the potatoes, and sauté them until they're crisp, about 4 to 5 minutes, keeping the potatoes moving continuously.

Add the pearl onions and chorizo, and sauté for another 3 to 5 minutes.

Drain off any excess oil, add the white wine, and cook for another minute.

Add 1 tablespoon of the butter, the pepper, and the chives, and cook for one more minute. Remove the cast-iron pan from the heat, and set it aside.

In a medium skillet, heat the remaining grapeseed oil over high heat. Pat the scallops dry, season both sides with salt, and gently place them in the pan. Sear until golden on one side, about 3 minutes.

Flip the scallops, add the remaining butter to the pan, and baste the scallops for 2 minutes, or until firm.

Top the potato mixture with the scallops, avocado, cilantro, and lime wedges.