Appetizer Recipes
Scotch Eggs
Soft-boiled eggs encased in breakfast sausage and breaded in crushed corn flakes — Scotch Eggs are three beautiful breakfasts rolled into one. The result is a textural delight: soft and jammy on the inside, crispy and crumbly on the outside, super hearty all around. Traditional pub fare, Scotch Eggs feel like a little bit of magic when you make them at home. The only tough part is deciding whether to dip them in Dijon mustard or hot sauce.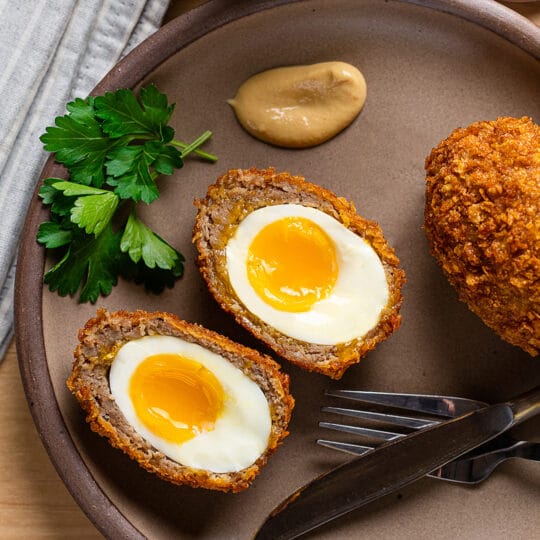 Appetizer
Scotch Eggs
Serves: 4
Ingredients
6 Gelson's large eggs, divided
7 oz fresh breakfast sausage, casings removed if necessary
1 cup Gelson's organic all-purpose flour
1 cup finely crushed corn flakes
Vegetable oil, for frying
Freshly ground Gelson's black pepper, to taste
Dijon mustard, for serving
Directions
Place 4 of the eggs in a small saucepan and cover them with cold water. Bring to a boil, remove the pot from the heat, cover, and let stand for 5 minutes. Carefully drain the water, then fill the pan with ice water to cool the eggs, 10 to 15 minutes.

Gently crack the shells and carefully peel the eggs under cold running water. Place the eggs in a bowl of cold water, cover with plastic wrap, and chill in the refrigerator until cold, about 30 minutes. Note: The soft-boiled eggs can be made and peeled 1 day in advance.

Divide the sausage into 4 equal portions. Wet your hands with a little water to prevent sticking, then pat 1 sausage portion into a very thin patty — as thin as you can go without it tearing — over the length of your palm. Lay 1 soft-boiled egg on top of the sausage and wrap the sausage around the egg, sealing the edges to enclose the egg completely.

Transfer the wrapped egg to a plate. Repeat with the remaining sausage and soft-boiled eggs.

Place the flour in a wide, shallow bowl and the crushed corn flakes in a second wide, shallow bowl. In a third bowl, whisk together the remaining 2 eggs.

Working gently, dip 1 sausage wrapped egg at a time into the flour to coat, shaking off any excess, then dip it into the egg wash to coat. Finally, roll it in the corn flakes to coat. Return the eggs to the plate.

Fit a large, heavy-bottomed pot with a candy thermometer and add 2" of vegetable oil. Heat over medium heat to 350°. Line a plate with paper towels.

Carefully add the eggs to the hot oil and fry, turning occasionally, until the sausage is cooked through and the breading is golden brown, 5 to 6 minutes. Note: As you're cooking, make sure to adjust the heat as needed to maintain an oil temperature of 350°.

Use a slotted spoon to transfer the eggs to the paper towel-lined plate to drain. Season lightly with salt and black pepper.

Serve warm with Dijon mustard or your favorite hot sauce.
Recipe source: Epicurious