Dinner Recipes
Seared Halibut with Shaved Fennel & Carrot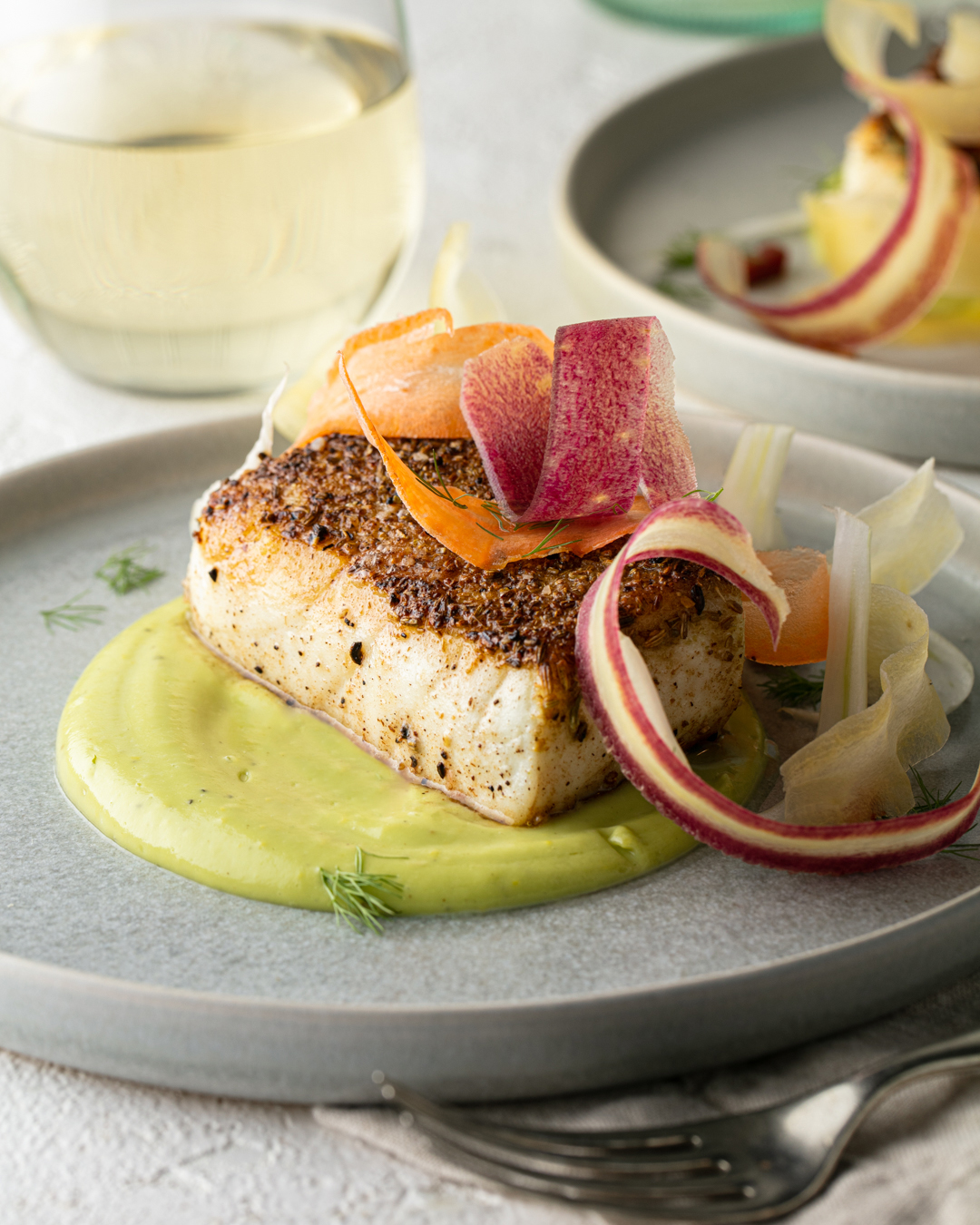 Grassy green, pastel yellow, sunny orange, and bright fuschia — have you ever seen such a pretty, vibrant plate? It looks like that time of year when spring starts to roll into summer, and all the flowers and trees are flourishing. It's a lovely dish, and not just in appearance: the combination of halibut, a shaved salad, and an avocado vinaigrette, all tied together with various forms of fennel, is light, fresh, and elegantly balanced.
We coat the halibut in ground fennel seeds, which create an herby crust when seared in the hot, hot pan. And once that crust is nice and golden brown, we baste the fish with melted butter to enrich its mild flavor — and enhance its naturally flaky texture.
That flakiness is such a nice contrast to the cool, delicate crunch of the rainbow carrot and fennel bulb ribbons. We also love the juxtaposition with the avocado vinaigrette. To make it, we whirl up avocado, extra virgin olive oil, lemon juice and zest, and honey. It's super bright, courtesy of the lemon's citrusy zing — and it makes a delightfully luscious bed for the fish and salad.
Last but not least, we scatter fennel fronds and pancetta over the plate. Those little dices of cured pork add saltiness, of course, but more importantly, crunch. It's the perfect finishing touch — a wonderful contrast to the melt-in-your-mouth fish, the thinly shaved vegetables, and the creamy avocado. We like to take the time to craft a forkful that has a little bit of each element. It's a precious way to eat, true. But it's so worth it: you get a rainbow of flavors and textures in every bite.
This dish is (if we do say so ourselves) worthy of the menu at a chic seaside eatery. We'd make it for a celebratory occasion, like an anniversary or (dare we say it?) the first post-Covid dinner party. But it comes together with such ease, we wouldn't hesitate to make it on a weeknight. After all, no one ever said a Tuesday night couldn't be fancy!
Servings: 4
Ingredients
For the avocado vinaigrette:
1 large ripe avocado
Zest of 1 lemon
Juice of 1 lemon
1 garlic clove
½ cup extra virgin olive oil
2 Tbsp water
½ Tbsp honey
Kosher salt, to taste
Freshly ground Gelson's black pepper, to taste
For the halibut and salad:
3 oz pancetta, diced
½ large fennel bulb, fronds reserved for garnish
½ bunch rainbow carrots
1 Tbsp Gelson's fennel seeds
4 5-oz halibut fillets, skin removed
Kosher salt, to taste
Freshly ground Gelson's black pepper, to taste
2 Tbsp extra virgin olive oil
2 Tbsp unsalted butter
Directions
To make the avocado vinaigrette: In a blender, combine the avocado, lemon zest and juice, garlic, extra virgin olive oil, water, and honey.

Blend on high until completely smooth and thick, about 45 seconds. Season with kosher salt and black pepper. Set aside.

To make the halibut and salad: In a small saucepan over medium heat, cook the pancetta until crispy, stirring occasionally, about 5 minutes. Transfer to a paper towel-lined plate and set aside.

Shave the fennel bulb and carrots into thin strips using a peeler or mandoline. Place the shaved vegetables in a large bowl of ice water. Set aside for at least 20 minutes so the vegetables crisp up and keep their wavy shapes.

In a spice grinder, roughly grind the fennel seeds for about 10 seconds. Transfer to a small plate.

Pat the halibut fillets dry and season with kosher salt and black pepper on both sides.

Dip the top of each fillet in the ground fennel seeds, patting the seeds into the fillet.

In a medium nonstick skillet, heat the extra virgin olive oil over medium-high heat until shimmering.

Gently place the fillets fennel-side down in the oil, away from you to avoid splattering, and sear until the bottoms of the fillets are browned and the edges start to turn opaque, about 3 to 4 minutes. Flip and sear for 2 minutes more.

Add the butter to the pan, allow it to melt, and using a large spoon, baste the fillets with the butter, cooking for 2 minutes more. Transfer the halibut to a cutting board.

Spoon the avocado dressing onto 4 plates. Divide the halibut fillets and shaved vegetables among the plates, and garnish with crispy pancetta and fennel fronds.
Calculate nutrition information for this recipe.