Dinner Recipes
Sheet-Pan Moroccan-Style Chicken and Veggies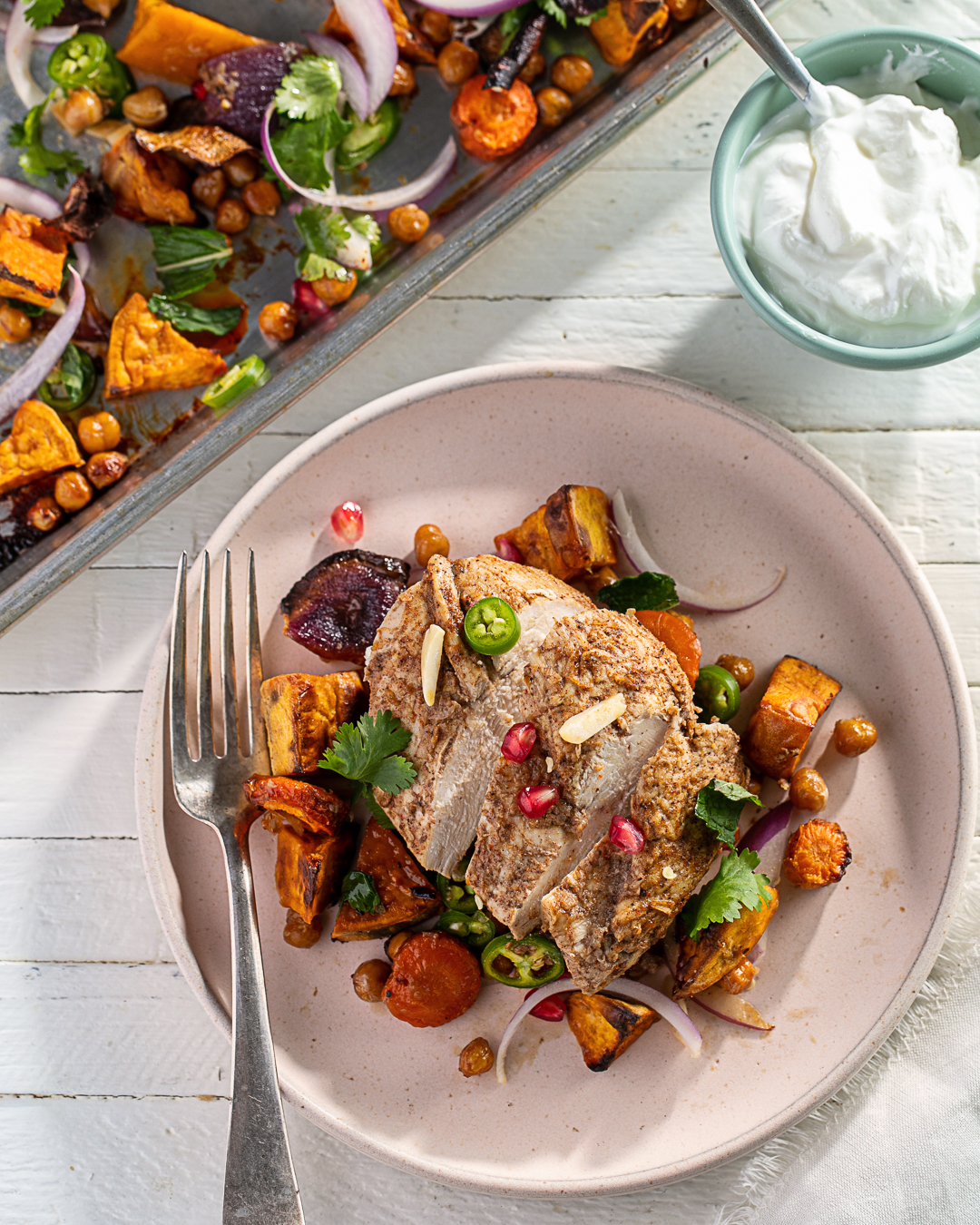 Chicken dinners sometimes get a bad rap for being a little ho-hum, as do one-pan recipes for being too simple. This Morrocan-style chicken and veggie number disproves all of that. It piles a surprising amount of flavor and texture onto a single pan, but still has the quick-prep benefits we all love about sheet-pan suppers.
First, we marinate the chicken in olive oil, lemon juice, garlic, cayenne pepper, and McCormick's Garam Masala. For the vegetables, we went with sweet potatoes, carrots, red onion, and chickpeas — a nice, colorful mix of earthy-sweet roots and hearty starches. They all get tossed in a simple dressing of olive oil, salt, pepper, and (yay!) more garlic.
After a hot half hour in the oven, the chicken comes out remarkably juicy, the veggies are lightly caramelized and crispy, and everything has a roasty sweetness, thanks to all the spices. But our absolute favorite part of the meal just might be the many, many garnishes: A squeeze of fresh lemon juice, bright serrano peppers, tart pomegranate seeds, toasted almonds, peppery red onion, fresh mint and cilantro, and creamy Greek yogurt. Fresh, crunchy, juicy, and acidic — they're the perfect complement to the starchy veggies and the warm spices. (So don't skip 'em!)
With right around 15 minutes of prep, this dinner is perfect for those weeknights when you barely have a moment to spare, but very much need a bite of something vibrant and flavorful.
Servings: 4
Ingredients
4 Tbsp extra-virgin olive oil, divided
6 garlic cloves, thinly sliced, divided
2 Tbsp freshly squeezed lemon juice, plus more for serving
2 tsp McCormick Garam Masala
⅛ tsp cayenne pepper
1 tsp kosher salt, plus more to taste
½ tsp black pepper, plus more to taste
1 ½ lb Gelson's boneless, skinless chicken breasts
1 medium sweet potato, quartered lengthwise, sliced ½" thick
2 large carrots, sliced ½" thick
1 medium red onion, divided (½ cut into 1" pieces and ½ thinly sliced)
1 14 ½-oz can chickpeas, drained and rinsed
2 serrano peppers, thinly sliced, for garnish
¼ cup pomegranate seeds, for garnish
¼ cup slivered almonds, toasted, for garnish
Cilantro leaves, for garnish
Mint leaves, for garnish
Greek yogurt, for serving
Directions
1. Preheat the oven to 425°. Place a rimmed baking sheet in the oven.
2. In a large bowl, whisk together 2 tablespoons olive oil, ½ the garlic, lemon juice, McCormick Garam Masala, cayenne pepper, salt, and black pepper.
3. Add the chicken, toss to coat, cover, and marinate in the refrigerator while preparing the vegetables.
4. Combine the sweet potatoes, carrots, 1" pieces of onion, chickpeas, remaining 2 tablespoons olive oil, and remaining garlic in a large bowl. Season with salt and pepper, and toss to coat.
5. Transfer the vegetable mixture to the sheet pan, and cook in the oven for 15 minutes.
6. Toss the veggies, place the chicken breasts on top, and drizzle the chicken with the remaining marinade.
7. Cook for 30 to 35 minutes, or until the chicken registers 165° on an instant-read thermometer. Remove the pan from the oven.
8. Drizzle the chicken and vegetables with additional lemon juice, and top with the sliced red onions, serrano peppers, pomegranate seeds, almonds, cilantro, and mint. Serve with Greek yogurt.
Calculate nutrition information for this recipe.