Dinner Recipes
Sheet Pan Salmon and Squash with Miso Mojo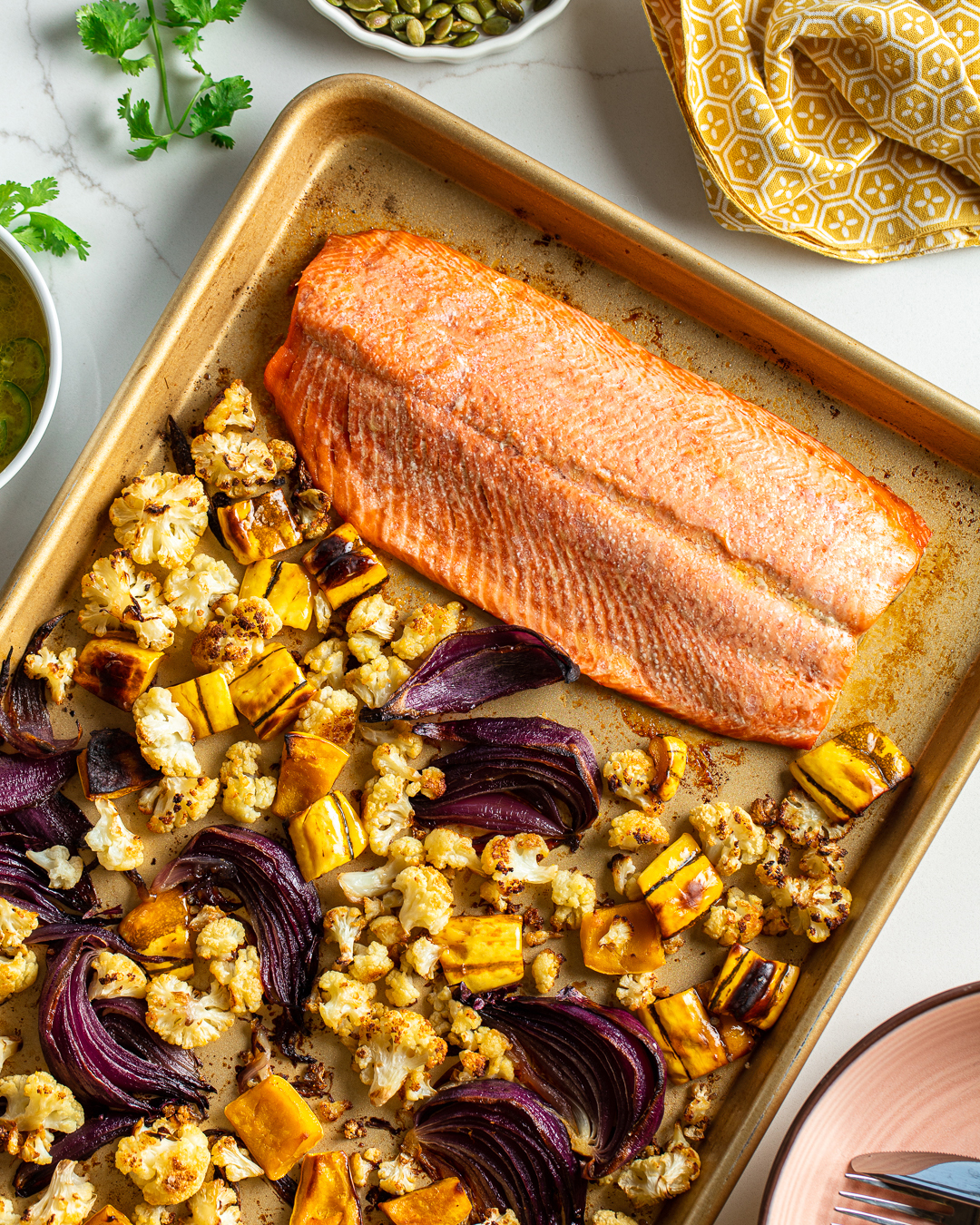 What we like about this dish is that it somehow manages to combine warm, comforting flavors with a light, sunny, SoCal vibe. It's the way the roasted veggies balance each other out: the sweet, creamy squash, the light, nutty cauliflower, and the crisp, bright red onion. It's the salt-and-pepper simplicity of the salmon. It's the zingy dressing, full of bright citrus, peppery heat, and earthy-sweet miso umami. And a sprinkle of toasty pumpkin seeds always keeps things lively.
This is one of those weeknight-easy dishes that has a cozy, satisfying weekend feel — it's got "special supper with partner" written all over it. It would also make a delightful luncheon. Serve it with a bottle of white wine, like Gelson's Mayfair. It's a crisp foil for the fish, and a brilliant, fruity companion for that dressing.
Tip: We'd make a double batch of the dressing, so you can use it on other dishes throughout the week. It will be brilliant drizzled on a spinach salad or a rice bowl.

Servings: 4
Ingredients
1 delicata squash, halved and seeded
1 small cauliflower head, cut into florets
1 red onion, cut into 8 wedges
5 Tbsp extra-virgin olive oil, divided, plus more for drizzling
Kosher salt, to taste
1 lb boneless, skinless salmon fillet
⅓ cup raw pumpkin seeds
¼ cup orange juice
2 Tbsp lime juice
2 Tbsp unseasoned rice vinegar
2 Tbsp white miso
1 to 2 small serrano chiles, sliced into thin rings
Directions
1. Preheat the oven to 425°. Arrange the racks in the upper and lower thirds of the oven.
2. Cut the squash lengthwise into 1-inch strips, then crosswise into 1-inch pieces.
3. Toss the squash, cauliflower, red onion, and 3 tablespoons of olive oil on a large, rimmed baking sheet. Season with kosher salt. Roast on the top rack, tossing occasionally, until the vegetables are browned all over and tender, 25 to 30 minutes.
4. Reduce the oven temperature to 300°.
5. Drizzle the salmon lightly with olive oil; season all over with salt. Push the vegetables to one side of the baking sheet, and then place the salmon on the other side. Bake the salmon and vegetables on the lower rack until the fish is just firm and opaque in the center, about 12 to 15 minutes.
6. Spread the pumpkin seeds on a small, rimmed baking sheet and bake on the top rack until golden; they should finish at about the same time as the fish.
7. Meanwhile, in a small bowl, whisk together the orange juice, lime juice, rice vinegar, white miso, and remaining 2 tablespoons of olive oil until the miso dissolves. Stir in the serrano chiles and season with salt.
8. To serve, cut the salmon into large pieces. Arrange the vegetables on a platter and top them with the salmon. Top the fish and veggies with the dressing and pumpkin seeds. Serve hot.
Recipe source: Bon Appétit