Dinner Recipes
Sheet-Pan Sausage & Brussels Sprouts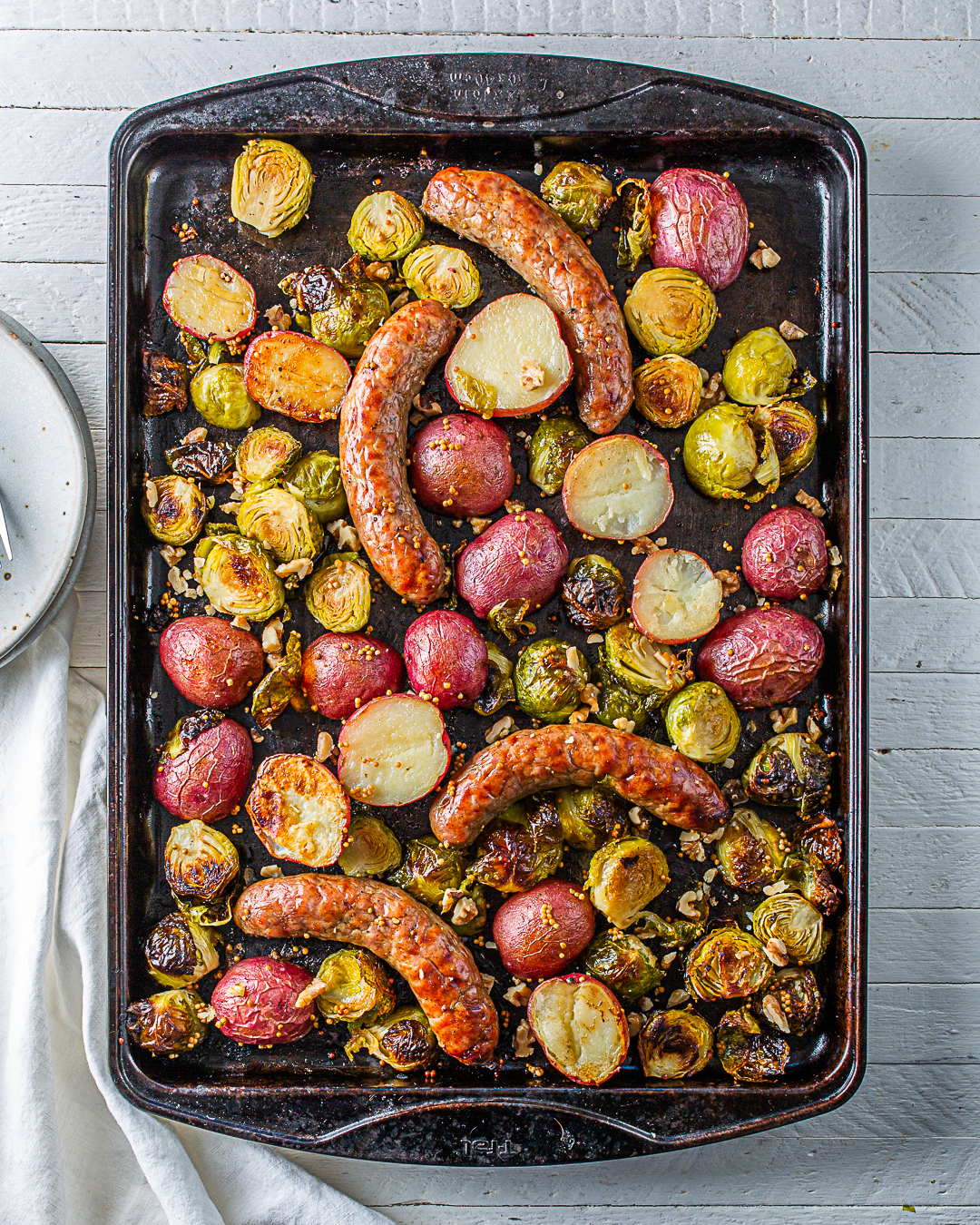 This dish has a few things going for it. First of all, it's a sheet-pan recipe — easiest of the easiest for a busy weeknight. Second, it's not a sheet-pan chicken recipe. We do love them, but it's fun to mix things up, and plump, juicy sausages make a simple and very flavorful alternative. And third: honey-mustard!
While the sausages, potatoes, and Brussels sprouts are roasting away, we whisk together honey and Dijon mustard. The fun thing about that is you can mess with it: add mustard seed for spice, a little more honey if you like it sweet, or an extra dab of Dijon if you want more of that hot, vinegary bite. However you do it, the tangy-sweet condiment will taste fantastic swirled through all the lightly charred veggies and sausages.
A note about nuts: In the ingredients, you'll see that chopped nuts are an optional add. Don't skip them: We loved running into them in the dish. In a bite of meaty sausage, sweet, tender Brussels sprouts, and creamy potato, their dry, nutty crunch is just exactly perfect.
Make this dish when your entire household is roaring with busyness. It's designed to come together quickly, to cook itself — and to be enjoyed in the calm peace of the dining room with a glass of wine.
Servings: 4
Ingredients
1 lb Gelson's fresh sausage, such as sweet or hot Italian, or bratwurst
1 lb Brussels sprouts, trimmed and halved lengthwise
1 lb small potatoes, halved, such as baby Yukon gold or red potatoes
2 Tbsp extra-virgin olive oil, plus more as needed
Kosher salt, to taste
Black pepper, to taste
4 tsp honey
1 Tbsp Dijon mustard
1 Tbsp yellow mustard seeds (optional)
¼ cup chopped Gelson's almonds or walnuts (optional)
Directions
Heat the oven to 450º, and place a sheet pan in the oven.

Score the sausages in a few places on both sides, making sure not to cut all the way through. Transfer them to a large bowl with the Brussels sprouts, potatoes, and 2 tablespoons of olive oil and stir until coated. If the mixture seems dry, add a little more oil. Season with salt and pepper.

Spread the mixture in an even layer on the heated baking sheet, and arrange the vegetables cut-sides down. Roast for 15 minutes, until the brussels sprouts and potatoes start to soften. The sausages will not be cooked through yet.

Meanwhile, in a small bowl, stir together the honey, Dijon mustard, and mustard seeds, if using.

Drizzle the honey-mustard over the sausages and vegetables and toss or shake to coat. Flip the sausages. Sprinkle the sausages and vegetables with nuts, if using. Roast until the sausages are cooked through and the vegetables are golden and tender, another 10 minutes or so.

Season to taste with salt and pepper.
Recipe source: New York Times Cooking