Dinner Recipes
Skillet Chicken Lasagna with White Sauce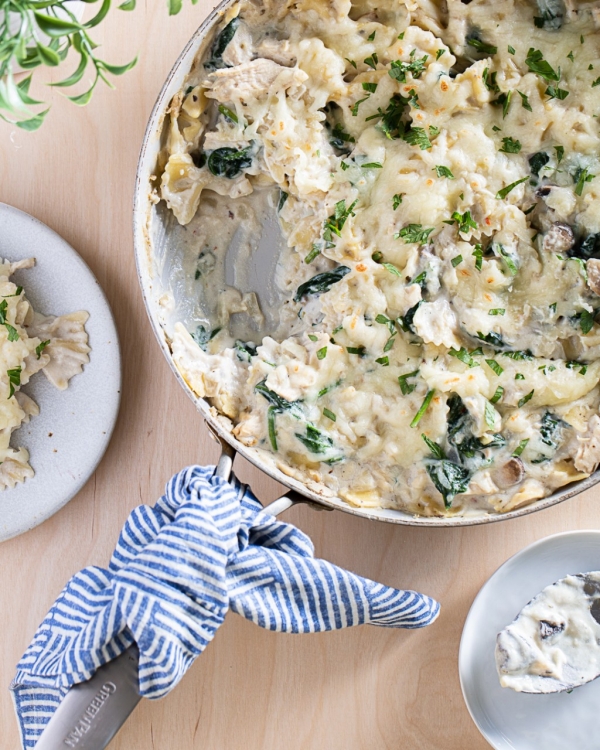 Imagine an easy skillet dinner that has all the layers of a lasagna and all the comfort of a pot pie. This is it! Yes, it's drenched in a cozy white sauce, but don't let that fool you into thinking it's bland or heavy: This dish is full of great texture, fresh veggies, and bold flavor. It's light and satisfying.
In fact, the scratch-made white sauce is the heart of the dish. It's just a bunch of aromatics — onions, garlic, mushrooms, red pepper flakes, and herbs — sautéed in butter, and then swirled through milk and chicken broth. But there's something to be said for taking a little bit of care with one slightly fussy step, and then dumping in the rest of the goodies. The velvety sauce smells wonderful, and it infuses the whole dish with a rich, savory flavor that's hard to resist. Even for kids!
That's saying something because, in this case, the goodies happen to include a healthy handful of fresh spinach (and, shhh, those mushrooms). Of course, they're tucked in the skillet with chewy farfalle noodles, tender chicken, and three cheeses — ricotta, Parm, and mozzarella. Veggies, what veggies?
This little skillet is already a favorite of the test kitchen families, and it's destined to be a summer staple. We like to serve it with a snappy Caesar salad. (If only to ensure we have some leftover pasta. It makes a terrific lunch on day two.)
Our tip: if your kids really won't abide mushrooms, swap in something they will, like sliced artichoke hearts or peas.
Servings: 6 to 8
Ingredients
2 Tbsp unsalted butter
1 onion, chopped
4 garlic cloves, minced
5 oz mushrooms, cleaned and chopped
½ tsp kosher salt, plus more to taste
¼ tsp black pepper, plus more to taste
2 tsp Italian seasoning
½ tsp red pepper flakes
3 Tbsp all-purpose flour
2 cups low-sodium chicken broth, plus more if needed
2 cups milk
8 oz farfalle pasta
8 oz ricotta cheese
1 cup Parmesan cheese
4 oz fresh spinach
2 Gelson's chicken breasts, cooked and shredded
4 oz Gelson's shredded mozzarella cheese
1 Tbsp chopped fresh parsley, for garnish
Directions
In a large skillet, melt the butter over medium heat. Add the onions and garlic and cook for 2 to 3 minutes, or until the onions soften.

Stir in the mushrooms and season with salt, pepper, Italian seasoning, and red pepper flakes. Cook for about 5 minutes, or until the mushrooms cook down a bit and start to brown.

Sprinkle the flour over the mushrooms and stir.

Stir in the chicken broth and milk.

Add the pasta, stir, and cook for 8 to 10 minutes, or until the pasta is cooked through. There should be enough liquid, but if you find that the pasta is not cooked enough and all the liquid is gone, add a bit more broth.

Stir in the ricotta and Parmesan, then add the spinach and continue to stir for 1 minute more, or until the spinach cooks down.

Remove the skillet from the heat, stir in the chicken, and sprinkle the top with mozzarella cheese. Place the skillet under the broiler for 2 to 3 minutes to melt the cheese.

Garnish with chopped parsley and serve.
Recipe adapted from: Jo Cooks