Dinner Recipes
Slow Cooker Beer Corned Beef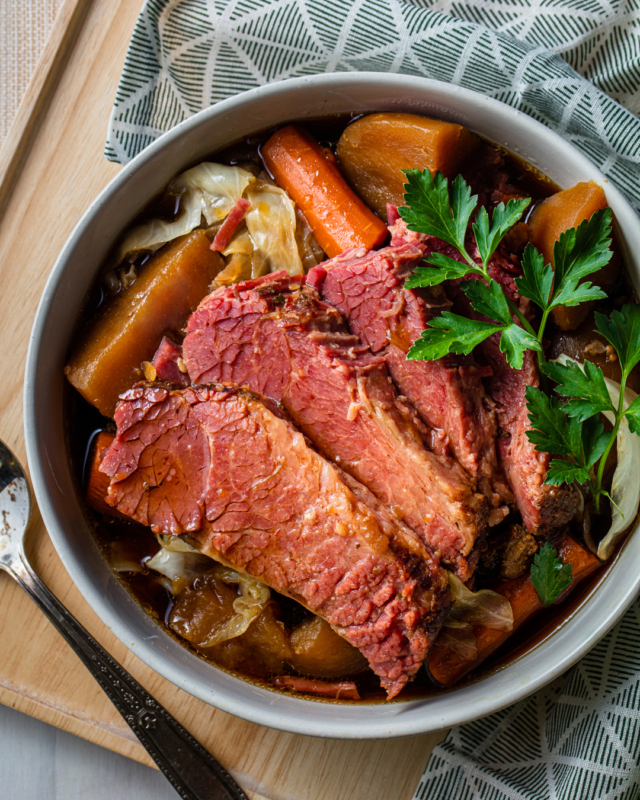 Is it not glorious to put a corned beef brisket in the slow cooker, go to work, and return home to find a hot meal waiting for you? We are especially fond of this recipe because it's based on our very own, locally made USDA choice corned beef brisket. It's a great piece of meat to begin with, and we use our proprietary brine on it — which relative to many, takes a light hand with the salt.

Here we combine it with onions, bay leaf, veggies, a robust Guinness stout, and molasses. The result is a corned beef that emerges from the slow cooker fork-tender and juicy. It doesn't taste salty. It's full of delicate spice and has a pleasing sweetness. The vegetables too are fragrant and deeply flavorful, having braised in the hearty broth made by the meat and aromatics … even our kids want to eat them!

Our tips: We like to use Guinness stout because it's dark and roasty, and it gives the dish some earthy caramel notes. You could use a sweet and malty imperial stout, for a toastier flavor, or if you need a gluten-free option, a dry hard apple cider. We'd suggest staying away from lagers, which tend to be too hoppy and bitter over the long haul for corned beef.

If you're looking for things to do with the leftover corned beef, we love it tossed with shredded potatoes in a breakfast hash, tucked into a taco with cabbage and avocado, or the classic, layered on a sandwich with fontina cheese and loads of horseradish.


Servings: 4

Ingredients
3 to 4 lbs Gelson's USDA choice corned beef brisket
6 medium potatoes, peeled and quartered
2 medium onions, peeled and quartered
6 carrots, peeled and quartered
1 large bay leaf
12 oz Guinness Extra Stout
1 small cabbage, cut in wedges (optional)
2 Tbsp molasses


Directions
Place potatoes, onions, carrots, and bay leaf in the bottom of the slow cooker
Trim excess fat from brisket, and set it on top of veggies.
In a small bowl, whisk together the molasses and beer and pour it over the meat and vegetables.
Cover the slow cooker and cook on the low heat setting for 9 to 11 hours.
If you want to include the cabbage, add it one hour before the corned beef is finished so that it can steam.
When the brisket is done, let it cool for 5 to 10 minutes, and then cut it into thin slices, against the grain. Serve with the vegetables.