Dinner Recipes
Slow Cooker Carnitas Tacos
Traditional carnitas exemplify the gloriousness of slow cooking pork in its own fat — they're so simple yet so, so flavorful. This version builds on that inherent delectability with freshly squeezed orange and lime juice, as well as a hodgepodge of aromatics: garlic, bay leaves, oregano, thyme, cumin, cinnamon, and a pinch of cloves. The citrus and herbs give the pork summery brightness and a little levity; the spices some gentle, aromatic warmth.
After the slow cooker has worked its magic, we remove the fat and shred the meat. Then, we spread it onto a sheet pan with some of the cooking liquid and broil it. The result? Lush, savory carnitas with nice, crispy edges. Contrast is a beautiful thing, people!
We like to throw the slow cooker carnitas in a big bowl or on a platter and serve it family-style, with all the taco toppings spread across the table. The whole fam can grab a soft, sweet corn tortilla and pile on any combination of diced onion, fresh cilantro, pickled jalapeño, salsa, and any other bright, punchy, slightly spicy toppings that tickle their taco fancy.
Our tip: Slow cooker carnitas can be made ahead! After slow cooking, save the cooking liquid, shred the meat, and then wait to do the broiling until right before you eat.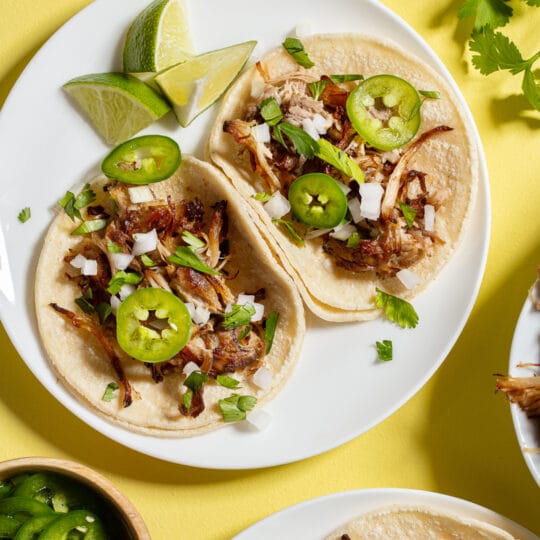 Dinner
Slow Cooker Carnitas Tacos